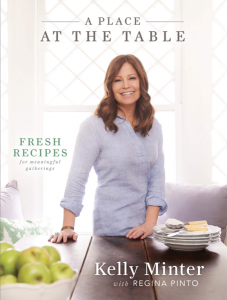 Nashville, TN (September 18, 2019)
Bestselling Bible study author, Christian music artist, worship leader and speaker Kelly Minter is set to release her first cookbook this fall, A Place at the Table: Fresh Recipes for Meaningful Gatherings, available October 15 from B&H Publishing.
Minter's Bible studies, such as No Other Gods and All Things New (LifeWay Resources), have all included recipes, stemming from her love for cooking, hospitality and bringing people together. After years of readers asking for more recipes, Minter decided to partner with Nashville-based acclaimed chef Regina Pinto to compile 90 recipes, both well-known and novel dishes plus personal favorites.
As food has historically gathered people together, Minter points readers to the bigger purpose in cooking: opening their tables so others can have a place to experience the love of God and the fellowship of his people, as some of the most meaningful moments in the Bible were experienced around food.
"I hope A Place at the Table will inspire people to cook, not only for sustenance but also for the meaningful gatherings that take place around a homemade meal," Minter says. "When we cook we connect to the goodness of God's creation, and when we serve nourishing dishes we connect with those around our table. I pray A Place at the Table will help us get cooking for the community it inevitably brings."
Pinto is an acclaimed chocolatier and pastry chef, where she created truffles and desserts for some of Nashville's most famous brands, including Arrington Vineyards, Belle Meade Winery and The Hermitage Hotel.
In addition to the recipes, A Place at the Table includes supplemental material where the reader can hear more from both authors about broths, seasonal drinks, canning, décor, growing herbs and more. Minter points readers to fresh, whole or homegrown components, prioritizing the value of flavors that can only come with seasonal ingredients. The cookbook has stunning photography to inspire readers to put their hand to the joy of cooking and offer others not just a meal, but a place to belong.