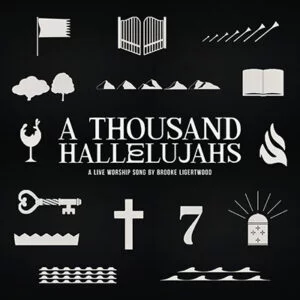 Los Angeles, CA (January 14, 2022)
GRAMMY Award-winning songwriter, producer and critically-acclaimed artist Brooke Ligertwood has released her first single, "A Thousand Hallelujahs" through a new partnership with Capitol CMG. Available today along with an accompanying live performance video, the premiere track gives fans a glimpse of what's to come from Ligertwood's forthcoming solo album, SEVEN.
After six mainstream albums with Sony Music under her maiden name, Brooke Fraser, and in parallel, 17 years with Hillsong Worship, which she still currently leads globally, Ligertwood is combining her two decades of experience as an artist/producer and her passion for serving the church with her new solo offering under Capitol CMG (yes, in a happy twist this means her seventh solo album is indeed called SEVEN).
"'A Thousand Hallelujahs' is simply and unashamedly a song of worship for the Church," said Ligertwood. "With lyrics that celebrate the origin and direction of glory, the song itself also becomes the vehicle for how to return that glory where it belongs—to Christ. It is intrinsically, deliberately, and singularly vertical, and tantalizingly joyful. I pray it becomes of use and timely help to believers and congregations everywhere."
About the new partnership, Hudson Plachy (CCMG, Co-President) said, "Brooke is one of the most prolific artists and songwriters in the genre and her already storied career has received the industry's highest accolades. We are honored to partner with her in this next season on this incredible album, SEVEN, and could not be more excited to see this music impact the world." Brad O'Donnell (CCMG, Co-President) added, "Brooke is a one-of-a-kind songwriter and artist who we admire deeply and have been fortunate to work with for years now. We are thrilled to be partnering with her on SEVEN which we believe is a very special project and a gift to the global church."
Recorded live in Nashville, TN, SEVEN consists of entirely brand new worship songs written by Ligertwood and husband/longtime collaborator Scott, Jason Ingram (who co-produced the album with her), Pastor Steven Furtick, Brandon Lake, Phil Wickham and friends. It features a band composed of gifted musicians from the breadth of the modern worship movement (Hillsong, Bethel, Vineyard), a 30-piece choir, and a collection of stunning new prayer-soaked songs written and arranged in line with Ligertwood's singular vision with Jesus at the center. SEVEN is set for release on February 25th.
Listen to "A Thousand Hallelujahs" here:

Watch the live performance video for "A Thousand Hallelujahs":