Nashville, TN (January 19, 2022)
Nashville-based Big Future Music Group's President Ryan Wesley Smith has announced the label has entered into a joint venture with Truss Records, led by Tyrus Morgan effectively immediately. I AM THEY will be the debut act the first release for the venture. The group just kicked off their 2022 tour as part of the popular Winter Jam Tour Spectacular across the US. For more information, please visit Big Future Music Group.
Big Future Music Group President Ryan Wesley Smith says, "We are honored and thrilled to bring the talents of I AM THEY into our universe, along with the launch of Truss Records with our dear friend Tyrus Morgan. To have I AM THEY as our debut signing is exciting. Their hearts, professionalism and unbelievable presence is paramount in developing key components of a burgeoning entertainment company. Couple that with a unique and viable message of hope in their well-written songs–this is exactly our mission for Big Future."
In a few short years, I AM THEY has racked up unprecedented numbers on Spotify, Amazon, iTunes and YouTube. I AM THEY is considered one of the hottest acts on the scene. With numerous award nominations, including the GMA Dove Award for Best New Artist, and several coveted major tour billings, the band is poised for a strong and steady climb.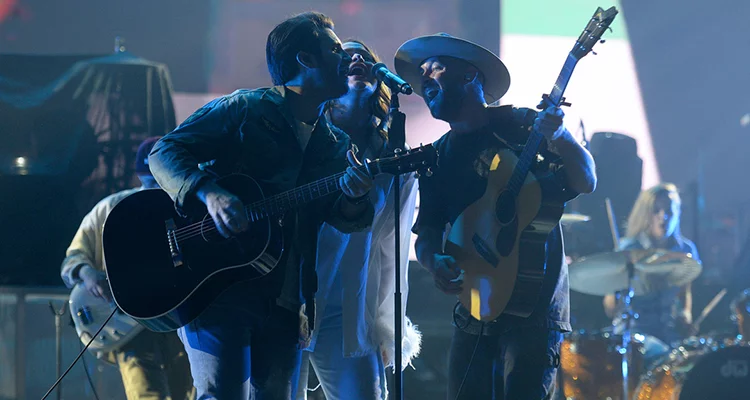 Truss' Tyrus Morgan states, "What an honor to be able to support I AM THEY through our new label imprint with Big Future Music Group. This band has always been able to write songs that speak straight to the heart, and we are excited to dream with them and bring even more of their signature sound and heart for God to the world."
I AM THEY is managed by Co-Lab Management, booked by Jeff Roberts & Associates and is on Big Future Entertainment Group/Truss Records. The group plans to release a new single this quarter along with a brand new worship project.
TOUR DATES:
01/07 – Charleston, WV (Winter Jam Spectacular)
01/08 – Columbus, OH (Winter Jam Spectacular)
01/13 – Augusta, GA (Winter Jam Spectacular)
01/14 – Tampa, FL (Winter Jam Spectacular)
01/15 – Jacksonville, FL (Winter Jam Spectacular)
01/16 – Atlanta, GA (Winter Jam Spectacular)
01/20 – Evansville, IN (Winter Jam Spectacular)
01/21 – Hoffman Estates, IL (Winter Jam Spectacular)
01/22 – Des Moines, IA (Winter Jam Spectacular)
01/23 – Little Rock, AR (Winter Jam Spectacular)
01/27 – Peoria, IL (Winter Jam Spectacular)
01/28 – Indianapolis, IN (Winter Jam Spectacular)
01/29 – Lexington, KY (Winter Jam Spectacular)
01/30 – Ypsilanti, MI (Winter Jam Spectacular)
02/04 – Mobile, AL (Winter Jam Spectacular)
02/05 – Knoxville, TN (Winter Jam Spectacular)
02/06 – Charlotte, NC (Winter Jam Spectacular)
02/10 – Wichita, KS (Winter Jam Spectacular)
02/11 – Kansas City, MO (Winter Jam Spectacular)
02/12 – Tulsa, OK (Winter Jam Spectacular)
02/17 – Fort Wayne, IN (Winter Jam Spectacular)
02/18 – Grand Rapids, MI (Winter Jam Spectacular)
02/19 – Nashville, TN (Winter Jam Spectacular)
02/20 – Tupelo, MS (Winter Jam Spectacular)
02/25 – Columbia, SC (Winter Jam Spectacular)
02/26 – Greensboro, NC (Winter Jam Spectacular)
02/27 – Roanoke, VA (Winter Jam Spectacular)
03/04 – State College, PA (Winter Jam Spectacular)
03/05 – Cincinnati, OH (Winter Jam Spectacular)
03/06 – Southaven, MS (Winter Jam Spectacular)
03/11 – Greenville, SC (Winter Jam Spectacular)
03/12 – Birmingham, AL (Winter Jam Spectacular)
03/13 – Saint Charles, MO (Winter Jam Spectacular)
03/17 – Reading, PA (Winter Jam Spectacular)
03/18 – Norfolk, VA (Winter Jam Spectacular)
03/19 – Raleigh, NC (Winter Jam Spectacular)
03/20 – Louisville, KY (Winter Jam Spectacular)
03/24 – Springfield, MO (Winter Jam Spectacular)
03/25 – Bossier City, LA (Winter Jam Spectacular)
03/26 – Oklahoma City, OK (Winter Jam Spectacular)
03/27 – Allen, TX (Winter Jam Spectacular)