NASHVILLE, Tenn. August 21, 2015 —Artist Garden Entertainment announces the signing of husband and wife folk-pop duo, The Gray Havens, to an exclusive artist management deal. Dave and Licia Radford blend fantasy story, lyric poetry, theology and song to create a sublime narrative-folk-pop. Earlier this year, The Gray Havens released their debut full-length recording Fire and Stone, produced by GRAMMY® Award-winning Mitch Dane (Brandon Heath, JJ Heler).
Based in Chicago, The Gray Havens perform at colleges, churches and clubs throughout the mid-west and northeast. Their unique folk-pop artistry draws from such influences as C.S. Lewis, JRR Tolkien and Jonathan Edwards.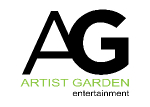 "We are thrilled to add The Gray Havens' unique artistry to the Artist Garden roster. David and Licia have built quite an impressive following while stretching the boundaries of Christian music with their fresh blend of music." states Artist Garden Entertainment President, Keith Stancil.
Dave originally stepped into performing at age 17 when he reached the Top 20 on American Idol. While continuing to write, perform and record in college, Dave met future wife Licia. The two connected with their love of literature, eventually marrying and forming The Gray Havens.
For further information, visit thegrayhavensmusic.com.