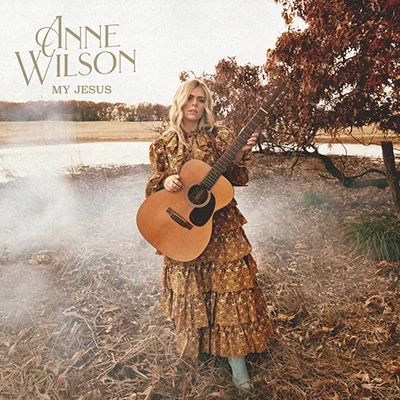 Nashville, TN (March 7, 2022)
Capitol CMG artist and songwriter Anne Wilson will release her full-length album debut, My Jesus, on April 22nd. The album's title track catapulted Wilson up the Billboard Christian Airplay Chart in 2021 making her the first female artist to debut at No. 1 on the chart as well as the longest-running No. 1 song on the chart for 2021. She introduced her new single, "Sunday Sermons," earlier this year and premiered the music video exclusively on Facebook last night. This newest single was CCMG's largest radio add date of the year so far and is currently a Top 20 on the Billboard Christian Airplay Chart.
Amidst the whirlwind of the last year, Wilson's maintained her southern charm and hopes her genuine love for others shines through on her debut album. Each song on the album, co-written with songwriting heavy-hitters like Matthew West, Mia Fields, Jonathan Smith, Jeff Pardo, Emily Weisband, Ben Glover, and more, is specifically crafted, a moment-in-time snapshot of Wilson's self-discovery as she walks a new and unplanned life road.
Watch Anne Wilson's 'Sunday Sermons' Music Video:

"This record was written over the last two years of my life and is a collection of songs that each mean different things to me," shares Anne Wilson. "Every song is a different side of me as an artist—country, worship, and radio—songs that speak to the masses and songs that speak to specific people or seasons. I feel like God placed this calling over my life to minister to those who've lost someone and are hurting. With these songs, I want to speak life and joy to people walking through pain and loss."
One of the opportunities from her unprecedented success of 2021 with "My Jesus," was her debuting at the Grand Ole Opry. Circle TV recently released the mini-episode of Anne's My Opry Debut interview featuring her special night. A full-length episode will be coming later this spring showcasing Anne in her hometown state of Kentucky sharing her story that led to her debut in the historical Opry circle.
Watch her My Opry Debut:

Visit: www.annewilsonofficial.com