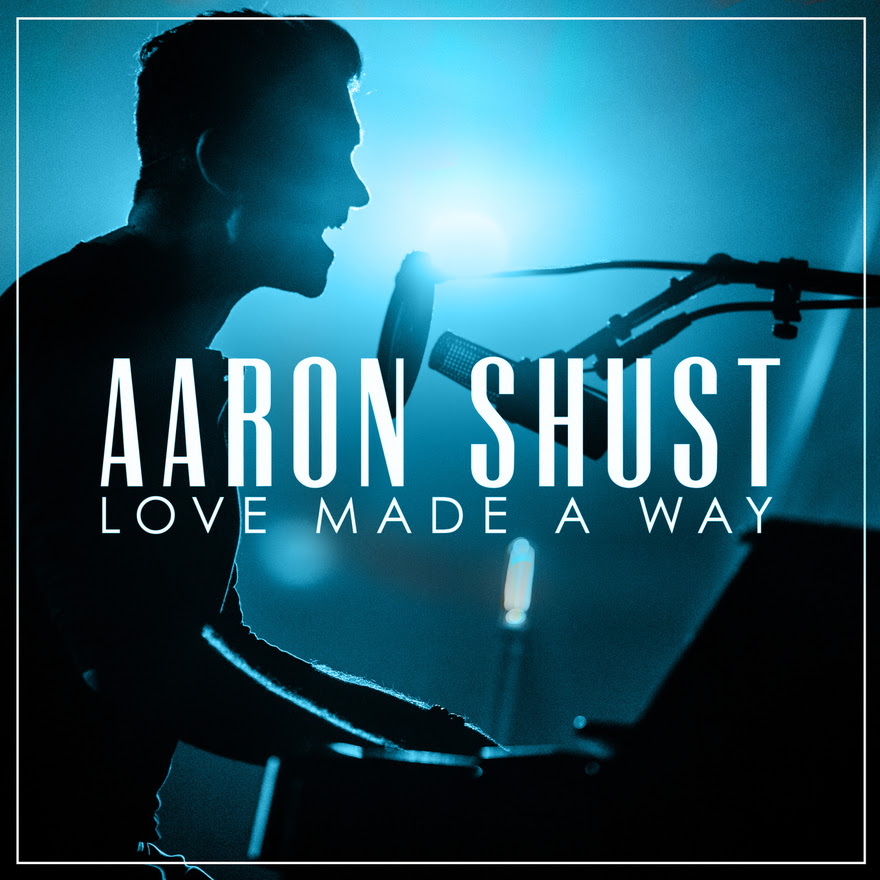 NASHVILLE, Tenn.—Even with twelve years as a successful Christian music artist under his belt, Aaron Shust takes on new territory with his latest project: his first live album. Shust's new record for Centricity Music, Love Made A Way, is scheduled for release March 10, 2017. Working with producer Nathan Nockels (Matt Redman, Chris Tomlin), Shust delivers both familiar worship anthems and powerful new songs in the 11-song collection. This includes Shust's latest single "You Redeem," which is currently top 40 at Christian Radio and rising. The single garnered 12 out of the box adds from WRBS Baltimore, MD , KLJY St. Louis, MO, SOS Network, Fish Portland, OR, Word FM Network, WCLN Fayetteville, NC, WHPZ South Bend, IN, KCVO Columbia, MO, WJTL Lancaster, PA, WCHR Hagerstown, MD, WLJN Traverse City, MI, and KYCC Stockton, CA. The song's performance video gives an early sample of what Shust's record showcases—his special ability to engage others in genuine, meaningful worship. This spirit of worship is the heart of the recording and Shust's passion.
"I've always said that in a concert setting I want people to worship, so to have people singing along on the album is pretty magnificent," Shust says. "When I invited people to be a part of this live album recording, I wanted to make sure they wanted to worship. I didn't just want them to be spectators. I wanted them to be desirous of entering into the presence of God, raising their hands and closing their eyes if they wanted to, and that's how the night was. It was a genuine experience of worship."
For Love Made A Way, Shust features vocalists such as Matt Hammitt, Christy Nockels, Grayson|Reed's Molly Reed and For All Season's Emily Hamilton on the album. Listeners will recognize classic praise songs such as "Ever Be," "Cornerstone" and Shust's career staple "My Savior My God," but they'll hear them performed like never before—an intentional decision from Shust.
"This was a chance to take some of the songs we play live every night and freshen up the recordings," he says. "But I also wanted to write new songs and offer new thoughts, new praises and new worship."
These new songs came from Shust's inspiration to write bold music celebrating the Lord and proclaiming His strength. This is seen in the declaration of God's power to turn trials into blessings in "You Redeem," as well as the humble trust of God's promise to guide in "Lead On (King Eternal)." All of the songs reflect Shust's desire to lead worship for a worthy, unfailing God. While this radiates throughout all the music of the singer-songwriter's decade-long career, Love Made A Way delivers the message in a captivating way that will connect with listeners from start to finish. For Shust, it's been a challenging adventure worth pursuing.
"Hitting the 10-year mark, it felt like a new season," Shust says of deciding to take the plunge and create the live album. "We had a guest speaker recently at our church talk about how God is a God of celebration. God wanted to make sure His people were able to remember and celebrate their past. I felt that after 10 years, it was time to celebrate."
Love Made A Way track listing:
1. "Heartbeat" (with Matt Hammitt)
2. "My Hope Is In You" (with April Geesbright)
3. "Belong"
4. "You Redeem" (with Matt Hammitt)
5. "Ever Be" (with Emily Hamilton of For All Seasons)
6. "God Of Brilliant Lights"
7. "Cornerstone" (with Jillian Linklater)
8. "Death Was Arrested" (with Christy Nockels)
9. "Resurrecting" (with Molly Reed of Grayson|Reed)
10. "My Savior My God" (with Christy Nockels)
11. "Lead On (King Eternal)"