Nashville, TN (August 30, 2019)
Dove Award New Artist of the Year nominee Aaron Cole has just dropped his highly anticipated full-length album, Not By Chance, available now worldwide across all digital platforms. This project marks his first Gotee Records album debut and features 13 dynamic Christian hip-hop tracks appealing to fans of Jon Bellion and Drake.
The record was produced by former Capital Kings member, Cole Walowac, who recently produced seven songs on NF's latest album The Search, as well as Chino and Chris King. Together, they created a masterpiece that infuses pop, hip-hop, and soul together to tell his authentic story of growing up in poverty, working hard for your dreams, and standing tall in your faith. Not By Chance features special collaborations including Derek Minor, 1K Phew, Chastity, Evan Ford, Kaleb Mitchell, and Montell Fish.
"I am very excited and nervous," shares Cole when speaking at the new album. "I have put so much time, effort, and thought into this project and I'm ready to get it out and see what it's going to do! I hope people who need to hear it, find comfort in it and are inspired to chase their dreams. If God can take a kid from Bristol, VA who came from nothing to having a record deal and going on arena tours, then He can do that for you too."
Named as "One of 5 Top Gospel Artists to Watch" by Essence Magazine, Cole's music journey started when he began rapping at just three years old. After dropping six independent projects, the Bristol, VA native was introduced to multi-GRAMMY-award winning producer and artist TobyMac, who took him under his wing.
Fans were introduced to "Fasho" and "There For Me" earlier this year and a new single, "Why," dropped August 2; all of which are featured on ot By Chance.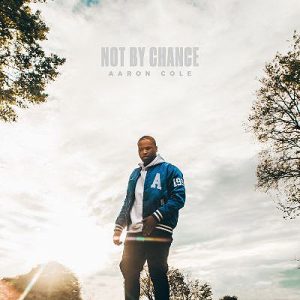 Not By Chance Track Listing:
INTRO
FLASHBACK (FEAT. 1K PHEW)
LOVE DON'T COST A THING (FEAT. CHASTITY)
BACK IN MY BAG
THERE FOR ME
SAY LESS
CASSIUS CLAY
WHY
PHOTOS (FEAT. EVAN FORD)
MAYBE (FEAT. DEREK MINOR & KALEB MITCHELL)
FASHO
WHO YOU ARE (FEAT. MONTELL FISH)
NOT BY CHANCE
Visit: www.iamaaroncole.com