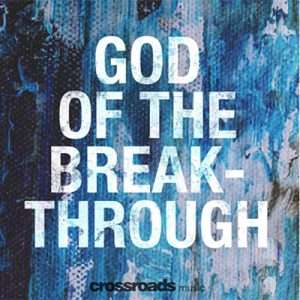 Nashville, TN (June 7, 2019)
Crossroads Music's new single, "God of the Breakthrough," is available now on all digital platforms.
The Cincinnati, Ohio-based worship collective of Crossroads Church shares the heart behind their prayers in "God of the Breakthrough," written as a response to the death of one of Crossroads Church's senior leaders, and a near-fatal heart attack that struck the Church's executive pastor. The single is the sixth single Crossroads Music has recorded and released, following two EP's and two full-length albums.
Co-writer Austin Livingood says" God of the Breakthrough" is an anthem written out of desperate prayers for God to intervene in impossible situations.
"We have seen people in our community over the past few months going through maddening life matters: cancer treatments, heart attacks, surgeries, and friends passing away. When we have nowhere else to go, we want God near. When we sing 'God of the breakthrough, Your promises stand true. You haven't failed us yet,' it's a reminder that though we don't have all the answers in life, we can always depend on His presence being near to us in broken times, and to hold onto His faithfulness. This song is as much an invitation to the miraculous as it is miraculous that we can lean on God in times of hardship."
—Austin Livingood, worship leader