Remastered Documentary To Air On Public Television Nationwide on December 5th—Unreleased Video Of The Duo's 1971 Hit "For All We Know" Currently Streaming at People.com
On Saturday December 5th, the public television series MY MUSIC will present Close To You: Remembering The Carpenters, airing on Public Television stations nationwide. A look back at the lives and musical arc of the beloved brother-and-sister songwriting duo, the film stands as a testament to their enduring musical legacy. Featuring rare performances and extensive archival footage, this remastered documentary celebrates the timeless appeal of the Carpenters' unique sound, from Karen Carpenter's warmly expressive voice to Richard Carpenter's diverse talents as arranger, producer, pianist and composer. During their spectacular career, the duo was the recipient of three GRAMMY Awards, including Best New Artist of 1970, an American Music Award and over 20 gold records. Remembrances from friends and colleagues Herb Alpert, Burt Bacharach, Petula Clark and Paul Williams are also included.
TJL Productions' MY MUSIC series is proud to bring this program back to public television audiences. "Hearing Karen's intimate voice is like listening to our own inner voice, the music she and Richard made expresses every emotion we go through in this life," says TJ Lubinsky, the series' Executive Producer. "I felt that bringing the heartwarming story of the Carpenters to public television will help now for new generations to discover and us older fans to reflect on their extraordinary work."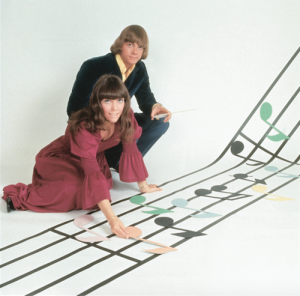 In recognition of Saturday's broadcast event, NPR's Fresh Air has re-aired their 2009 interview with Richard Carpenter. You can listen to the wide-ranging discussion of the group's story, influences, and impact they had on the pop music world HERE.
People.com recently premiered a previously unreleased video of The Carpenter's smash hit "For All We Know." The song was a million-selling single for the duo in 1971, the same year they won their third GRAMMY Award for Best Pop Vocal Performance by A Duo Or Group. Reflecting on the song, Richard Carpenter observes, "'For All We Know' works beautifully for Karen's alto, our background harmonies and the fluid electric bass playing of Joe Osborn. The recording is as fresh to me in 2015 as it was in 1970."
Made available as part of this television event, Carpenters – The Complete Singles is a new 3-CD box set that presents, for the first time in one collection, every A and B-side released in the United States on A&M Records between 1969 and 1989 in the form of their original single version. Included are timeless hits such as "Top of The World," "For All We Know," "Superstar" and "Close To You," as well as signature covers "Ticket to Ride" and "Please Mr. Postman." With 66 tracks in total, the collection will be made exclusively available as a gift for viewers who make a pledge of support to their public television channel. Copies of the CD set are available for review.
Additionally, a DVD of the Close To You special will be offered as a public television exclusive, with 60 minutes of extras including complete song performances from the duo, expanded from the documentary. Also included is "The Carpenters at The White House" featurette, shot when President Nixon was in office, other rare songs and footage and a stunning rendition of Karen and Richard performing "Ave Maria."