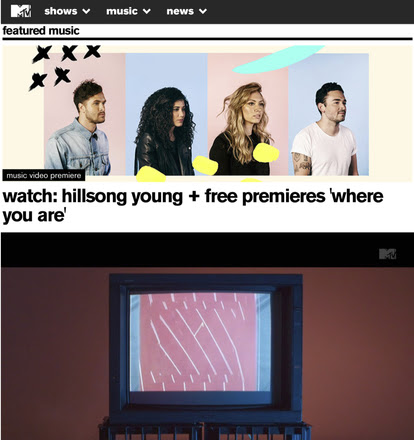 Youth Revival set to release globally on February 26, 2016
NASHVILLE, Tenn.—Hillsong Young & Free's newest single "Where You Are" has taken over MTV! Filmed in their native Australia, the music video is appearing exclusively across the popular network's three broadcast channels (MTV, MTVHits, mtvU) as well as MTV.com and mtvU.com. Upon release of the single in December, the track resonated with listeners, garnering a position in Spotify's viral top 50 and a current spot in the Top 20 at Hot AC/CHR.
"It doesn't matter how much satisfaction that you can get from the world, you are never truly satisfied until you are where God is, where He wants you to be and where He is purposed you to be," explains Hillsong Young & Free's Laura Toggs when sharing the concept of "Where You Are." "This song is about pursuing and choosing that over everything else."
Hillsong Young & Free's newest album Youth Revival, which includes "Where You Are," has an upcoming global release date of February 26. The eclectic collection of songs found on Youth Revival articulate the deep desire of the human heart for something more. With their relevant EDM and pop sound, the project continues their own journey and experiences through their faith.
About Hillsong Young & Free:
Hillsong Young & Free is a youth movement born out of Hillsong Church in Sydney, Australia. In this thirty year story, they have seen generations of people serving, leading and pioneering movements. Hillsong Young & free is comprised of a collective of young people who come together to make music for youth and young adults everywhere. Their first album We Are Young & Free (2013) debuted to the No. 1 spot on the Billboard Christian/Gospel Chart. Also scoring a No. 1 debut, their most recent EP, This Is Living (2015), garnered a top 10 iTunes overall spot and received support from MTV, MTVHits and mtvU. With millions of social followers engaging in the social conversation, Hillsong Young & Free has scored two No. 1 radio singles. Their anticipated release of Youth Revival is due out in February 2016. Hillsong Young & Free fill stadiums across the globe and continue to push their positive message in the musical context of EDM and pop influences.