Lauren Daigle grew up imitating some of the greatest voices the music industry has ever heard. With her new album, she's making her case to be included among them.
Lauren Daigle makes her full-length debut this month with the inspirational How Can It Be after releasing an EP that showed hints of her tremendous vocal power, a talent that's earned numerous comparisons to Adele. If that sounds like a stretch, take one listen to songs like "I Am Yours" or the title track to hear the similarity between the two performers.
Daigle grew up in Lafayette, Louisiana, singing along to the memorable choruses and unrivaled voices of Whitney Houston and Celine Dion. Her mom called her house "The Music Box" because Lauren was always singing.
"I would walk around at 5 years old singing Whitney and Celine," says Daigle. "[My parents] would always know I was awake — not from seeing me but hearing me in the mornings."
Daigle credits her parents for two particular facets of her musical make-up that made a strong impression at an early age. One being a game her father developed simply by guessing songs and artists that would play on the radio, resulting in a strong musical vocabulary for young Daigle.
"My dad used to play this game with us called 'The Dollar Game,'" she says. "When we were in the car, he'd turn the dial to a classic rock station—he loved Led Zeppelin—and would say things like, 'If you can guess who sings this song, I'll give you a dollar. If it's really hard, I'll give you five dollars.' It taught us as at a very young age to listen for different sounds, tones and styles of music, which proved valuable in a lot of ways."
When it comes to her earliest musical memories, Daigle remembers another particular moment where her mother helped instill in her the value of documenting a particular moment and metaphor.
"This story involves a planter, one that we used for a tree, that was placed at the front of our house. One particular day when it rained, it filled up with mud and looked just like chocolate milk," she recollects. "After telling my mom about it, she suggested that we make a book about 'my day with the chocolate-milk-rain.'
"So I remember putting together this book complete with pictures I painted. My mom stapled it all together, which then gave me a tangible memory of my day. I think that creativity eventually trickled into my songwriting. It was taking a moment to look at a story or a picture that God had shown me and then incorporating that into a song."
With such a strong musical background, Daigle eventually developed hopes for a professional career, which resulted in auditioning for American Idol three times. She experienced relative success, making it all the way to the cut line below the twenty-four finalists. After she recorded vocals for a worship demo track back at home, Centricity Records invited Daigle on an artists' retreat; and the rest is history.
Centricity has slowly nurtured the rising star, allowing her the chance to cut her teeth with label mate Jason Gray the last two Christmas tours before releasing a simple, four-song EP in 2014. She also provided vocals for Gray's own hit "Nothing Is Wasted," so it's likely you've heard Daigle's talents before, even if you couldn't recognize the source.
Now the stage is completely hers, and she's already making a strong impact. Currently she's on the Beautiful Offerings Tour with Gray, Big Daddy Weave, and Citizen Way, a perfect slate that allows her music to shine while surrounded by seasoned performers continually showing her the ropes.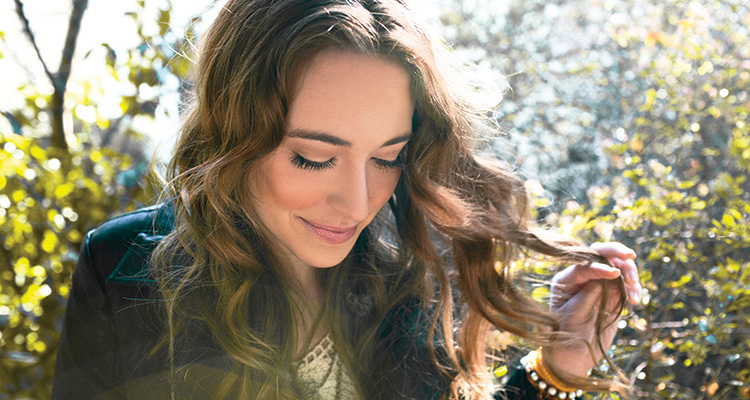 "The tour has been incredible," she says. "The Big Daddy Weave gang is just unprecedented. First of all, they have a team that constantly shepherds and guides us. Every night we spend time in the Word in addition to praying for each other and the preparation of each event, which is really unique. It's a really special time. It's not often that a team can come out to specifically minister with you—pretty crazy. It's just a very kingdom-focused and driven outfit, so it's an honor to be a part.
"Jason [Gray] and I have been good friends for a while now," she continues. "He was the first artist I ever toured with. I call him my father-brother; and then somebody will say, 'Hey, that's more like an uncle!' [Laughs] So I guess that's correct, but father-brother is more fun to say! He is a riot and has become a dear family friend. It's also been great to meet Citizen Way.
"Everything has been really wonderful. We go out and pray with people in the audience, almost like an altar call. Those are very worshipful moments. [This tour is] focused on leading people into the presence of God, so it's super-sweet to be in the lineup."
Even though she's new, Daigle says she's learning important lessons from the veterans around her who are quick to help or provide insight.
"Some of my favorite conversations have been the ones that have intended to shepherd me with the business side of things," she admits. "Jason has stepped in to that role for my family and me, for sure. Our personalities are very similar, so he has felt comfortable being a sounding board for those topics and has helped to answer ongoing questions."
Some of that shepherding also took place in the studio, where the young artist worked with experienced songwriters to help shape the songs featured on How Can It Be. She says her favorite tracks from the album can change depending on the day; but the new single "My Revival" is definitely a stand out, which was heavily influenced by co-writers and producers Jason Ingram and Paul Mabury (Brooke Fraser).
"The song comes from when I was diagnosed with lupus and Lyme disease this past December," she continues. "Jason [Ingram], Paul [Mabury], and I were still in the writing process at that time; and through those struggles a song came directly out of Scripture that says, 'I will run and not grow weary. I will walk and not faint. I will soar on the wings like eagles.'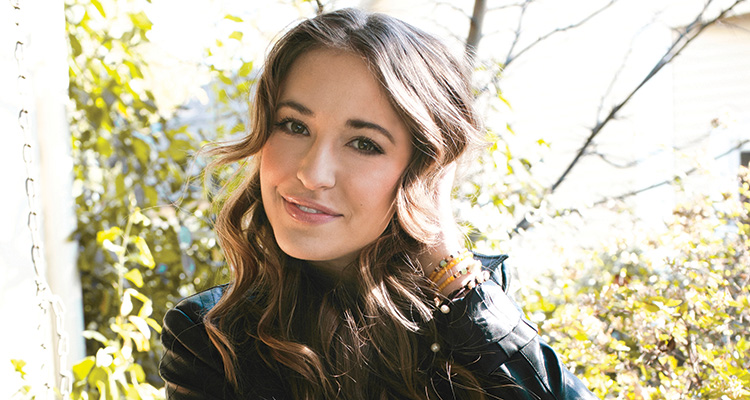 "Not long after I was being prayed over I was completely healed. It was quite a moment, but the healing was rooted in believing that God is the same God today as He has always been. When the little girl was sick with a fever in the Scriptures, Jesus didn't even lay a hand on her and the fever left immediately.
"If God had the power to do that then, He certainly has the same power today," she states. "So we were inspired to write a song to say that the Lord is our revival—He comes and restores the depths of our souls, as well as our physical situations."
With such an incredible testimony set to moving refrains, it's no surprise that Daigle's tremendous talents and message are finding a meaningful home in the lives of her listeners.
At the time this article shipped to print, the title track to both Daigle's EP and forthcoming full-length album (available April 14, 2015) spent eight-weeks at the No. 1 slot on Nielson SoundScan (January 21 through March 25, 2015) as well as top-fifteen placements on the vaulted Billboard Christian charts for several weeks.
"My favorite part is watching God work in the lives of people through the music," she says. "What's great [about that] is it's nothing I can ever do. I can't reach through the airwaves and convict someone's heart and soul, but God can."
The most common response is a simple hug and nothing more—what Daigle calls the "silent story"—but two audible stories resonate when asked about her favorite responses to her music.
"A radio station once read a letter on air from a girl who was thinking about committing suicide," says Daigle. "As it stated, the girl heard the song 'How Can It Be' at just the right time, and God used that song to show her His love and concern for her life. The song inspired her to have a purpose to live as never before. That blew me away—how God used a song to save a life and that He allowed me to be a part of that. I was personally blessed by the blessing she received.
"Another favorite response is from the song 'Come Alive,' which is based on the passage in Ezekiel 37 where Ezekiel speaks to the dry bones and an army is raised because God breathed on them. I was recently made aware that song was being used as an anthem for a daughter who suffers from a bone disease. The song was actually written from a completely different perspective, but I was blessed to hear that it has helped give life to another's deteriorating physical bones."
As in many of life's trials, God is using Daigle's own story of hope and healing to inspire and provide the same in others. All things are certainly working together for the good of both this burgeoning artist and her ministry.