Richmond, Virginia (November 3, 2023)
Five-time GRAMMY® nominee and ASCAP's 2023 Golden Note Award recipient Matthew West brought his fall 2023 My Story Your Glory tour featuring Micah Tyler to Liberation Church in Richmond, Virginia on November 3rd. They both brought a celebration of faith, joy and community with a healthy dose of humor keeping the crowd singing, laughing and celebrating the Savior throughout the evening.
Before the show began, a $1,000 gift to the local Salvation Army was presented toward the purchase of turkeys for families in need. This donation from the Awakening Foundation was made at each stop of the My Story Your Glory tour in 22 cities across the country.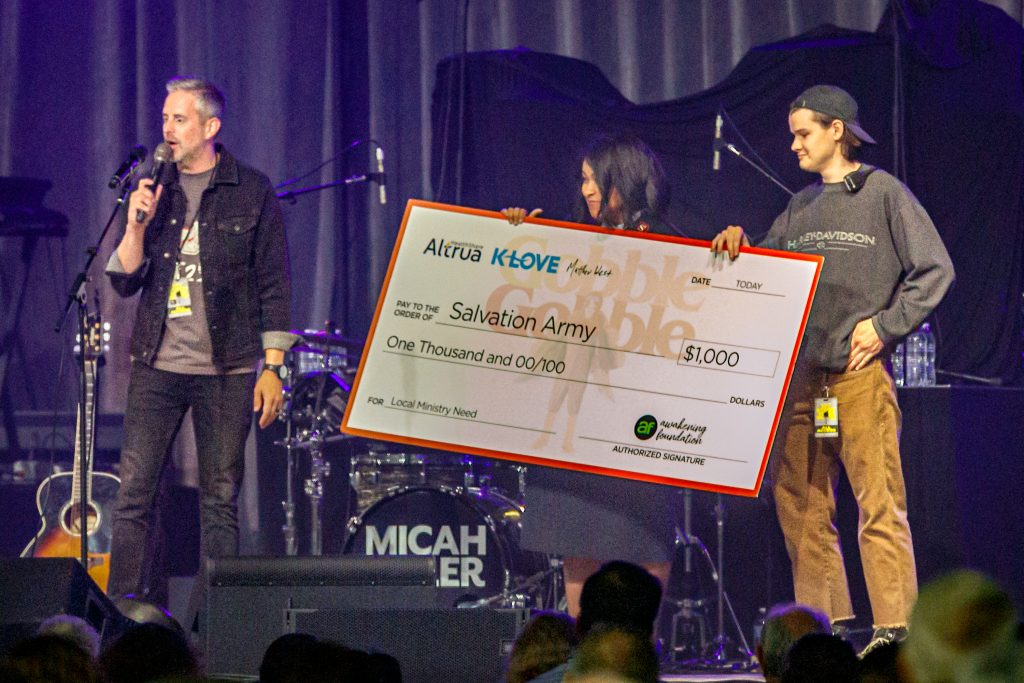 Kicking off the evening, Micah Tyler, armed with his amazing voice and infectious humor, set the perfect tone for the night. Known for chart-toppers like 'Praise the Lord' and boasting 5 #1 songs, Micah has also earned nominations for Dove Awards and KLove Fan Awards. Having not seen him in concert for a few years, I loved seeing the excited crowd singing along, nearly drowning him out throughout his set. While his music is definitely inspiring, Micah's humor and relatability created a connection that made you feel like he's your long-lost brother. Check out the energy throughout the show in the images below.
Micah Tyler Photos: Annette Holloway Photography
















Headliner Matthew West took the stage with "My Story Your Glory," the title track from his incredible double album released in February 2023, then some fan favorites "Grace Wins," "What If," and "Truth Be Told." A special treat for the audience included Matthew's powerful renditions of "Nobody" (co-written with Mark Hall and Bernie Hermes) and "My Jesus" (co-written with Anne Wilson). An acoustic set followed for the middle portion of the show including Thanksgiving favorite "Gobble Gobble," which had young fans dancing in the aisles. "Strong Enough," and some Dad jokes by tour pastor Joe West rounded out the acoustic portion. To finish the night, West performed powerful anthems "Me On Your Mind" and "Hello My Name Is." Check out some special moments from the concert in the gallery below.
Matthew West Photos: Annette Holloway Photography





























Matthew is a masterful storyteller, singer, songwriter, musician, author, podcaster, and winner of NSAI's Songwriter-Artist of the Year. He uniquely incorporates into his music stories that are shared with him in his journey. The first part of the new double album, "My Story" is filled with stories based on personal experience plus fans' stories shared with him over the years. The second half, "Your Glory," is his first worship album. The My Story Your Glory tour ended on November 19th, but Christmas shows in Tennessee and Florida begin on December 1st
Matthew West Setlist
1. My Story Your Glory
2. Grace Wins
3. What If
4. Broken Things
5. Nobody
6. My Jesus
7. Truth Be Told
Acoustic Set
8. More
9. (Mullet Boy musing)
10. Before You Ask Her
11. Gobble Gobble
12. Because of Bethlehem (verse only)
13. Strong Enough
(Dad jokes with Joe West)
14. The God Who Stays
15. Me On Your Mind
16. You Changed My Name
17. Hello My Name Is
Connect with Matthew West –
Website: https://www.matthewwest.com/
Facebook: https://www.facebook.com/matthewwest
Instagram: https://www.instagram.com/matthewjwest/
YouTube: https://www.youtube.com/user/matthewwestmusic
TikTok: https://www.tiktok.com/@matthewjwest
Connect with Micah Tyler –
Website: https://www.micahtyler.com/
Facebook: https://facebook.com/officialmicahtyler
Instagram: https://instagram.com/micahtylermusic
YouTube: www.youtube.com/@MicahTylerMusic
TikTok: https://twitter.com/micahtylermusic