You might say Unspoken is the latest five-year overnight success story in the CCM world. Their first two singles shot straight to the top of the charts, leaving fans clamoring for more. Fortunately, for said fans, more is on the way.
The band will release its self-titled debut on April 1 with Centricity Records. The two singles already circulating are evidence enough that this band is special; but dig a little deeper and their story adds texture, depth and humanity to the music.
Perhaps it's the fact that these guys didn't pursue music because they wanted to make it in the music industry.
They found music in a desperate hour. As they were able finally to commune one on one with their God through notes, chords and lyrics, their music became a vessel of the Holy Spirit.
Chad Mattson, lead vocalist, grew up in a fairly stable household. But as he left his teen years, he entered into a self-defeating cycle of addiction and dead-ends.
"In my early 20s, I walked away from the Lord completely," says Chad. "I got into using drugs and all that stuff. It was pretty dark and grim for three years."
At 24, Chad had to face facts. He hadn't gone the college route. He had no plan.
"I had no education and my life was a wreck," he says. "I felt a little hopeless. But it's just like the Lord to come in and show us He is able to do more than we even ask. His spirit is at work within us."
Chad began to feel the nudge of the Holy Spirit to make some decisions. He knew some missionaries who were headed to the Dominican Republic and he asked if he could join.
"I was this drug addict asking these missionaries if I could go with them," he recalls. "I went for two months. I read my Bible and prayed everyday. I hung out with Jesus."
As Chad's heart, body and mind were renewed, God brought another surprise into his life — a band mate.
"I met a guy there from the Dominican Republic who had been a musician all his life and had just gotten saved a few months before. God gave us this mutual passion for music," says Chad.
Aksjdka followed Chad back to Chad's home-state, Maine. There, they played in the subway, random street corners, nursing homes, anywhere…
"That's how it started. Four or five years ago, we moved to Nashville," says Chad. "We were following the Lord and looking to make this a reasonable way to make a living."
After a few deals fell through, Centricity Records, "felt like home, like a family," Chad says.
Among the many reasons the label was a good fit, the folks at Centricity valued what the guys brought to the table that was unlike anyone else — their story.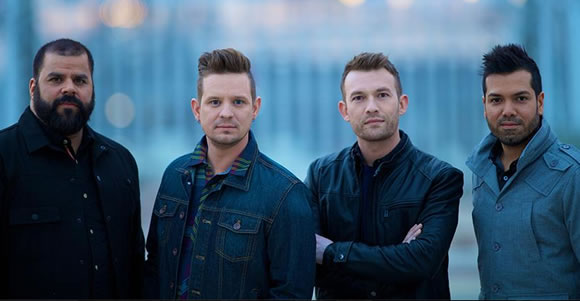 "People can relate to the story. It was the one thing we had going for us," says Chad. "We could be transparent. God could probably use it and people could relate to it. I definitely praise God for what I've been through. We're all recovering from something. God's always continuing to work and change us."
With the kind of melodies and production that make their songs stay with you, Unspoken has essentially documented that changing process on the new record.
"The album has so much in it," says Chad. "The song of hope reminds us that we can change. He can flip our entire situation on its head. The second song is another step to that. Our joy is to surrender to God."
Thoughtful craftsmen, the band carefully pulled together each element that would end up on the record with a clear objective: "God puts the fire in us. It's our job to keep it burning. We can become complacent and feel unsatisfied, but God wants to stir up that fire and keep the gracious gift of Himself burning.
"I heard Jason Gray once say, 'We tend to write the songs we need to hear,'" Chad continues. "These songs speak into a lot of our different areas that need to be spoken to. I think it's a really well-rounded piece of work."
Their purpose is unequivocal.
Their passion is undeterred.
Their path is, as yet, uncharted — by human hands, anyway.
"We didn't set out to start a career in music. We set out to follow God," says Chad. "We don't follow the Lord because of where He might take us. We follow out of gratitude because we're compelled to tell His story. We'll follow the Lord until He moves us in another direction."
For now, the band that is one of the most diverse band in Christian music right now — a Puerto Rican, a Dominican Republic native and two guys from Maine—is also one of the most focused bands in any genre anywhere.
Their eyes are set on their savior.
Their words ring with His truth and their lives reflect the joy of surrender.