NEWCOMER TYLER NEWBERRY IS ARMED AND READY
If you're looking for a bright star on the horizon, look no further than Tyler Newberry. An impressive singer-songwriter, Tyler is making his mark with a strong new album, The Devil Rides A Horse, his first LP of original tunes that are as inventive as they are meaningful. His message is clear — the devil's got tools and uses them well; but we, as Christians, are infinitely more equipped to defend our hearts, our honor and faith. Read on as Tyler shares his heart in his own words.
CCM: The Devil Rides A Horse is such a great title. Can you tell us about the origin and what that means for you?
TYLER: So often, we feel like we are on the defense as humans, as believers. I wanted to convey that there are other options. There is a way to fight evil, not just avoid it. The devil roams the earth, has his tools and uses them well. The "horse" represents his tool. It can manifest as anger, pornography, jealousy and in many other ways; but he's not the only one with tools. We have been given what we need —"everything for life and godliness," says Peter.
CCM: I love the singer-songwriter sound, especially the old AM sound on tracks like "The Air Back Then." Can you tell us about some of your own musical influences?
TYLER: I grew up with CCM Magazine. Cindy Morgan, Rich Mullins, Wes King, Burlap to Cashemere and Phil Keaggy were regulars in my Walkman. Nirvana, U2 and Pearl Jam were mainstays. I have grown to respect more genres and songwriters than I could name. It is about the song. If I hear an artist who is serving the song — melodies and lyrics — that attitude comes through. Writing a song is a craft. Two of my favorite crafters right now are Matthew Perryman Jones and Andy Gullahorn. The truth is, I owe every good song I ever heard a handshake.
CCM: You said Christian musicians have influenced you, but what about your own church background?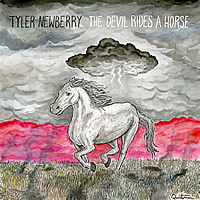 TYLER: This year, I celebrate my 20th year leading churches in music. I started in Memphis, Tennessee, leading my fellow seventh and eighth graders in worship. My folks supported my musical path, one that many parents are leery of, and shepherded me all the way. They let me hang out with other musicians, took me to studios, concerts and introduced me to possibility after possibility. If I messed that up, it was my own fault. I owe my love of music to the church. It will always be integral to my music.