(Photos by Andy Argyrakis)
Andy Argyrakis reports on the Willow Creek Community Church/ South Barrington, IL concert of the Burning Lights Tour, featuring Chris Tomlin, along with Louie Giglio and DJ Promote
Following an overwhelmingly successful spring outing, Chris Tomlin made a second sweep through the States with his Burning Lights Tour to coincide with the deluxe edition of the project, expanded with the brand new Live From Red Rocks DVD.
No matter where Tomlin's leading praise, chances are he'll induce a sea of sing-a-longs, which was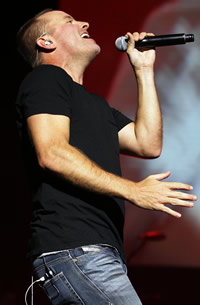 overwhelmingly the case during this particular megachurch stop intermingling the electronic raver "God's Great Dance Floor," the aggressive acoustics of "Lay Me Down" and the rap accompanied "Awake My Soul" (with Lecrae appearing via jumbotron).
Referring to the bold shift in direction, Tomlin promised he'd play "How Great Is Our God" and other more traditionally-minded cuts later in the night and he certainly obliged with modern worship classics like "Indescribable," "Holy Is The Lord," "Amazing Grace (My Chains Are Gone)" and "God Of This City."
The evening ended with a remixed reprise of "God's Great Dance Floor," which found Tomlin and his talented band tossing out massive beach balls into the audience for a session of animated celebration and a call to carry that joy beyond merely this single show.
Additional messages of meaning came from renowned speaker Louie Giglio, who colorfully illustrated the Prodigal Son story with a multitude of cultural references, along with DJ Promote, the ultimate hype-man to not only get fans excited through a series of soulful grooves, but fittingly salute the most famous One of all.