There are many barometers of success for a recording artist — albums sold, awards won, headlines made… By these and all other measures, TobyMac is the consummate winner, having soared to heights few artists ever reach, cementing his position as one of the most influential figures in Christian music today. Over the course of an unstoppable 25-year career, he has become an industry veteran, an innovator whose faith and artistry have led to 11 million units sold, 6 Grammy Awards, numerous Dove Awards, crossover success on the Billboard Charts, and the co-founding creator of Gotee Records, where he has been discovering and inspiring up-and-coming Christian artists for more than twenty years. But behind the glitter of fame, industry respect, and chart-topping achievement is a humble man who embodies the kind of resounding success that can only come from pure faith, love of family, and an unshakable belief in the power of everyday, human connection.
With the August 7th release of his sixth studio album, This is Not a Test, TobyMac epitomizes this and, ultimately, what it means to be a collaborative artist. As seven of the album's 13 studio tracks feature outside performers, including NF, Mr. Talkbox, and his former band-mates from dcTalk, as well as newcomers Hollyn, Capital Kings, and Ryan Stevenson, Toby recognizes the value of this approach.
"I've always been about bringing people together," he says. "I think we're more beautiful together, I think life gets richer when we're together. That theme plays into my record, my writing process, and my recording process."
But Toby's focus on togetherness extends far beyond the music he himself produces and well into the Christian music industry as a whole. "I love, love to introduce the people that listen to my music to new faces, new voices, new names—people that I really respect in what they're doing and what they offer to our industry. I want to promote those things because I care about our industry and I care about believers making great music."
As with many of his canny career moves, he is reluctant to take credit for the collaborative nature of his latest project, and instead credits God for leading him in the right direction.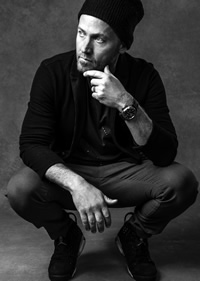 "A long, but fairly interesting story — well, hopefully interesting to you," he adds with a laugh. "I was praying about what percentage of my professional time goes where. And it's been on my heart lately to put a little more effort and time into walking closely with artists and developing artists, and sort of shepherding artists — younger artists — and caring about our industry at large. And when I say our industry, I just mean artists that are Christians. I kind of felt like, man, I need to give a greater amount of time to that. It was just in the last couple of months. And strangely enough, I didn't realize what I was doing, honestly—I was just working away at my record over the last year and a half — and when I got the first track listing of all the songs when we finally put them all together — and they [had all been] just a bunch of loose ends — and I looked at it and I saw the guests…I just looked at that list and it was kind of like this backdoor answer to a prayer — like God snuck it in on me. [laughs] I was like 'Oh I see, You already answered this, You already had me doing that.' And I thought it was just so interesting that I was praying about giving more of my time there, and I already was giving more of my time there. I didn't realize it wasn't a bunch of A-list artists — it was a bunch of young, up-and-coming artists that I collaborated with. It wasn't intentional on my behalf; it was just God doing what He does.
But when it comes to fostering new talent, Toby's efforts are nothing short of intentional. With a gift for finding and developing the kind of distinctive artistry necessary to stand out and make a real impression in the music industry (a gift he humbly dismisses as simply a matter of 'batting averages,' or rather a forgiving percentage of hits versus misses), his focus on growing the pool of impactful artists in Christian music through Gotee Records stems from his unique view of the true purpose of art and music.
"When I'm looking for artists, I'm looking for artists that are making art to serve people. That's what moves me about art. Ultimately, I look at it as loving people when you make great art. I'm looking for artists and art that serve people well and love humanity."
Toby adds that he holds himself to the same high standards, never viewing his work as an act of self-indulgent personal expression, but much more than that. "I look at my art as serving people. Causing people to think. Causing people to smile. Causing people to laugh. Causing people to dance. Causing people to have conversations. That's how I view art. A service to the people. I know it might not be the coolest thing to say in the art world, because I know it's supposed to be all about what you're feeling, but I look at it as loving people well when you make great art."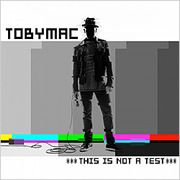 When discussing the songs and lyrics featured on This is Not a Test, it is clear that TobyMac infuses his whole self, his passion, pain, and innate humanity into the art he creates, serving not only the people who consume it, but his own need for creative catharsis.
After the difficulty of losing his father in early 2015, he took time to reflect and draw inspiration from the kind of man his father was. "My dad's life and his death deeply affected me. The way he lived, his commitment to God's Word…his love for the Word and God, the Body and church. He really didn't go anywhere without his Bible." He continues that his father served as partial inspiration for the raw and emotional track, "Love Feels Like," recorded with Kevin Max and Michael Tait of dcTalk.
The song chronicles the challenges, rewards, and exhausting nature of love when you truly give your all in direct service to others. Toby, himself, has long been dedicated to service, including through his Franklin, Tennessee-based projects Camp Electric, a Christian music camp, and Run for Hope, a fundraising organization for New Hope Academy, a Gospel-centered school seeking to educate children from all racial, social, and economic backgrounds.
"It's easy to give to organizations, easy to represent organizations," he says. "But to serve through them and be the hands and feet of Jesus to someone you love — that's a depth and dimension I've never really experienced other than with my own children. Changing their diapers, walking with them in a deep way, loving on them, and being completely hands on…you relish that. But serving and loving when it's hard and it taxes your body and your mind is a level I never experienced until the last few years," he says.
As a father of five, Toby says the lyrics of "Love Feels Like" serve the dual purpose of commemorating his own father and describing the incomparable fulfillment and calling of fatherhood itself.  "I wrote this song a lot about my dad and my son Moses. A lot of it was thoughts of him swelling in my mind. How much I love him and want to serve him, and always be the dad that he needs me to be."
With reverberating honesty, the lyrics of "Love Feels Like" surge with earnestness pressing on the reality that love can be both draining and deeply fulfilling all at once. Harder than I thought/Takin' every part of me/Harder than I thought/So much harder than I thought it'd be/But emptiness never felt so full/This is what love feels like/Poured out/used up/still giving/stretching me out to the end of my limits/this is what love feels like. Despite the wearying depiction  of love Toby describes in "Love Feels Like," the song ultimately embraces the fight. And now these three remain/Faith, hope and love/ But the greatest of these is love/It's worth everything you put in.
"It's strange," Toby continues, "that you can feel so drained when you're loving on that level, yet so full because you know you've given everything on behalf of someone else."
There is an element of raw, unbridled sincerity when Toby discusses his family—the sort of presumed comfort in exposing the intimacy of his home you might not expect from a man of his celebrity. But as he reveals the ongoing effort it takes to strengthen his family when packed schedules and worldly obligations work to pull it apart, it is evident that his pure, overarching need to be the best version of himself for the people that he loves most, as well as his depth of faith and desire to connect, serve as pillars in his commitment to prioritizing them over all else.
"When I'm working on a record, the hours that I work are 10-6:30," he explains. "I'm home each night for dinner and we eat each night as a family at the table. We go around the table and we ask everyone to share what the best part of their day was. It would be easy to say 'well, I have soccer practice, and Dad's recording a record until midnight,' but that's not acceptable in our home. We sit at the table and eat each night and talk. We stay in each other's lives."
But despite strong efforts to stay connected and his self-described "super intentional" approach to recording and touring with family in mind, Toby admits that as with any marriage, his requires attention.
"So many of us, husband and wife, get on different pages in this life," he explains. "Next thing you know there's a tiny bit of coldness between them and it grows and grows. But you have to come back to that foundation of what you believed in initially and you have to remember that's what matters."
Much like the richness he has found in musical partnerships, Toby asserts that his marriage is made stronger through working with his wife to bring out the best in one another and preserve the foundation of their love, reiterating once again that achieving true connection is his ultimate objective.
"When Amanda and I connect, we truly connect through God and through our relationship with him," he says. "And when we're at our worst state and we're both running and it gets tough, we usually end up saying 'Do we want this?' 'What did we originally want in this thing?' We wanted a family. We wanted to point our kids to God, we wanted to be a family that pursues holiness, and we want to love each other. And so we ask each other if we still want the things we dreamed of when we came together originally and the answer is always 'yes.' That's what we do when we need to reconnect."
Although the milestone of 20 years of marriage stands true as a representation of Toby's commitment to not only his family but also his faith, he maintains that his roles as husband and father, artist and believer do not make him an expert in any of those arenas, and when it comes to true guidance, we should all refer to the power of God's Word and the strength that can be found within it.
"The pressure of things is not on me," he says. "The pressure is on the Gospel. It's not on Toby. I can't handle all this. I'm not wise enough, I'm not patient enough; I just don't have all the answers."
But even as he drapes his role as a spiritual guide in his proven modesty, it is impossible to diminish the influence of TobyMac. As a leader throughout Christian music, he connects the songs of believers with the hearts of listeners, developing the artistry of newcomers and veterans alike, while continuing to share his own unique voice, rich with honesty and love, moving the bodies and souls of his fans, and exemplifying the power of merging faith and art. As a husband and father, he embodies his unwavering belief in the power of human connection with impenetrable devotion to his family, evident in the way he and his wife, Amanda, run their home, raise their children, and continue to put in work each day to ground one another with the love they share and dreams they wish to grow. And as a believer, he calls on each and every one of us to refocus our priorities and come together not just as family, friends, or followers of Christ, but as human beings working together for a greater world and more meaningful existence. A definition of success not easily achieved, but his actions prove irrefutable to those who hear his message and share his faith. It's how he makes his music, it's how he connects with his family, and it's how he continues decade after decade to connect with the world.
"I think everyone's got a specific call," he says. "I am a guy called to bring people together—called to stand on a platform and say 'I believe we're richer together rather than separated.' There are people that will always be able to express that from behind the pulpit better than me. There are people that will be able to express that in Congress better than me. But I can tell you this; I want to live that, I want to be that. And I think I'm doing that. I think I'm walking in what He's called me to."