Longevity is a rarity in the entertainment business. Most artists consider a good five year run a job well done. Then again, most artists aren't tobyMac.
Since his debut with dcTalk in 1987 the eternally young hip-hopster has been turning out infectious tunes, current beats and the kind of lyrics that stick with you in the best way. With more than 10 million albums, more than 10 Dove Awards and countless number ones, the GRAMMY winner has a track record that speaks for itself.
That kind of success doesn't just happen. It requires focus, intentionality and prayerful diligence. It requires you to keep your eye on the ball, so to speak. It's just that type of focus that was the well-spring of creativity for toby's latest album, Eye On It, which released August 28.
He shared more about his heart, his focus and why he can't wait for you to hear this project in an exclusive interview with CCM.
CCM: I can tell you're excited about this project…as you should be. What's so special about this one?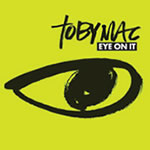 toby: I worked so hard on it. You always want every song to count and to matter. This time, I just anxiously waited for God to bring these songs to me. He was just really faithful. And time was my friend when it came to recording. They're all songs about things that are real in my life and I think people can sense that. When you write honest songs…I always say if I'm going through a bunch of things, I would imagine that others are going through the same things…
CCM: Well, if the songs are about what's going on in your life, catch us up. What are we going to hear about tobyMac on this record? Any standout moments or songs in particular?
toby: A lot stand out. Songs about families, about storms in relationships, husband or wife, siblings or the body of Christ… fighting through the tough things of life… You come to a point when you recognize what matters. I do. I have to remind myself that this is what I want.
"Steal My Show" is about truly recognizing that whatever you're doing in life, if you're a part of God's kingdom, there's a bigger picture than yourself. We're stealing the show usually. There's something about letting God do something.
"Me Without You"…how can you really appreciate what you have in this amazing, grace-filled relationship with God until you recognize where you'd be without it? Really, truly, where would I be without God? I would be an absolute mess… Rather than naming how great God really is and how wonderful it is being part of His family, the song's a pretty fun song about recognizing who God is in the struggle. There's a sense of urgency about recognizing who God is in faith.
I grew up in athletics…playing any sport I could play from basketball, football, golf, baseball… I was told my whole life to keep my eye on it. Even when you begin to carve out a career in music, I think there's something to that phrase—focusing on what matters in the midst. There are many things about being an artist that don't matter. There's one thing that does. I want to open people's eyes and hearts to God's kingdom.
CCM: Which you've done…in spades! You recently stopped by The View to wish Sheri Shephard a happy birthday and perform; NBC has tapped your songs for use in commercials including an 'America's Got Talent' commercial and even The Simpsons movie! What is that kind of exposure like? Did you ever imagine you'd have this kind of reach?
toby: It was amazing. I'm honored definitely. There's a moment there when you go, wow…a little punk back in a dorm room trying to make loops on a little drum machine, rapping, trying to sing. Now, this is like all of America…not just a niche or section. I never used my music for only a Christian market. For it to be out there a little further… It's what I've always purposed it for, what I've always shot for. I'm honored to be in Christian music and stand in front of believers but I've always believed we should go where we can. I'm glad that my music that represents God, represents light could be in there…
CCM: It stands to reason that you'd have a diverse audience. You've always prized diversity in your public life and private. Why has that been such a calling for you?
toby: I think the most important thing to me is that it's real. It's not just a platform. It's my life. I'm married to a Jamaican woman. My church is richly diverse with an African American pastor. The guests on my record show that diversity is important to me. It's not my platform. It's who I am. It's how I want to live. It's where I believe there's richness in life. Not everyone can make their world diverse. It's not wrong, but I think you're missing out in richness.
CCM: You've made Tennessee your home for a long time…and are very plugged into your local community. Why is it so important and how do you find time to make such a vibrant local life for you and your family?
toby:I didn't used to. Back in the dcTalk days , it wasn't easy. We weren't really plugged into our local communities. We were gone. Now, having a foundation here with a wife and family, you see what community is all about. You begin to be plugged in because you have a family here. You function with people here. You're part of a community way more as a family and not just an artist. My life has changed. The opportunities to be a part of community have presented themselves and I've said yes. I love it. There's something special about it. You're not only reaching out to other people; they're reaching into us.
CCM: You've been really intentional about building your creative community as well. Especially pouring into younger artists like Jamie Grace…how has it been to watch her grow and take off like she has?
toby: I knew when I met her and her mom and dad and sister that there's an artistic freedom, but an absolute adoration of the Lord and a sense of family that I hadn't seen in a while. She lights up a living room and an arena. There's something really special about her. How do you take what she has…her songwriting, her smile, what God has made in that young girl and present it to people… We worked together on her record for 8-9 months. She kept presenting these songs and they were growing and blossoming in front of you. I'm proud. When she calls me her mentor, it's an honor. I try my best to advise her right and love her well. It's not always easy. We don't always agree…but ultimately, it's up to her.
When I get the privilege to devlelop an artist, it's up to him or her…
I've always recognized that. I'm not a creative island. I'm very needy. The people that have come alongside me, from producers to band to management can't be praised enough. I can't say thank you enough. One of the things we lose perspective of is how needy we are. If you recognize the need, you can see other people's strengths… I'm thankful for the people I work with.
CCM: Where will we see you and all these great people? I hear there are some exciting plans for upcoming tour and show dates…
toby: From October to April, we'll probably have almost 100 dates. I will work hard to share this music with people. When you've labored in the studio and people really take to it or don't, it's a very humbling moment where everything comes together. People singing music back to you, with you can be indulgent. But to serve people, to move them in a way that their spirit is served and causes them to ask themselves tough questions…
The body of Christ is to serve, so when people come to the show, they were thought about, prayed about…
I think every batch of songs sort of brings a new moment that we've never had before…this new wave of creativity for the live performance…
That sort of drives it all. I keep asking God when I sit down to write, 'If you've got something for me, I'll clear the way, breathe it on through….'
I'm loving what I'm doing. It is a labor of love…