Allowing God's Breath To Invade Every Detail, McNevan, Bruyere and Augustine—The Trio Known As 'TFK'—Are As Tuned-In As Ever After Twenty Years Of Making Music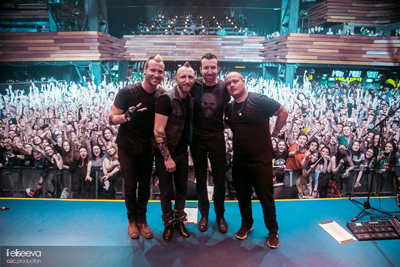 "We feel like we're just getting started."
In some ways, Trevor McNevan sounds like a young man just beginning fulfill his dream of "making it" one day. In others, it's clear the Thousand Foot Krutch front man has been at this for quite some time.
Twenty years into a chart-topping career marked by well over a million albums sold, song placements all over television and video games, and a global fan base, McNevan has every reason to want to slow down. He's now a family man with a young son and a daughter on the way. In short, he's earned his stripes. Fortunately for TFK's fans, McNevan and company are not the sort to rest on their laurels.
"You'd think releasing another new album might get old, since we've been doing this for twenty years now, but it's still a new experience every time," says McNevan. "Now that we've had the record ready to go the last couple months, we're just chomping at the bit. I personally feel like this is our best record to date."
McNevan's "best record to date" description refers to EXHALE, the band's forthcoming set of summer anthems. TFK's last two albums, 2012's The End Is Where We Begin and 2014's INHALE, both hit No. 1 after their release, and it's fair to expect EXHALE to do the same, especially since it's filled with the band's signature stadium-ready hooks. INHALE, the sister project, showcased a more delicate side, while their newest is ready to let it all out.
"The live show is such a big part of who this band is," says McNevan. "We've always put 150-percent out there while we're playing our music, and these songs will expand on that for sure. The more intense the music is, the more intense the live energy and fan connection will get. We're doing a headlining tour this summer, and we can't wait to get out there and share these new songs with people and connect face-to-face with our fans."
Hidden behind the fist-raising anthems and hard rock intensity is a very thoughtful band that continue to put themselves in tender, vulnerable places to write the songs that they do. Anyone well versed with the band's significant catalog will already understand this, as McNevan's songs have always given way to raw emotion and deeply personal experiences. It's rock, but it's relatable.
"There are a lot of real life moments on this record," says McNevan. "One song called 'Honest' is about a moment I've had so many times being transparent with God asking, 'How come I always break my promises to you? Why do I feel so far away from you? If I love you this much, why am I taking steps away?' There are a lot of raw emotions on this record, but that's the music that's always communicated with me."
McNevan gets personal on another song, "Lifeline," which finds him nearing the end of himself as he deals with anxiety for the first time.
"That song came out of some pretty intense moments in this last season of life for me," he says. "I was dealing with a few things I'd never dealt with before. It was a feeling of being overwhelmed. We all hit those moments in different ways where you come to the end of yourself.
"As trying as those moments are, those are some of the most beautiful moments in our lives," he continues. "You come to the end of yourself and you say, 'God, I trust you. I can't take another step. This is all you.' God has had his hand out trying to get us to let go of control the whole time. As tough as it can be, it can also lead to a beautiful restart."


The key to Thousand Foot Krutch's longevity can be found in such vulnerable soil. To hear McNevan describe his creative process is to hear a man committed to staying close to the heart of his Creator. While other bands might burn out from going through the motions or become overwhelmed by the demands of a constant tour schedule, McNevan and the rest of TFK—bassist Joel Bruyere, drummer Steve Augustine—are as grounded as ever. When fame toward one direction or another does not faze you, twenty years isn't such impossibility.
"The dynamics of making music is still the same after all of these years," says McNevan. "You still spend a lot of time pouring your heart into the record itself. That's something we take very seriously and it's always a call out to God asking, 'What do you want us to say? How do you want this to work?' It's such a process, both mentally and spiritually.
"When you're in this industry and you're in the grind or on a tour or heading to a bus or airplane or venue, you can get into this mode of busy-ness. That's something we can all relate to, I'm sure. I know it's important for me when pouring into a record to take out some quiet time, to set that aside and spend time in God's presence. I don't want to always ask something or talk at God, but I also want to listen. I'm listening to what God wants to say and speak through this process."
Typically, what God wants to say through a Thousand Foot Krutch record comes directly from McNevan's personal experiences. Each album is filled with the Ontario, Canada native's personal experiences, and EXHALE is no different.
"On each record that you make, you're writing from your heart about situations that you've gone through," he explains. "EXHALE touches on some stuff that's very personal and close to my heart. Each record has that, so it's not different in that aspect, but this is a new chapter for me since I have a little boy and a little girl on the way. God has been teaching me new things, stretching me in new ways, and so the music is about all of that."
Staying spiritually grounded isn't the only practice that has stayed the same over twenty years in a rock and roll band. McNevan also says his creative process remains the same from album to album. It begins with a string of random ideas—musical or lyrical—written in notebooks or logged into a voice recorder of some type. From there, the songs take on a life of their own.
"Ideally, songwriting always starts the same way," he says. "I lock myself in the back of a bus or in a studio or in a hotel room and start digging in. I start thinking about what I'm inspired by in that moment. Perhaps it starts with a guitar riff or another instrument or a hook that comes to mind. I have crazy amounts of voice recorders filled with stuff through the years.
"So it starts by digging in to some of that stuff and seeing what inspires you. Then it takes a lot of crazy turns and twists from there. That's the fun of it is letting it out of the box. You want to serve the song—the style, the production, the message of the song. So it starts the same every time, but I always end up in a whole new destination. That's the beauty of songwriting."
McNevan says he's serious about the "just getting started" feeling, but he also recognizes just how rare Thousand Foot Krutch's longevity really is. "We've seen a lot of great bands come and go. It makes you feel very fortunate to be doing what you're doing. A lot of bands seem to have a five-year of-sorts career window, so we feel very thankful to still have an audience walking with us. We're still doing this with the same heart we ever had, so we're just so grateful to that support."
Perhaps Thousand Foot Krutch can feel like they've got plenty of life left because they've never felt it was dependent upon them in the first place. McNevan recognizes God as the one who has authored his musical career from the beginning, so who is he to change his mindset after this many years of making music.
"When it comes to making a record or writing a song as a believer, it's all in God's hands," says McNevan. "It's not as much my input as it is His. We try to keep it about that. Although you're the voice, you're really drawing on that. Sometimes it's a couple years later or in the current moment, but the songs themselves will start to speak to me about my own life. It's a cool process that way. It's your record, but you give Him that glory and don't take that ownership, that's for sure."