With 48 No. 1's to his credit, it's hard to imagine a songwriting feat Steven Curtis Chapman can't conquer. Yet, the iconic artist recently surmounted his biggest musical challenge to date, spurred on by a little help from his friends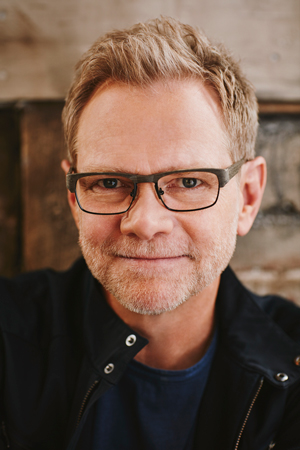 Steven Curtis Chapman has been Christian music's premier storyteller for nearly three decades. Through the years, his long line of hits has given listeners a glimpse at the man behind the microphone. His signature love song, "I Will Be Here," was written as a declaration of unwavering commitment to his wife, Mary Beth, following his parents' divorce. His massive hit, "Dive," was inspired by a sermon at his local church, and the tender "Cinderella" was born from nightly bedtime rituals with his young daughters. If anything, Chapman's vast discography reads like a memoir of his life.
Now, the five-time GRAMMY® winner is unveiling the next chapter in his personal narrative with the release of his twenty-third studio album, Worship And Believe (Essential Worship)—his first official worship project and his most challenging effort to date.
"To write songs that are just marinating in the truth of God's Word in a corporate sense was a really daunting and intimidating thing for me," Chapman confesses. "I would say, if not the most challenging project, it was definitely up there among the most challenging. I really do think as far as writing, I challenged myself the hardest on anything, just because it felt so important that it was right."
That's quite a statement considering Chapman is the most awarded artist in Christian music history with fifty-eight Dove Awards to his name. Yet, the beloved songwriter is far more comfortable penning a lyric from personal experience than he is creating a chorus that's a vertical expression of praise.
"As a craftsman of songs, I love poetry; I love story. I love to put those to music. The songs that have impacted me deeply are often just the songs that allow me to take a journey with someone in their story, which is, I'm sure, why I write the kinds of songs I do. They're more story songs. They're little pages from my journal," he explains. "Trying to craft [songs] in a way that makes them simple enough to sing, but not simplistic in a way that they're not communicating all the depths of [God]—that's what's so hard. If anything, [worship] songs need to be the richest in theology."
Chapman candidly admits he's been reluctant to spearhead a worship record because there was a time when he felt like he wasn't connecting with worship music personally. "If I was really honest, at times I've felt with some worship music that, as much as I want to be on the inside, I feel like I'm sometimes on the outside looking in," he shares. "There was that part of me that would feel like I'm looking around [at church], and I don't know if I'm getting what everybody else is getting from this experience. And it's not that there's anything wrong with them or with the experience; it's something wrong with me. I'm not spiritual enough. I'm not going deep enough. I'm not doing it right. I felt like, I don't know what I'm missing in this, but I feel like there is something missing."
And then May 21, 2008 happened, and everything changed.
MARIA
At five years old, Maria Sue Chapman was the youngest of the singer's three adopted children, and one fateful afternoon in May, a tragic accident took her life in the family's driveway. To say that Chapman's life was transformed from that moment forward would be an understatement. His youngest son was driving the car that accidentally struck Maria, and his other young daughters were outside playing and witnessed it. In that moment, he felt the overwhelming responsibility of leading his family through this unspeakable tragedy.
"The weight was, as you can imagine, just crushing," he says.
At the time, Chapman wasn't sure he'd ever sing again. Eventually, he found his voice and poured his heart out on 2009's Beauty Will Rise (Sparrow), a raw collection of gut-wrenching songs that found Chapman in the throes of unanswered questions, suffocating sorrow and unfathomable grief.
"I never ever want to write another Beauty Will Rise record again," Chapman admits. "It cost too much."
Eight years later, the gaping hole in the Chapman family left by Maria is still acutely felt. Unable to live in the house filled with so many memories of their little girl, they tore down their home and rebuilt it. Eventually, the family entered some brighter days marked by celebratory milestones. The oldest Chapmans—Emily, Caleb and Will—all got married, and Steven and Mary Beth became grandparents for the first time. Today, the Chapmans have four grandchildren—three girls who belong to Emily and one boy who belongs to Caleb. Like their dad, Caleb and Will set their emotions to music and embarked on a new journey with their alt-pop band Colony House, and experienced massive success behind their debut, When I Was Younger (Descendent Records). Meanwhile, Chapman's youngest daughters—Shaohannah and Stevey—have blossomed into teenagers; and Steven and Mary Beth continue to serve as tireless advocates for orphan care through their organization Show Hope, which extended its 5,000th grant last year.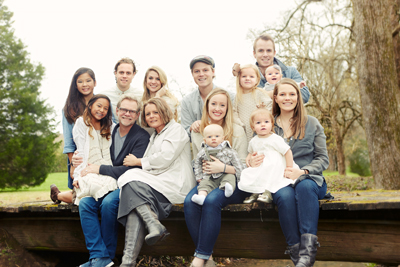 Chapman is back to touring and recording, yet Maria's loss lingers. There's no escaping the loss of a child at any age, and the singer still can't recount the day's events without tears collecting in his eyes. "We're still on the journey," he concedes, "and we're not through it and it's not behind us and we're not over it."
WHEN WORSHIP BECAME REAL
It was in the days following Maria's death that worship began to take on a whole new meaning for the father of six.
"In those early moments, it was like a black hole," Chapman recalls. "I literally felt like sinking into this dark, dark place that had no bottom and had no end. It was just darkness, and it was all the questions of my family: What about my son? What about my little girls? What about my wife? What about our marriage? Most marriages don't survive a loss like this. What's the implication of all of this? And somewhere in the midst of that I began to hear myself whisper—because I really couldn't sing at that point—the song my friend Matt Redman wrote coming from Job just saying, 'God, You give and You take away. Blessed be the name of the Lord.'"
Redman's song became an anthem for the entire family as they navigated those first stages of grief. In fact, Chapman reached out to his friend shortly after losing Maria to ask if he could come and sing "Blessed Be Your Name" at Maria's funeral. Redman was at the airport on his way back home to the U.K. when he got the call. He immediately left the airport, got a car and drove back to Nashville.
"I'll never forget my family and I standing there. It was not a super look-how-spiritual-we-are-in-this-moment thing. It was out of absolute desperation that we put our hands in the air and, in essence, handed our little girl and everything that we understood over to God," Chapman says, reflecting back on the memorial service as he gathered with his family singing the lyrics to Redman's song, among others.
"We would sing, 'It is well with my soul,' and it wasn't well with anything in my world at that moment," Chapman recounts, "but [we were] dropping an anchor, driving a stake in the ground saying, 'But I'm going to declare this.' To get from here to here, I've got to hear my mouth say, 'God's faithful.'"
In the long months that followed, he says, "I would take a breath and say, 'Blessed be the name of the Lord' and worship Him, and then I found I had more oxygen for the next breath and I was a little stronger."
The singer also found solace in David's Psalms in his darkest hour. "I began to go back and read the beginning of those chapters, and so many times those Psalms that end with these great celebration songs start with 'How long, Oh Lord? God, are you going to forget me forever? I'm going down in the mire. The world is closing in around me. I'm done for,'" Chapman observes. "I began to realize the Psalms [are God saying], 'Pour your heart out to Me. Pour it all out. Pour out the questions. Pour the doubt. Pour the fear. Pour all of that out. Be honest about it.'"
The truth of Scripture rooted in many worship songs began to be the very thing Chapman clung to. "Belief has to start in unbelief. It's got to start with, 'God, this is what I don't understand right now.' And God doesn't ever tell us not to do that," Chapman offers. "We have this hope as an anchor—that's what Scripture talks about. We drop anchor in the promises of God, and here comes another wave of doubt, or wave of pain, or wave of confusion; and those waves keep hitting and keep knocking us loose, but we keep dropping anchor. And for me, that's what some of these worship songs became."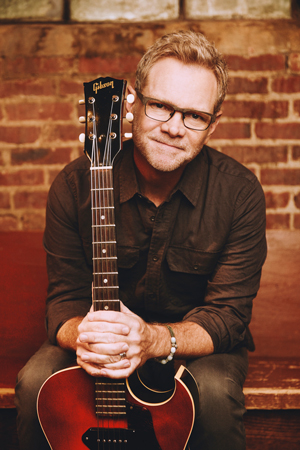 THE STORY
In 2013, Chapman embarked on The Story Tour along with several other high-profile artists and author and speaker Randy Frazee, who serves as the co-pastor alongside Max Lucado at San Antonio's Oak Hills Church. As he and Chapman developed a friendship, he began to tell the singer about a new curriculum project he was working on called Believe. As Frazee revealed his own doubts and questions surrounding the mysteries of God, Chapman felt his heart ringing like a bell. He thought it might finally be time to write a collection of corporate worship songs, complimenting Frazee's Believe project.
"[I was thinking], 'Now I have the perspective of my own journey to where if I were to sit down and write corporate worship music, it would be coming from a very different place of how powerful that's been for me to have those truths to declare and to anchor to," Chapman says. "So, that's really where the Worship And Believe project began and how the songs began to come together."
Considering himself a worship rookie, the award-winning artist began writing with a lack of confidence and a lot of trepidation. "[I thought], 'I don't know if I can do this. I don't know if I have the tools to craft these songs as good as they need to be,' because these aren't the kinds of songs that I naturally write. This isn't what I've spent years and years honing. This is, in many ways, a different kind of craft," Chapman maintains.
Thus, he called in the "trained professionals" for co-writing sessions. Chris Tomlin, Redman, Matt Maher, and Rend Collective were just a few of the A-list worship writers Chapman enlisted to help bring the songs on Worship And Believe to life. "I did call some of those guys and go, 'Help! Tell me if I'm crazy… Tell me if I'm anywhere even close to doing this well because you do this regularly,'" he shares.
In addition, Chapman led worship at his local church several Sundays in order to try out his new material with a live congregation. This led to numerous rewrites and often ditching songs altogether.
"There were songs I rewrote about fourteen different ways until I finally got to the right version," he reveals. "There were definitely ideas that would get scrapped along the way."
During the recording process, Matt Maher, who co-wrote and guests on "Hallelujah, You Are Good," offered the multi-platinum artist some welcome advice. "He just sat and listened and cried with me as I shared my story and was taking notes the whole time," Chapman recalls. "He was a great encouragement [and said], 'You know what, I believe in this process and what your heart is in this, and I think people will connect with that. I want to encourage you to release yourself from the rules or the formula… Just write these songs from your heart and trust that people are going to connect with those in the way that God wants them to' … That was a real gift."
Chapman also looked to the late Rich Mullins as a model for how he desired to approach this worship recording. "I think what I loved about Rich's version of corporate worship is that there was just this honesty in his songs that I think always kind of drew me in," he offers. "You felt like you were looking into the heart of the guy leading you. He wasn't just giving you a song to sing, but he was taking you into his own journey. There was that honesty and that kind of frailty and weakness and brokenness of the ragamuffin that he was. I could relate to that. I could connect to that."
Chapman's unsure how the songs on Worship And Believe will play out in his set list. After Maria passed away, he began ending his nightly concerts with a time of worship, so integrating them feels natural. Admittedly, he acknowledges longtime Steven Curtis fans come to hear the hits, but these new tracks will undoubtedly make their way into his set list each evening. He'll share the stage with Third Day on the SCC3D Tour beginning April 2016.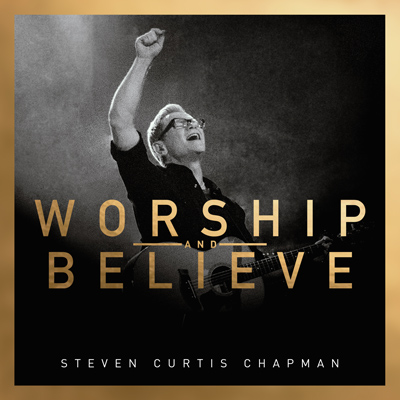 Despite the fact that he's officially dipped his toe into the worship pool, don't expect Worship And Believe to propel him on the paths artists like Tomlin tread (and have paved). Chapman feels a sense of satisfaction with the songs on the new album, but he's content to stay in his lane and continue his tradition of storytelling—one song at a time.
"I have a sense that this is one of the chapters God had me to tell and to write… [worship has been] an important part of my journey, and I'm very thankful that for as long as my music is around, that will be a part of what I was able to offer and encourage people with," Chapman shares. "I feel like if this is one volume of how God would use this instrument of Steven Curtis Chapman, then tune me up and pull me off the rack and say, 'I'm going to tune this guy up and use him.'"