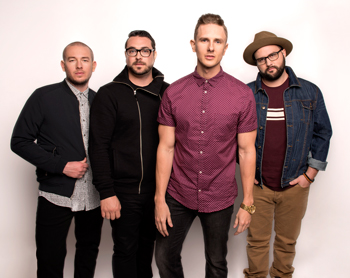 CCM Magazine recently took the advantage of catching up with the very busy lead singer of Stars Go Dim, Chris Cleveland. In the midst of traveling from city to city as part of the Winter Jam Tour Spectacular this year, hopping on the van last-minute between said tour dates and driving 850 miles to support the first-born of band mate Josh Roach (see pics here!), and the band just announcing their single "You Are Loved," reaching #1—we knew our time would be brief!
But here's a quick look at Chris' "last things," because, when you're this busy, it might be all you can remember!
Last book you finished: Two at same time—Surprised By Hope (N. T. Wright), and Making Sense Of The Bible (Adam Hamilton) Making Sense is a very easy read, and guides you into how to read and better understand the Bible. Surprised By Hope is tough, but so rich. Mind blowing.
Last book of the Bible you were in: James, one of my favorites from beginning to end!
Last album or music you bought: I stream! [laughs] I was happy when our own record became available on Spotify. I have also been listening to the new Hillsong United worship record.
Last meal you had, and what did you eat: Breakfast. We have great catering on Winter Jam—scrambled eggs, oatmeal, pineapple, and pancakes.
Last movie you saw: The rest of the band is on their way to see a movie right now! My wife and I recently saw Star Wars, we were late to the game.
Last concert you paid to attend: OneRepublic at the BOK Center in Tulsa, Oklahoma.
Last time you stopped for coffee, and what did you order: I'm not a coffee drinker, but enjoy warm tea.
Last city on Winter Jam you played, and any specific memory: Augusta, Georgia is probably my favorite memory so far—not for the concert, but we actually (and accidentally?) drove into the Augusta National Golf Course where The Masters is held… They kindly escorted us off the premises, but allowed us to look around a bit.
Last time you laughed uncontrollably and why: Last night at dinner—when the four of us are together, it can get funny. Josh and Kyle [Williams] are hilarious!
MORE ABOUT CHRIS:
We wanted to know more about Chris and his Winter Jam tour routines, so here's a few details about pre-show rituals, gear, and food on the road:
Typical pre-show drink and/or meal? Nothing really typical, kind-of depends on what time we go on stage… I always have water, for sure. I'll take about three swigs, put it on stage, and usually finish it before last song.
Are there any pre-show prayer rituals? Other than just typically gathering to pray off to the side of the stage before show starts, the people involved in the prayer can vary. It's usually the band, and whoever is standing around at the time.
Any pre-show superstitions? No. We do usually wear the same things on stage, however. We'll take a new item from our merch table every night.

What gear do you use to either get ready for a show and/or for the gig? For Winter Jam, I don't really play much. I have a ten-foot metal grand piano, complete with an eight-foot by four-foot LED screen on top of it, which I'll play a little each night on this tour. When we do our own shows, I'll play more. It's very routine, we just get or stuff up there and we go! Josh brings various snare drums, and Kyle has a bunch of different amps, pedals, and guitars. On Winter Jam, however, it's so quick, we try to use as little a possible.