Different can be terrifying. Different can also be great. But, to fully embrace different requires a certain measure of faith.
Sidewalk Prophets has faith in spades.
With the release of their first studio project in over three years, the band is now markedly diverse musically, a change reflected in the album title Something Different (Fervent Records, August 28, 2015). [Read the CCM review] The group, comprised of co-founding members David Frey (lead vocals) and Ben McDonald (rhythm guitars), along with Cal Joslin (bass), Daniel Macal (lead guitars), and Justin Nace (drums), has experienced change due to growth in each members' spiritual walks — changes that unequivocally impacted the direction of their work as a band.
For Sidewalk Prophets, this story began with creative brokenness. After a challenging season, the band made a monumental transition to become self-managed, primarily under the creative direction of Ben McDonald.
"God isn't afraid to give us tests," McDonald says. "You learn so much about life through any circumstance and we are now emerging from the other side. We've weathered our storms to see what has remained, and from this we have refined and rebuilt. The superficial went away, leaving us with only Christ at our core. As Christians, there is that something different — it's the continual and underlying current of Jesus' grace."
With painful personal battles adding to the stress of professional changes, David Frey says he experienced a heavy-hitting reminder that his strength is found only in the Lord.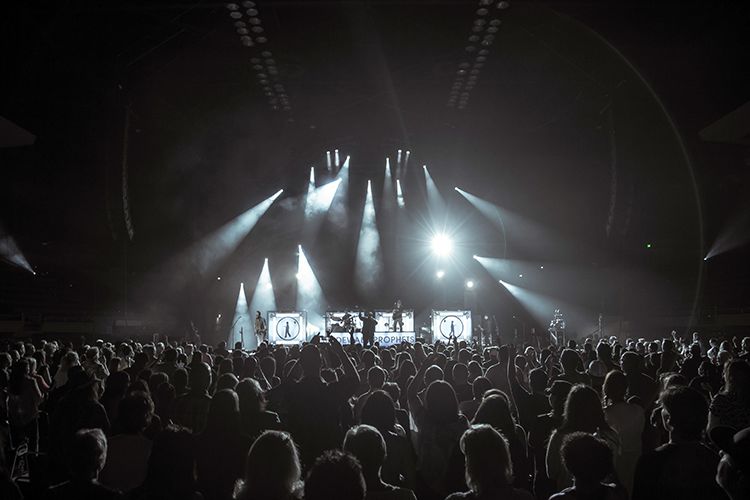 "Recently, I had an engagement fall through. In addition to that, my parents had been going through a divorce. The circumstances shredded me and also rippled through to the band. However, I couldn't help but think about the fact that Jesus knew exactly what was happening and was holding on to everything from His eternal perspective. I was at a point at which I had nothing but Christ — the very place where He needed me to be."
Through persistent resilience the band sustained, growing stronger through Jesus despite continued personal and professional struggles.
"We had to search for a perspective during some of our recent challenges," Frey says. "We often wondered if we would ever recover from them, but God was constantly longing for us. Once we completely surrendered to that, we were in agreement that even though things seemed bleak, Christ was going to stand us up even stronger than before.
"We had to latch on to our faith, and be reminded that God is in control and does work all things for good," he continues. "He's the one giving us love when we feel unlovable. He holds the sky up when it feels like it's falling down. He's the difference. We want people to look at us, with all of our scars and mess, and think, 'Wow. I want whatever it is they have.'"
This focus on inspiring people and growing alongside of them is evident in their unwavering passion for human connection, McDonald explains. "The heart of this band has always has been about connecting with people."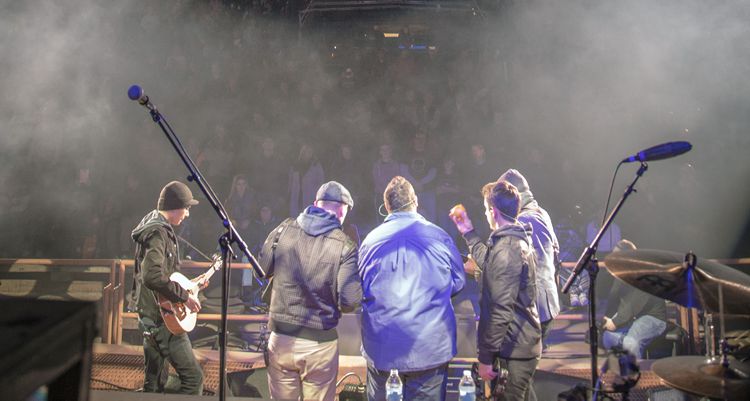 It was that hope of further connecting with their fans that drove Sidewalk Prophets to redesign their show structure, focusing on the audience experience and creating an intimate setting for every performance of their Great Big Family Room Tour. In a unique twist, every night each member of the band met concert attendees at the door and ushered them to their seats; over 20,000 of them total, according to McDonald. They shared pizza with the audience before getting on stage, and then continued to engage in dialogue with them throughout the performance, even staying afterward to continue the conversation.
"The tour was an amazing risk," says McDonald. "We were traveling in our own van, getting stuck in a blizzard one day and heading to a beach the next. It was such an incredible and fulfilling journey. It was certainly something we had never experienced before, and we believe that it was a much different experience for audiences, too. It was worth the risks and we now want to invest more than ever into the people that we are connected with."
Riding the inspirational wave of their newfound creative freedom, Sidewalk Prophets was forming a vision for their new project, determined to honor God and the call he placed on their lives to rise above and stand out in their quest to share His message with the world.
"It had been three years since the last album [2012's Live Like That] and this one was in the works for over a year," says Frey. "We had been through so much as a band, when we were finally able to get away and rest with God, what came pouring out of us was different than anything we had done before." They chose to get away to a beautiful lake house in Pennsylvania, which served as the perfect setting for much needed rest from their 200-plus annual tour dates, and helped in fostering ample inspiration.
"We were on a wildlife preserve," Frey explains. "There were bald eagles and deer. It was so magnificent and really kick-started our time there. We put pen to paper every day. It was amazing to experience hearing from God when we finally stopped to listen for Him. We had no cell phone service, and it was…quiet. Sometimes we can't realize how loud the world around us can be until we are in that type of environment."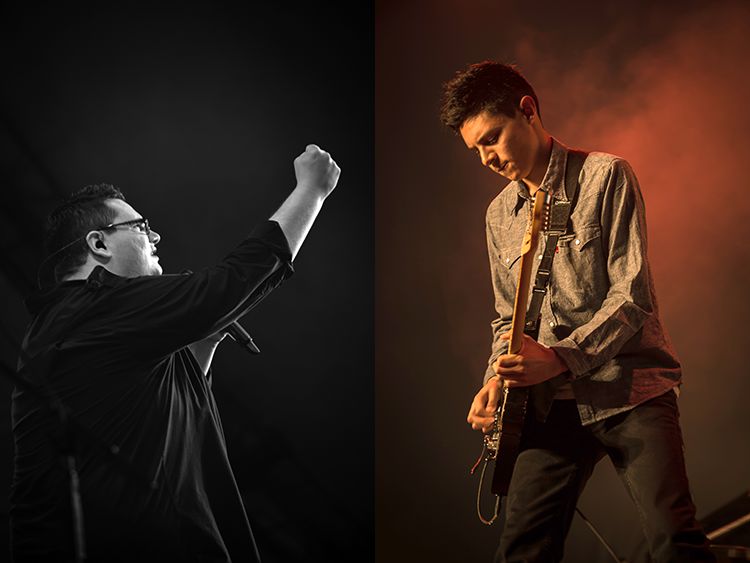 For fifteen days, the 'Prophets soaked up the wonder of God's creation while simultaneously writing for the new project, inviting collaborators to fly in from Nashville and join in the process. Seth Mosley (for King & Country, Hawk Nelson, Jeremy Camp) was the last writer/producer to visit the lake house, and ultimately produced the entire project.
"We weren't sure if we were going to work with Seth. He is one of the busiest producers in Christian music today," says McDonald. "We initially thought that we wanted to go outside of the perceived boundaries of Christian  music—even considering what others might think of our band's potential—but we were blown away by him."
What emerged with Mosely was an eclectic group of songs that stand alone from track to track.
"Comprehensively, Something Different is a sonic departure from anything we have ever offered," McDonald says. "There's a gospel influence, songs that sound like they came from the 80s, some even have a Hawaiian feel…ukulele sun songs! There's a built-in journey from track one, all the way through to song number 14. They tell a story, and the artist in me knows that story will be different for each listener."
In their effort to reach people in an unforgettable way, for Something Different the band drew inspiration from some of the their favorite albums.
"One of our all-time favorites is [dcTalk's] Jesus Freak," Frey shares. "We also love Take Me To Your Leader [Newsboys] and Jars of Clay's debut album. Those bands put their heart on paper. The songs were so honest and inviting—and so different. If you didn't like a particular song, you'd keep listening and find one that you did. On Jesus Freak, you could bang your head to one track and be moved to tears on the next song."
Included in the batch of new songs are the stories of people from around the country, all of which helped to shape and color the creative process on Something Different.
"Night after night on tour, people would ask us to pray for a child who had wandered from home," Frey explains. "Others would admit that they themselves had been lost, but the words in our music were enough to inspire a return home and ask for forgiveness. The song, 'Prodigal,' draws upon the story in Scripture about two brothers. One was responsible, and one was not, but  the irresponsible one was welcomed home with joy and love. The greatest part of this story is the father. He is so full of joy that his son was finally home. There's absolutely no reason to stay where you are if it's not a good place. The same feet that took us to wander can lead us back home. You never know what might happen tomorrow, if tomorrow were to even transpire. Now is the time to be  where you were meant to be—home."
The song "Sisters And Brothers" was largely inspired by the interaction they had with people along the way.
"We really want to be a family with our brothers and sisters in Christ," says Frey. "Our fans are more than just 'fans.' The lake house where we wrote this album belongs to, and was generously shared with us by, a fan that wanted to offer a creative space for us. These people genuinely care about what happens with this ministry. We aspire to give that degree of care and love to everyone we meet."
With Something Different, the guys are preparing to hit the road with Tenth Avenue North for a fall tour.
"Once again, our audience will hear and see 'something different' from us on this tour," says McDonald. "I love how entertainment can be used to glorify God. We want to create an environment where people can get lost inside the music and contemplate the greatness of Christ.
"This is a new season," he continues. "TobyMac recently encouraged us, 'You guys are carrying the torch. You need to bring it.' That conversation was a game changer and continued stoking the fire for us to really love, connect, and engage with people on an entirely new level."
This new perspective has refreshed and motivated them to elevate their vision and fully consider the impact their efforts may have on future generations.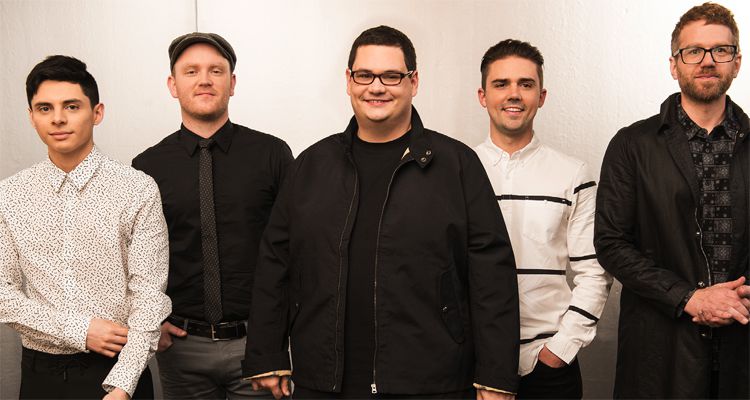 "Everyone is going to face challenges and make mistakes in life," says McDonald. "Trust is earned, and can then be burned. Our hope, however, is that the fruits from our fallouts will speak for themselves. We want to inspire others to rebuild, not settle."
As far as Sidewalk Prophets are concerned, complacency has no voice. Through it all, they have maintained the intangible that makes life possible—faith.
"Upon finishing an album, finalizing the packaging and calling it a day, we usually don't go back and listen to it," admits Frey. "But in the case of Something Different, I'm finding myself drawn back to it. Each song has a personal and special story. God was breathing into us."
Each new breath brought about change— differences that were true blessings, granted by the One who remains the same.