SHAWN MCDONALD has created pensive, moving, raw music since he first came on the scene in 2004 with Simply Nothing. The ten years since have been full of highs and lows. While his music worked its way into the hearts and playlists of people everywhere, the personal struggles of marriage, divorce and an overall sense of darkness loomed large in his life. Despite the challenges, Shawn continued to use his circumstances as a muse to create music the world needed to hear. Today, however, that shadow is lifted. Refreshed and in a new state of grace, Shawn's personal joy has come to life on his latest record, Brave. With a more electronic, up-beat sound than on any of his previous work, the title is not only apt; it could serve as a moniker for Shawn himself. CCM talked with Shawn about the new music and about this new phase of life. Read on to see how God has led him out of the darkness and be inspired to break free from your own.
CCM: The entire record is sonically very different from your past work. What was different about this creative process?
SHAWN: I never like to recreate the past. I want to always be growing and changing. I want my life to reflect that, and I try to be that way in music. When I approach any record, I want to be a better writer. This album is that—progressively different, even down to the melody and style of music. I spent two to three years writing it and pulled it together very differently than any other record. I tried to be culturally relevant. When it comes down to it, I'm a journey writer. I write about my life experiences and try to stay true to my everyday life. I don't want to be a hit writer because it's cool. I have to sing these songs, so I have to have something that would naturally come out of myself.
CCM: You've worked with producer Christopher Stevens in the past, but there were some new faces in the production booth on this record. Obviously, that had to contribute to the new sounds and overall vibe. How did you end up with the production line-up?
SHAWN: I worked with three producers on this one, which was a new experience as well. I've done every project with Christopher Stevens, who also works with tobyMac, Mandisa, Britt Nicole and other pretty big artists. He's really like family to me.
With this one, though, we both wanted to go some places we hadn't gone before. I had never worked with David Garcia before. He's a little more pop than I was used to; but it was a fresh, good match, so we gave him three songs. Then, I stumbled upon Jamie Kenny. I'm the first CCM artist he's ever recorded. I felt honored that he gave me a chance and some time.
All three producers are different, but musically we tied the whole project together in a way that feels like one piece.
CCM: You've always been driven by your live shows, which probably look pretty different with this batch of songs. What changes have you made to your shows?
SHAWN: It is different. I'm using a full band and integrating a lot of things I've never used before, like tracks. I really even hesitate to say it because musicianship is so important to me. But some of these songs are so big, it's hard to pull off that kind of instrumentation with a couple of guys. Finances aren't always there, so you have to get creative. This music has more electronic components. My drummer fires tracks in real time. It's a really engaging show. I'm a guitar player by nature, but this round we wrote a lot on piano. Now, I'm trying to learn to get out from behind the guitar and move a lot and interact with the audience. It just lets people in. The sweet songs are even more tender; and overall, it's just a more exciting show.
CCM: Excitement doesn't come from nowhere. Is it fair to say that your personal happiness in phase of life has played out on these tracks?
SHAWN: I've been in a very joyous season. There's been a lot of time for healing, and I really don't think there's one specific thing you can put a finger on. I don't even know when the shift happened. After a lot of processing and really figuring myself out, I found my passion again. I appreciate the darker season. It makes you stronger, but I was ready for some light.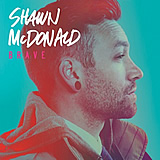 I called the album Brave not just because of a song; the entire album was a departure of what I've done in the past, and that's scary. Music always comes with a bit of judgment. I've lived a lot of my life in fear of what others would think of me, and I made a lot of mistakes along the way. Part of bravery, for me, is simply laying down my fears, inadequacies and thoughts, believing that God will use a broken human heart even if I don't have it all together.
I'm always trying to discover what God is to me; what He wants me to share and what that looks like. As an artist, we're put on a stage, and it's easy to get lost in all the expectations of what we're supposed to be and lose who we really are. We overcomplicate our lives with whatever until we realize that God accepts us. He loves our hearts. All of us are broken. All of us need to discover our need for God. I want to be someone who can communicate messages that will help people heal.
One of the stories I continually think about it in pursuing music is the story of the master and the talents. One of those guys actually invests the talents and brings back more. I think God gives us all gifts and talents, but a lot of us don't pursue them and tend to bury rather than invest them. I take the content of my songs very seriously and try not to exclude people but invite them in so they, too, can realize what God is all about.
CCM: Who has represented bravery in your life?
SHAWN: Jason Holtridge is a pastor of a small church in Michigan. He's very open-minded, and he brings in a lot of messy people. He has a gift for loving broken people. When I was going through a rough time, he let me live in his basement, be involved in his community and let me have a normal life. He really impacted my heart and my mind and was one of the key people who helped me come out of the season of fog.
CCM: Now that the fog is lifting, what does your world as a father and friend look like?
SHAWN: Home is awesome. I have a beautiful little boy who is a big part of my life. We're involved in a really awesome community. They've accepted me and brought me in to exist with them. They've not been fans; they've been friends. It's a good season of life.