Closer To Chaos, the much anticipated new studio recording from seminal Christian rockers Seventh Day Slumber, is set to release May 31. Debuting on RockFest Records—the groundbreaking label founded by Seventh Day Slumber frontman Joseph Rojas last year—Closer To Chaos finds the group returning to their melodic rock roots with a collection of 10 brand new songs.
Produced by Seventh Day Slumber's Jeremy Holderfield, with three selections co-produced and co-written by Disciple's Josiah Prince, Closer To Chaos tackles a range of issues, including emotional trauma, self-worth and sobriety, among other topics.
"This project addresses seasons of suffering in life. We all experience times of deep pain and feeling overwhelmed, and sometimes our faith is truly tested. Through these songs we want listeners to know that suffering is only for a season. Just because you can't see beyond this doesn't mean God isn't there. He has an amazing plan for you and there is Hope. You are not too far gone to be forgiven and you're never out of the reach of God. Hope is waiting—you just have to reach out." —Joseph Rojas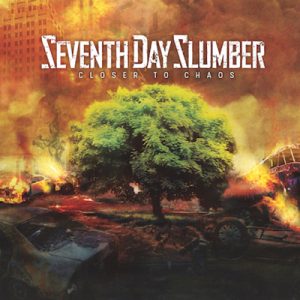 Closer To Chaos is highlighted by lead Christian and mainstream rock single "Alive Again." The high-octane album opener is a cry for help in the midst of life's stress. "Having kids, a job, schoolwork—whatever it is—sometimes we're just overwhelmed, but there are people who still depend on us and need us every day," says Rojas of the song's inspiration. "God is with us no matter what we're dealing with, but we can't run from the pain. We have to go through it to overcome it, to feel alive again."
Seventh Day Slumber drummer Blaise Rojas co-wrote five of the album's selections, including the poignant "Man Down," a tribute to servicemen and women who deal with the lasting physical and emotional trauma of war. "That story is not told enough," Joseph Rojas says. "So many soldiers have said our music not only got them through their deployment, but it's continued to minister to them as they navigate PTSD issues on the home front as well."
Additional highlights of Closer To Chaos include "The Letter," a timely track also co-written by Blaise Rojas addressing the self-harm and cutting epidemic; the heavy-hitting anthems "Light It Up" and "Cold Kiss Embrace," tackling addiction and toxic relationships, respectively; and the Joseph Rojas co-penned album closer "Your Eyes," a deeply personal track about finding worth and identity in Christ.
A consistent force on Christian rock radio, Dove Award-winning Seventh Day Slumber has sold a combined total of nearly 500,000 units to date, landing two Billboard #1 albums, five #1 singles and 14 Top 10 hits in a career spanning more than 20 years. Comprised of Joseph Rojas (lead vocals/guitar), Jeremy Holderfield (guitar), Blaise Rojas (drums) and Ken Reed (bass), the band's signature songs include "Oceans From The Rain," "Inside Out," "Caroline," "Finally Awake" and "We Are The Broken."
Nashville Label Group and its RockFest Records imprint are helmed by Joseph Rojas, Seventh Day Slumber founder and frontman and creator of the City RockFest and Summer RockFest Tours. RockFest Records is distributed by New Day Christian Distributors, with digital distribution by Capitol Christian Music Group.
For further information, visit www.seventhdayslumber.com