Scott MacIntyre has come a long way. From his early days as a classical concert pianist to capturing the hearts of millions of American Idol viewers with his engaging presence and vocal prowess, he has never let challenges keep him from achieving his dreams. Having performed with such notable acts as Michael W Smith, Jeremy Camp, and The Band Perry, he has traveled the globe inspiring audiences with his music and story.
Blind from birth, MacIntyre's journey of faith has been anything but easy. At nineteen years old, he was diagnosed with stage-four kidney failure. After becoming extremely ill, he began emergency dialysis.
"It was an incredible time of spiritual growth for me," says MacIntyre. "I had to rely on God more than ever before, this time trusting him for my very life."
After a year on dialysis, his college piano teacher's wife donated her kidney to MacIntyre and saved his life. It was less than a year later that he auditioned for American Idol.
"My kidney donor literally gave me a second chance at life. Being given such a significant physical gift helped me to understand the even more profound spiritual gift of grace. God's grace is greater than we can imagine. No matter how many times we fail, he is willing to forgive us."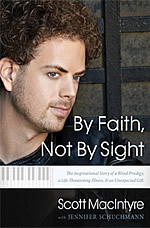 As an author and in-demand keynote speaker, MacIntyre has shared his story with corporations, health care and education institutions, nonprofits, and churches across North America and beyond. In his autobiographical book By Faith, Not By Sight he writes about how he learned to face his fears and trust God's plan for his life, even in the midst of incredible adversity.
The consummate prodigy, MacIntyre's musical talent is rivaled by his equally impressive academic resume. At fourteen, he was admitted into Arizona State University's Barrett Honors College and Herberger College of Fine Arts. In 2005, he received the coveted Marshall and UK Fulbright scholarships and was ranked by USA Today as one of the top twenty undergraduate seniors in the nation. He then graduated ASU Summa Cum Laude at nineteen, going on to receive a master's degree overseas in England at Royal Holloway, University of London and the Royal College of Music. He was accepted to both Oxford and Cambridge Universities for further graduate study in the UK.
CCM sat down with Scott to talk about life, love and the impetus behind his latest project, Lighthouse.
CCM: How do you think you have grown the most spiritually, musically, professionally, in the last year or so.
SCOTT: Over the last year I've grown a lot as an artist and as a Christian. My wife and I moved to Nashville about a year and a half ago to be closer to the creative community here and being surrounded by so many talented professionals has challenged me to constantly refine my craft. In the past, I've been the sole songwriter on most of my songs, but since coming to Nashville, I've really come to respect the art of co-writing with other songwriters. Spiritually, I think moving halfway across the country to a new city, away from family and friends that I grew up with my entire life, has helped me focus even more on my relationship with God. I have had to trust His leading in new situations, and in many cases, it's been a test to see if I really live out what I preach.
CCM: What do you think was the primary fuel of this new project?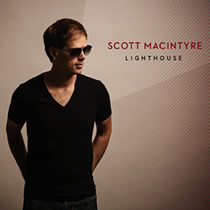 SCOTT: I think my walk of faith was the biggest influential factor in making this album, Lighthouse. We all have experienced hardships in life, whether the challenges are physical, emotional, or spiritual, and it's usually pretty easy to find an excuse to worry. When I've faced uncertainty in my life, I've learned that if I surrender control to God, He will be faithful in sustaining me through any trial and he will cause me to grow in my faith. I wanted to capture that experience in this album and let others know that God is faithful, in the good times and the hard times.
CCM: In your extensive speaking for organ donation awareness, is there a particular story or two that has resonated with you from someone you've met along the way?
SCOTT: I meet so many inspiring individuals who are all so grateful to be alive after receiving a lifesaving transplant. I also meet a lot of people who are still hoping for that gift, not knowing if they will live to see that day. One of the most memorable stories I've heard was from a gentleman at the Transplant Games of America in Houston, TX, where I performed this year. He said several years ago the doctors told him he had two to three more days to live before his heart failed. The very next day, a heart became available for him and his life was saved. He was at the Transplant Games competing in swimming and ended up winning several medals.
CCM: How has marriage changed your heart and life in the last few years?
SCOTT: Knowing someone so well, being vulnerable with each other, and practicing unconditional love has taught me a lot about how much Christ loves each one of us. Christina and I just celebrated our third wedding anniversary and I never imagined I would be married to such an amazing, loving person. Christina works with me and travels with me to almost all my concerts, so we are together nearly 24/7.
CCM: Do you have a favorite song or theme from the new project?
SCOTT: I am very excited about this entire album, but one of my favorites would have to be the new single, 'Fifty Second Chances.' The song gets to the heart of the gospel and reminds us that no matter how many times we fall short of who we were created to be, God is willing to forgive us. There is nothing that God won't forgive if we will just humbly ask him.
CCM: Do you ever long for your sight? Do you ever feel slighted given your incredible health challenges throughout life?
SCOTT: Many people look at the challenges I've faced in my life, blindness and kidney failure the most prevalent, and think about the pain, suffering and how much I must have missed out on in life. I look at every challenge as a blessing. I have seen how God has used my disability and what I've accomplished in spite of it, to deeply inspire other people, and I wouldn't change that for the world.
CCM: What does the idea of light—a lighthouse—mean to you?
SCOTT: Light to me means truth and truth is absolute. No matter how difficult life becomes, God stays constant. When distractions and temptations are crashing all around us like waves, God is like a lighthouse standing tall amidst the raging sea. We can always trust him to guide us home.
On September 22, singer/songwriter Scott MacIntyre released a major announcement regarding his personal health, just before the release of his new album, Lighthouse. A seven-year kidney transplant recipient, MacIntyre is now facing end-stage kidney disease for the second time in his life. He has officially been accepted into the Vanderbilt Hospital transplant program and has been placed on the national waiting list for a deceased donor kidney.

The average wait time for a deceased donor kidney is threefive years. Though the doctors cannot be sure about MacIntyre's exact prognosis, they estimate he will need the transplant within the next six months, which would involve receiving a kidney from a living donor.

"I'm so grateful to my first kidney donor for these past seven years of my life," says MacIntyre. "Without that lifesaving gift, I would have never been on American Idol, married my wife, or been able to share my story with so many people around the world. Unfortunately, transplanted kidneys can't last forever, and now I'm facing the same life-threatening illness once again."

MacIntyre has made his health situation public to create more awareness of the importance of organ donation and to bring hope to those facing organ failure and future transplants.

"My wife and I are facing the same unknowns right now that tens of thousands of others and their families face every day," MacIntyre adds. "I hope that by being open and vulnerable about what I'm going through, I can draw attention to the overwhelming need for donated organs and encourage more people to become organ donors."

In the meantime, the American Idol finalist has been actively promoting his new album, Lighthouse that released September 23rd. The project features eleven songs with lyrics that showcase the faith, hope, and grace MacIntyre has found in the midst of adversity. The first radio single, "Fifty Second Chances," embodies the core of MacIntyre's story. I need fifty second chances/And a hundred near misses/A thousand more I'm sorry's/ And a million questions why/Though I don't yet have a martyr's faith/I'm willing to try/Forgive me for all my circumstances/Thank you for fifty second chances.

Also featured on Lighthouse are two guest vocal performances by fellow Idol alumni Danny Gokey and Skylar Laine. The album closes with MacIntyre's song, "I Am Hope," which has become a well-known anthem for organ donation featured in events for the National Kidney Foundation Walks in New York City, Los Angeles, CA, Boston, MA, and Miami, FL.

MacIntyre will continue with an active touring schedule in the U.S. and Canada while his minimal kidney function allows.