8th ANNUAL RAISE THE PRAISE FESTIVAL SET TO IMPACT GENERATIONS IN TENNESSEE WITH THE HELP OF HAWK NELSON AND MORE
Raise the Praise Festival 2015 is coming June 5th & 6th to the Richland Park Amphitheater in Portland, TN. This year's festival features The AFTERS and Love & the Outcome, along with over 20 other artists. Free camping, workshops, speakers, kid zone, teen activities, and more! This FREE event is perfect for your youth group or family.
This marks the 8th year for Christian music festival, Raise The Praise (RTP). The Fish/Salem Communications is partnering with Raise The Praise Festival in 2015 giving endless possibilities by expanding the media coverage for Raise The Praise, locally, nationally and regionally. This has been a giant step with media coverage with one of the largest Christian media voices in the industry, partnering with Raise The Praise.
Founder/Director of Raise The Praise Festival Joyce Stark says, "We invite everyone to join us for RTP 2015 as we feature amazing national artists and the best in independent artists that are impacting the world. We couldn't be more excited to be able to positively impact the communities of Middle Tennessee."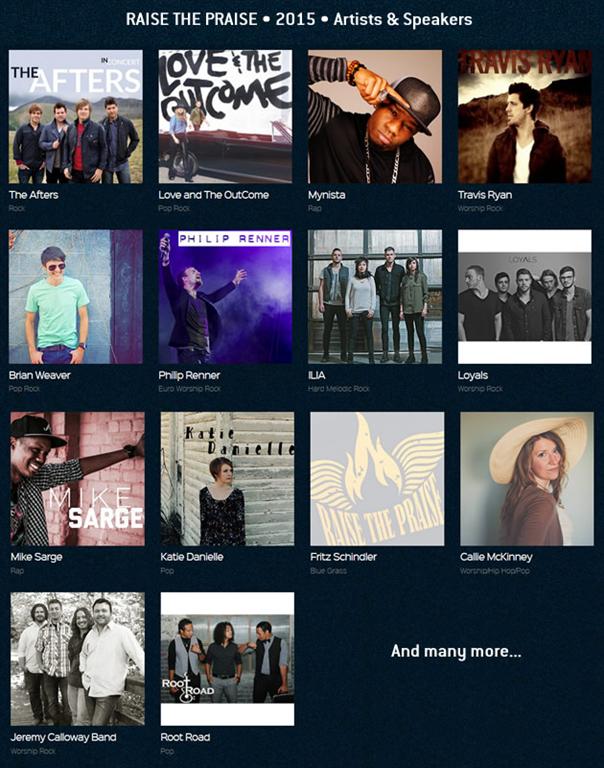 With the hope of reaching as many people as possible the festival will remain free, as it has been for the last 7 years.
The 2-day festival begins on Friday June 5 th from 6 pm to 10pm and concludes on Saturday June 6th from 10am to 10pm. It takes place in Portland TN, just 40 minutes north of Nashville, on 7 acres of outdoor recreational paradise at Richland Park Amphitheater. A family friendly event that will feature music on 2 stages, a special KidsZone, camping, vendors, speakers and more.
"Raise The Praise Festival has truly been a wonderful event for impacting and changing live. We truly hope that our festival continues to give everyone a memorable and lasting experience and inspires the next generation of ministry and missions within our communities. With the artists that we have set to appear this year, we are looking forward to our most impactful year ever." Says Stark.

About RAISE THE PRAISE:
Raise the Praise is a non for profit ministry that exists to bring forth unity of believers to reach the lost, disciple and empower youth to share the awesome love and grace of Jesus Christ through cultural relevant ministry, mission-minded and Christian music of all styles.
For more information, directions, complete schedule and artist lineup, visit www.RaisethePraiseFestival.com