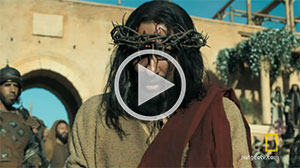 (WASHINGTON, D.C.) National Geographic Channel's Sunday night (March 29, 2015) premiere of KILLING JESUS — hailed by critics as "gritty and moving," "beautifully subtle," "compelling" and "thoughtful" — set record ratings for the network, with 3.7 million persons 2+ tuning in to the three-hour special, the highest total viewership in NGC's history!

For the premiere airing at 8 p.m. E/7C, KILLING JESUS garnered a 2.8 HH rating — the second highest HH in network history — and a 1.0 P25-54.

Furthermore, the 1.0 P25-54 is the highest rated P25-54 since the premiere of KILLING KENNEDY in November 2013 (1.1 P25-54) and is more than 300% higher than NGC's Sunday 8-11 p.m. average so far this calendar year.

Since its launch, the KILLING JESUS film microsite (natgeotv.com/killingjesus) has generated over 1 million impressions, with the average visitor spending approximately 30 minutes on the site. Last night, the microsite garnered a 125% increase above daily visitor average (and a 10% increase over KILLING KENNEDY site visits on its premiere day), propelling it as the network's best performing digital show extension to date.

KILLING JESUS encores on FOX News Channel this Friday, April 3, at 8 p.m. ET and Easter Sunday, April 5, at 8 p.m. ET/PT. Produced by Scott Free Productions and based on the New York Times best-selling book by Bill O'Reilly and Martin Dugard, the film dives deep inside the historical story of how Jesus' message and preachings led to his persecution and execution by a group of conspirators who saw him as a threat to their power. The film is the third collaboration between NGC, Scott Free and Bill O'Reilly, whose first two projects together, Emmy-nominated KILLING KENNEDY and KILLING LINCOLN, were respectively the two most watched programs in the network's history until last night.

"KILLING JESUS was our most ambitious production to date, coupled with one of our largest cross-platform promotional campaigns," said National Geographic Channels CEO Courteney Monroe. "We are thrilled that audiences responded to the film with the same enthusiasm and passion we had for this production since day one. The success of our premiere last night is due to the hard work and dedication of the production team on the ground in Morocco, the talented and versatile cast and the support of our partners at National Geographic and Fox."

The film also premiered last night on Nat Geo MUNDO in the U.S., and will air globally in 171 countries in 45 languages.

With a script from Academy and Emmy Award-winning screenwriter Walon Green ("The Wild Bunch"), and directed by BAFTA Award-winner Chris Menaul ("The Passion of Ayn Rand," "Fatherland"), KILLING JESUS brings a rich perspective to Jesus' story that clearly intrigued believers and nonbelievers alike. Combining epic cinematography with intimate storytelling, the film was shot entirely in the Moroccan desert with a crew of 250 and more than 4,500 extras. The 93 speaking roles are brought to life by an incredibly diverse cast, with actors representing Lebanon, Morocco, the Czech Republic, Ireland, Great Britain, Israel, Canada, Syria, Australia and the United States. The massive production, unlike anything undertaken by National Geographic Channel before, put familiar Biblical characters under a new lens to give them layers of meaning rarely explored before.

Part of the network's ambitious promotional campaign included a vast second-screen experience, available at natgeotv.com/killingjesus, featuring the more than 72 interactive scenes brought to life through 2-D photo-realistic original illustrations.

Supplementing the second-screen experience is a robust KILLING JESUS film microsite featuring original articles on a variety of topics including Jesus in popular culture, the missing years of his life and what happened to the apostles; behind-the-scenes video clips; extensive photo galleries; deleted movie scenes; and cast Q&As.

Additionally, the network blog is showcasing a 40-day campaign called "Killing With Kindness," inspired by what is known historically as Jesus' encouragement of people to be kind to each other. Every day through April 5, NGC is putting a daily spotlight on organizations that help to spread kindness in the world. These organizations can be found online at http://tvblogs.nationalgeographic.com/ or on social media using #killingwithkindness.

NGC partnered with USA Today on a special supplement called "Jesus: His Life, Legacy and Lasting Impact." Sold as a standalone on newsstands, the supplement included a picture of Haaz as Jesus on the cover, and inside included more than 20 pages of KILLING JESUS-specific content, on sale now at www.onlinestore.usatoday.com/special-editions.

The critically acclaimed cast ("great performances,") included Kelsey Grammer ("Partners," "Boss") as King Herod the Great; Stephen Moyer ("True Blood") as Pontius Pilate; Haaz Sleiman ("The Visitor") in the title role as Jesus; Rufus Sewell ("Hercules") as Caiaphas; Emmanuelle Chriqui ("Entourage") as Herodia; Eoin Macken ("The Night Shift") as Antipas; John Rhys Davies ("Indiana Jones") as Annas; Abhin Galeya as John the Baptist; Stephanie Leonidas ("Defiance") as Salome; Joe Doyle ("Reign") as Judas; Alexis Rodney ("Guardians of the Galaxy") as Simon (Peter); and Chris Ryman ("28 Weeks Later") as Malchus.

The network used the premiere last night to heavily promote tonight's new series The Big Picture With Kal Penn, as well as the return of the networks hit series Wicked Tuna next Sunday night, the April 9 premiere of the hit series Life Below Zero and the upcoming April 20 premiere of the Neil deGrasse Tyson late-night talk show StarTalk.



# # #


About National Geographic Channel
Based at the National Geographic Society headquarters in Washington, D.C., the National Geographic Channels US are a joint venture between National Geographic and Fox Networks. The Channels contribute to the National Geographic Society's commitment to exploration, conservation and education with smart, innovative programming and profits that directly support its mission. Launched in January 2001, National Geographic Channel (NGC) celebrated its fifth anniversary with the debut of NGC HD. In 2010, the wildlife and natural history cable channel Nat Geo WILD was launched, and in 2011, the Spanish-language network Nat Geo Mundo was unveiled. The Channels have carriage with all of the nation's major cable, telco and satellite television providers, with NGC currently available in 84 million U.S. homes. Globally, National Geographic Channel is available in more than 440 million homes in 171 countries and 45 languages. For more information, visit www.natgeotv.com.