After a string of remarkable releases, including several live albums and DVD's, it seemed only logical that England's Matt Redman created his next project entirely at London's famed Abbey Road Studios. Instantly recognized for housing classic Beatles sessions of old (including their 1969 album dubbed Abbey Road), the humble façade has welcomed a who's who of musical mainstays such as Pink Floyd, John Mayer, Radiohead, and even familiar Christian artists like Steven Curtis Chapman, Israel Houghton, and Point Of Grace.
Rather than merely adding his name to an ever-increasing list of stellar musicians to darken Abbey Road's door, Redman approached this project differently. "When [sixsteps Records, Capitol CMG, and team] landed on the idea of Abbey Road, there was consensus from everyone. I had seen that huge orchestral room they have, and always thought it would be fun to 'have church' there sometime," said Redman.
And church is just what they had. "My favorite moments were when the crowd took over the songs and led them — there's something crazy-powerful about hearing people singing out as one voice, all agreeing on something important," answered Redman regarding the worship service disguised as a live recording. With over three hundred and fifty fellow worship leaders, artists, and friends on hand, Studio 1 on 3 Abbey Rd., St. John's Wood, Westminster was temporarily transformed into Abbey Road Church featuring Matt Redman as lead worshipper.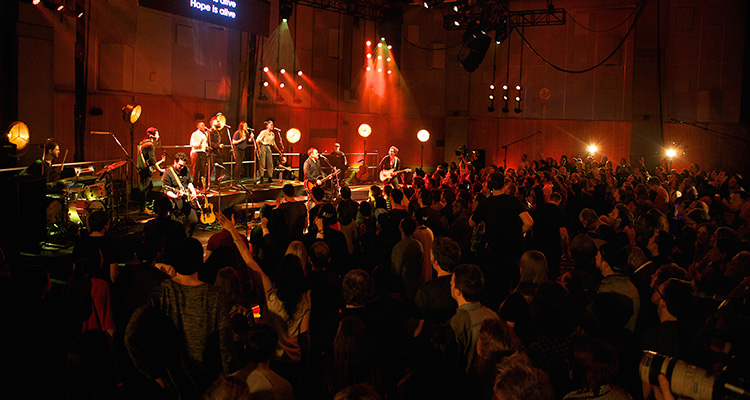 "I think we were all feeling stunned by the kindness of God. For a few members of the team it was definitely a 'bucket list' moment to do a project there. When you walk down the hallway and see album covers representing all of the culture-shaping records that have been made in that place — you definitely consider it a blessing to get to record there," reflected Redman when asked about the excitement surrounding the unique opportunity.
The project itself, called Unbroken Praise, could have easily been named something else and the lasting moment for which the song of the same title gave those in Studio 1 might not have happened if for a timely and peculiar email (more on this later). All in all, it was written and finished less-than 24-hours before guests arrived and the red button was pressed. When queried about the potential significance of the venue, the memories made there, and its resulting asset, Redman responded, "At the end of the day it's all about the songs.
"My passion is to write songs that might somehow be biblical, poetic, relevant and congregational—and help people voice their worship to God. I've figured out that there isn't any formula you can follow that's going to unlock the deep places of people's hearts and have a massive impact on lives. But when it does go right, it's such a beautiful thing. I've heard some of the most startling stories you can imagine from people, but they've taken one of our songs and used it to sing their way through a storm. If any of the songs on Unbroken Praise lead to more stories like those, I'll be humbled and grateful."
Through technology to reach across the pond, we asked Redman more about his experiences from the recording of Unbroken Praise in his native land, why the title track almost didn't make it to the studio floor, why it has taken so long for he and David Crowder to officially collaborate, and much more — check out the conversation below, and stay tuned to CCMMagazine.com in the coming months for a special in-person interview with Matt Redman:
CCM: So tell us, what is the vibe inside Abbey Road Studios?
MATT REDMAN: You can't really tell from the outside what a huge building it is. The main room we recorded in, Studio 1, is normally used for orchestral stuff or movie scores and can hold close to four hundred people. But there are so many other rooms and every hallway is full of retro equipment. We shot some additional acoustic videos in Studio 2 and used a one hundred year old Steinway upright piano that's on several Beatles recordings.
CCM: Describe the atmosphere in Studio 1 during "Unbroken Praise."
MR: It was the one song that those invited to be a part of the recording hadn't learned beforehand, and I was so encouraged how quickly people took it to heart. I think it was some of the loudest singing of the whole night. One thing I love about the song is that it's relatively simple — hopefully there's still some depth to it, but I love that it's not a complicated song.
CCM: As you've stated, the theme surrounding Unbroken Praise is "choosing to worship God for the long haul." What about this is especially applicable today?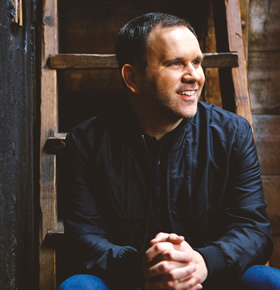 MR: My favorite lyric on the album is "Let my deeds outrun my words / And let my life outweigh my songs." That's an important aim for all of us. Singing to Jesus is a beautiful thing and can be such a powerful and meaningful offering in the moment, but the vital thing is that we complete the integrity of what we're singing about with a life of worship and devotion.
Worship music is a particularly beautiful way of praying to God. He has ordained that song can be a special way of drawing near to Him, and plays an important part in how we voice our praise to Him. But we have to always remember that our words and songs are not enough on their own. St. Augustine put it like this: "Do not let your life give evidence against your tongue. Sing with your voices, sing also with your hearts; sing with your mouths, sing also with your conduct."
CCM: As compared to the classic hymns of the church—those songs of faith still used as integral elements of liturgical services today—do you consider the songs of the modern worship movement as the next great installment of hymns that will become the standard?
MR: I get asked this question quite often, and I can honestly say that I don't have a clue! On one hand, culture moves along at quite a different pace these days compared earlier times. But on the other hand, the word of God endures—so I'd think that any song that was special
and biblical would have a good chance of enduring over time. That's kind-of what has happened with a lot of the old hymns—the melodies have changed over time, but the lyrical content remains. I also hope [the songs of our generation] will be a great way that people can sing some truth into their circumstances. When we sing our worship to Jesus, we're letting His name, His cross, and His throne set the tone for our lives. That means we won't be defined by the week we've had, by the struggles we face, or any of our present challenges, but instead we'll defined by His greatness and goodness over our lives.
CCM: Three years after its release and it's massive commercial success notwithstanding, what are your thoughts on the impact of "10,000 Reasons (Bless The Lord)," and what comes to mind when considering the global reach of this song?
MR: I love how some songs can go to the farthest corners of the globe, and also to the deepest places in people's hearts. I guess out of all of the songs I've been involved with, "10,000 Reasons" is the one that has done that the most. I've been sent so many  touching videos or stories of people singing this song—in orphanages, or on a hospital bed, or in a prison. Recently, there was a news story of some men who had been convicted of drug trafficking in Bali and sentenced to death. Since their conviction nine years ago, they became Christians and their lives had been dramatically changed, but their sentence was still to be upheld. As they faced the firing squad, they sang "10,000 Reasons" to Jesus. There have been a few awards along the way and it's been very encouraging to experience the momentum of this song, but a story like that brings everything into perspective.
CCM: What took you and Crowder so long to officially collaborate on a song or project?
MR: No idea, and we weren't even able to be in the same room for this one! Years ago he took an up-tempo song of mine called "Undignified" and did an amazing job with it, so I've been a fan of his for a long time. And, of course, we've journeyed together a good bit with the Passion college movement. So it was fun to finally end up writing ["Abide With Me" on Unbroken Praise] together. Matt Maher brought the very beginnings of a song idea that he and Crowder had brewing, Jason Ingram and I joined in, and it got written really quickly. I think it was one of the most powerful songs during the Abbey Road recordings. I looked around and could see a lot of people being visibly moved by singing these words to God.