Great songwriters are masters of telling stories. They pull listeners inside intricate circles, touching people at their core. While Matt Maher was contemplating the narrative for his latest record, Saints And Sinners, he eventually found himself focusing on the little known stories of those he dubs "prophetic voices." In doing so, he uncovered more about his own humanity.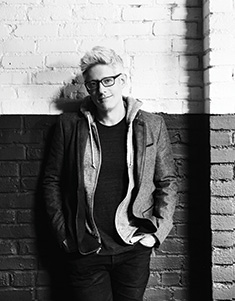 Asking the Questions
The dichotomy that exists between Saints And Sinners and Maher himself—a funny, acutely humble songwriter, is an immediate observation. Maher admits that he didn't set out to pen such a weighty and what many have called controversial album. "I released All The People Say Amen and it was packed with live songs—selections that I had been playing for years. I can't fully explain why I chose the themes [featured on Saints And Sinners], except for the mystery of how God sometimes works." He laughingly chalks turning forty as the change in his direction, but sobers as he details how a current cultural shift plays a role.
He points to social media as a big culprit, citing the treatment both of and by Christians as part of feeding discouragement. "I've been watching social media, and wondering how to get involved. I had to reach the hard conclusion that the best thing I could do is make influential music—music that answered some tough questions." During the writing phase of the current project, he began to ask himself hard questions such as, "What does it mean to be human? God became a man, lived among us, died and arose—what does that say about us?" He pauses and asks, "Does the incarnation change the conversation?"
Maher would find the answers he was looking for in seemingly unusual places. Turning from social networking to hardbound books, he began discovering revelations buried deep inside the pages of history. Among documented accounts of other broken lives, Maher found that people have been wrestling with the same questions throughout time.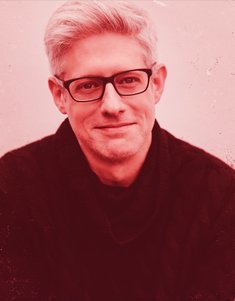 Unlikely Heroes
During this time of soul-searching, he reveals the stories and voices that would eventually leap from the lyrics of Saints And Sinners found him versus the other way around. "Some of these themes are overarching points of conflict the church attempts to address. I began digging, observing the fact that we are saints because of the resurrection, yet we are still sinners," he sighs. "We do amazing, beautiful things—then we do dreadfully terrible things. Just because we may follow Jesus, it doesn't make us any less prone to sinning. However, I think it does make us understand mercy a lot more."
Every song on the album was inspired by people that faced their own sins and were proponents to cultural change, but not every instance illustrates this in a way that you might expect. Maher unpacked the slightly darker, sometimes uncomfortable aspects of familiar heroes of the faith. For example, he mentions that Mother Teresa's name has become an adjective of-sorts to describe saintly personalities, but found that she was most inspirational when facing a spiritual crisis. "When she got to Calcutta to serve the poor, she went through a period where the presence of God was ambiguously avoiding her. I found that incredibly profound, and deeply encouraging, because even she struggled." He continues, "Maybe she found herself in a place of position and influence and then realized she wasn't a saint? There's probably a lot of leaders who can relate to that."
The beautiful and majestic "Everything is Grace," on which Maher sings Whatever comes my way / I will walk through the flame / You're turning my fear to faith / My doubt to faith / and everything is grace was based on another unlikely hero, Saint Therese, a French nun who died from tuberculosis. "She became a nun at fifteen and died at twenty-six, and did nothing but clean and sweep floors," he says wondrously, "But she wrote this journal, and it's incredibly profound. She was given the title 'Doctor of The Church,' which is reserved for the well studied and the masters of rhetoric. Yet, here's this little nun sweeping floors! She said everything was grace, and was a result of the Father's love for us.
"We complain about our little inconveniences, yet she of all people was thankful and inspiring." He circles back to the detrimental aspect of social media, citing our drive to be technologically connected as part of the issue with society's obsession of complaining. "She swept floors and died a horrible death, and she wasn't complaining. And we, even as Christians, can see suffering by just accessing Google on our phones and complaining about Delta Airlines. How can we do this when the reality [of true suffering] is so evident? There are these little hypocrisies everywhere, and I wanted this project to force people into confrontation with them."


Prophetic Voices
As he was studying and subsequently melding together these unique collection of songs, Maher discovered even more revelations. On the song "Sons And Daughters," which tackles the touchy subject of racism, Maher began to question the church's role among our country's growing racial tensions. "I watched the events happening in Ferguson, Missouri on television with an unsettling sense of grief. As all of that unfolded, I believed it exposed a wound that has yet to completely heal. Belief in racial equality stems from the gospel and yet, at a point in history, it was counter-cultural." He further explains, "People forget that Dr. Martin Luther King was not someone who set out to be a civil rights leader—he was a pastor, he went to seminary. That hit me to the core—I wonder how many people have a calling to be involved in something radical, but they aren't hearing it? Perhaps they're afraid to respond? One of my expectations for Saints And Sinners is for it to reignite prophetic voices for some people."
To be clear, Maher isn't wishing his album inspires a crop of street corner evangelists or Bible-thumping theologians, rather everyday people obeying the call on their lives to do brave things for Christ. "I think one does invoke the spirit of God when talking about something being 'prophetic,' but what Saints And Sinners brings to light are the men and women that God choses to be His mouthpieces." Emphatically, he adds, "I think everyone who follows Jesus is supposed to be a prophetic voice! I often think that our culture currently silences our great prophets, and in doing so, maybe we're also silencing the voices inside, too. We do this in the name of comfort…even in the name of technology."
New Heroes
Maher also pursued stories from living examples, such as modern day hymn writers Bill and Gloria Gaither. Already a successful single from the album, "Because He Lives (Amen)," is based off of a well-known hymn celebrating the resurrection. "This was another situation where the song literally found me. I was writing songs for Passion and someone said, 'We should write a song called Because He Lives, and thought it was awkward because there already is one!" He laughs, then adds that his other hit "Lord I Need You" was also based on an older hymn, and that he considers hymns a healthy component of modern day worship.
"It dawned on me while writing ["Because He Lives (Amen)"] that there really are only so many times you can say 'because He lives' before having to say 'I can face tomorrow'— then it went straight from inspiration to  plagiarism! So, we had to go to get permission from the Gaithers to use their lyrics and they became co-writers on the song." Gloria's response? Upon hearing the song, she wrote a letter to Maher stating she knew that it would help a new generation find hope and celebrate the resurrection. In addition to that experience, Maher gained a new respect for the gospel greats, saying, "I look at Bill and Gloria, and they're truly a set of prophetic voices. You know, I suppose people look at them and think '[Trinity Broadcasting Network] and Cracker Barrel,' but there's so much more to them. They are deep and profound people, with a real faith, and their impact on the church will be felt for years to come. Unfortunately, I think they can be an example of our society sort of shooting down modern-day prophets in the name of being cool or relevant. Their song actually began the process of recording Saints And Sinners, so I'm very grateful for them. Additionally, the resurrection is where our story of faith begins."
The Next Chapter
"I've been playing these [new] songs live for a few months now, and even though they're more intimate and vulnerable, it actually hasn't been hard," admits Maher. "I'm realizing that a crucial element in the process of making music is separating yourself from the expectations of others. I could worry if people are going to like [my music], or even wonder what kind of a reaction it will cause. Now, I'm more concerned about being abandoned  to the will of God, because I'm giving the listener a song that I think is important.
"When sometimes people don't clap during a live performance, I kind of think that it's even more of a compliment, because the audience is tuned in to the moment." Maher goes on to say that this new batch of songs has come easier, because he has reached a point in his career where these topics— controversial, or not—are what he is choosing to talk about. "This is where I am, and this [period of time] is where we are as a culture, and for this season, it is the burden and the message God has given me," he concludes. Call it eloquent, or call it provocative—he is giving all of us an ear into God's unique call on his life, and Matt Maher has found his own prophetic voice.