Change is inevitable. A quick pan of the faces on this page reveals a timeline of constantly evolving styles and creativity. But it's not so much the faces that are important as it is the contributions these artists have made and the history they represent. Steven Curtis Chapman, tobyMac, CeCe Winans, Michael W. Smith, Amy Grant, Aaron Gillespie and Mark Hall stand in a long line of artists not pictured who have helped steer the course of this music genre and, in turn, helped shape the pages of this magazine. We celebrate their contributions. We await their ideas for the future, and we look forward to another great 30 years of being a medium through which their songs and messages can be communicated. Read below to learn how these seven artists have influenced the artists you love and how their reach continues to inspire brand-new artists whose music you'll be introduced to in the coming months.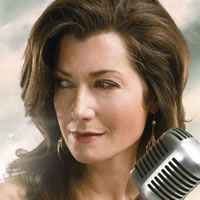 AMY GRANT
What can a guy like me say about Amy Grant? Well, for one, Amy Grant is one of my heroes. I had the honor of working with Amy just a couple months ago on one of our new song , and although she is literally a worldrenowned, platinum-selling artist, Amy Grant was one of the sweetest, most humble women I have ever met. If I had never heard of Amy Grant before, and I met her in that studio, her tender-heartedness and personality would not give away all her outstanding accomplishments. She is that humble.
Not to date myself here, but I grew up on artists such as Amy and Michael W. Smith. Songs like "El Shaddai" and "Thy Word" literally prepared the foundation for my life's direction. Her voice somewhat raspy, Amy Grant was a chick who could rock. I loved her.
Heart in Motion and House of Love were my favorite Amy Grant records. They both ruled! Not to mention her song "We Believe in God" from Songs from the Loft. Man, those were the days!
The day I asked our manager to ask Amy's manager if she would even consider singing on one of our songs will be a day I'll never forget. They got back to us almost immediately with amazing news. They said she would be totally into singing the song. I almost lost my mind. AMY GRANT AND I ARE GOING TO BE DOING A DUET?! I was ecstatic. I felt like I had totally "made it."
Amy's legacy is fundamentally what has shaped the path for us to do what we do today, along with other mainstreamminded, faith-based artists. She grew her platform from youth groups and small churches to the Top 40 avenues we now find ourselves pursuing today. Amy Grant is a leader and pioneer, and we really owe a great deal to her and her boldness to break down walls and take her message and music to pop culture. Not only did she take it there, but she has been truly successful in being effective in delivering her message. When we grow up, we want to be like her.
— by Jason Dunn (lead vocalist for Hawk Nelson)
AMY GRANT'S ADVICE TO THE NEXT GENERATION: "Keep your old friends, and be very conscientious about the company you keep. Creatively, always hire people in your band much better than you are, and don't be afraid to make contact with artists and songwriters you admire that you think would never return a phone call. Don't put off long-term dreams because of short-term demands. If you wait for all the potential demands to go away before you pursue some of your nonentertainment dreams, then life will pass you by, and you won't have done the things that really matter to you before you signed a contract."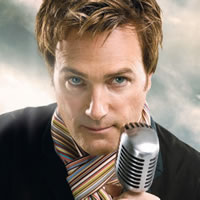 MICHAEL W. SMITH
Almost 10 years ago, I was standing in a Pennsylvania field on a warm night in June, expecting just another hyped up, rock & roll circus event. I was literally dumbfounded when Michael W. Smith stepped up to the microphone that night and began reciting Psalm 139 from memory.
Instead of pumping the crowd up into musical mayhem and adrenaline-induced frenzy, the poster child for Contemporary Christian Music did not manipulate. He did not stroke his ego or exploit the energy of the assembly; he just proclaimed.
Amidst the smoke, the noise and the screaming fans, I watched him turn an old patch of farmland into holy ground. Infused with passion, and pouring from an awe-filled heart, the Psalm seemed to strike the very center of me in a way I'd never experienced, and definitely not in a way I was expecting.
He recited all 24 verses from memory and then moved into some corporate praise songs, but I was so undone, I couldn't come along. Somewhere around verse 11 or 12, I was so pierced by the spoken truth that I simply knelt down in the grass and began to weep. I cried for my unbelief, my judgmental spirit and the acute awareness that God was near.
Maybe this was so profound for me simply because of my love for theatre or my love for words, but I like to think that it was something more than that. Something spiritual. Something supernatural.
Since then, I've had countless opportunities to do what Michael did that night—leading people in worship and carrying the broken on the stretchers of song to the foot of the cross.
But you know, there hasn't been a night that's gone by that I don't think about that night in the field and my first show with Mr. Smith. For it wasn't until that starry night in June, kneeling down in tears and earth, that I realized my privilege to declare the Word in the same way that it was declared to me.
I thank God for using Michael that night at Creation Fest to show me that you can walk onto large platforms and main stages and still treasure Christ, above all. May the Lord teach me to do the same.
— by Mike Donehey (lead vocalist for Tenth Avenue North)
MICHAEL W. SMITH'S ADVICE TO THE NEXT GENERATION: "Be true to who you are. Be authentic, and don't chase the next thing. Just be who you are, and stay accountable. And when you're creating, just let it be real."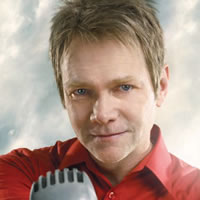 STEVEN CURTIS CHAPMAN
I remember how I felt when I heard "it" for the first time. It was like something great had taken hold of me…goose bumps, a tingling spine, wide eyes and the feeling that anything was possible. Right then and there, I didn't just believe, I felt that there was so much more to this life.
The world has been moved by the music of Steven Curtis Chapman. For the past 25 years, CCM Magazine has faithfully chronicled his 51 Doves, five GRAMMY® Awards, 45 No. 1 singles, 10 million plus album sales and much more. No, I didn't need to mention his impressive accolades for loyal readers, but they remind us of the magnitude of his legacy. What really captivates me about Chapman's legacy is that the awards garnered by his music pale in comparison to the number of lives changed by his message…and I am one of them.
As a young Christian music fan, Chapman was a staple in my cassette tape collection. There's no telling how many times I waited for that tape to rewind so I could sing "I Will Be Here" just one more time. I remember the tears I cried when I abandoned it all "For the Sake of the Call." Steven was right there with me when I graduated to compact disc. With the push of a button, I didn't waste any time jamming out with tobyMac to "Got To B Tru." And now on my iPod, his music remains timeless.
God only knew that 15 years later I would have the opportunity to find out just how "tru" Steven really is. On Winter Jam 2007, Sanctus Real went on tour with Steven, and then again on the "Live In This Moment Tour." I tried not to let on how closely I was watching him, but I was really paying attention.
Let me tell you what I learned about Steven: He treats everyone like a friend. He pays attention when people speak to him. He is affectionate with his wife and children. His heart for orphans is infectious. He is humble, patient and kind. However, if he's fighting for something he believes in, say goodbye to Mr. nice guy! He has encouraged me to recklessly follow Christ and to make music that delivers His message with passion and creativity.
I still remember those goose bumps. "It" was the first song aired on the first Christian Hit music station in my little hometown of Toledo, Ohio. On a Saturday in 1992, I was 13 and ready for the ride of my life. Thank you, Steven, for inspiring me to pursue "it" with my whole heart. On behalf of CCM readers and Christian music fans around the world, thank you for showing us what it means not just to hear, but also to live "The Great Adventure."
— by Matt Hammitt (frontman for Sanctus Real)
STEVEN CURTIS CHAPMAN'S ADVICE TO THE NEXT GENERATION: "Work really hard at being great at whatever gifts God has entrusted to you. Don't sit around waiting for opportunity to knock, but look for opportunities around you. Finally, and of utmost importance, fix your eyes on Jesus. In the end, nothing else matters by comparison."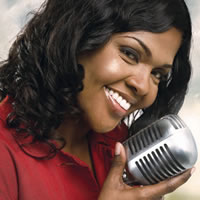 CECE WINANS
When I hear the name CeCe Winans, I immediately think of the words beautiful, songstress, humble and most of all, anointed. CeCe portrays all these characteristics and much more. She has set such a high standard and has helped to shape the history of Christian music.
It's inspiring to know that CeCe was one of the first African-American female artists to have a crossover audience and sound, beginning with brother BeBe as their career grew and crossed over to the R&B charts. She moved into her solo career with albums ranging from gospel and R&B to pop and praise & worship. She has proven to be an artist that can sing any style of music.
CeCe has a sound that is universal and that every race, culture and age can understand and appreciate. No matter what style she sings, she remains true to herself and the God she believes in—her sound and message never change. Her message has always been simple, worshipful and authentic. You can feel her sincerity and her love for God when she sings, and that's what's most influential.
I appreciate how she has laid a great foundation for future artists like myself who admire and respect her today. She has set a high standard of holiness, excellence and humility before the Lord, and she's demonstrated consistency in her music and her lifestyle. That's extremely important for an artist like me to learn today—to not bow down to the conformity of this world but to remain true to the Word of God and represent Him wherever you are.
CeCe has been a huge inspiration to my music and my life. She's taught me to "keep my heart pure before the Lord," to be sincere in what I sing, speak and do, and, most importantly, to seek the Father and love Him with all that I have. I thank God for blessing us with CeCe and giving aspiring artists someone to learn from and look up to.
CeCe Winans will forever hold a legacy of a woman who represents Jesus Christ and is a true ambassador for Him; a woman who exudes character, class, beauty and integrity; a woman who has crossed color barriers and whose music draws people of all races and backgrounds. She will always be known for her humble heart, sincere words and desire to please the Father.
— by Nia Allen (an independent recording artist and a part of the Women of Faith worship team)
CECE WINANS' ADVICE TO THE NEXT GENERATION: "Give God your best and your all, and allow God to use it to reach the next generation for Him. The world needs sold-out artists!"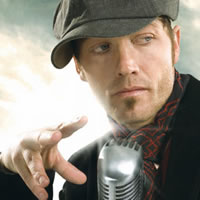 TOBYMAC
I attended my share of dcTalk shows as a pimple-faced pre-teen growing up in Chicago. And yes, I performed their infamous "Heaven Bound," at my 8th grade talent show (with choreography). I just never imagined my connection with tobyMac going beyond that of a fan. But today, I am actually on tour with toby and a long way from junior high.
Blessed with a rare opportunity to tour with the best, I have chosen to soak it up, and just watch and learn. I can see a career that has been an incredible example of diversity, reinvention and longevity. After the dcTalk split, toby could have called it a day and settled into life as a former "rock star." Little did the world know, toby's vision reached far beyond that of the trio. He still has more anthems to write, and with hit after hit, his songwriting still possesses the passion of a Jesus Freak.
In an industry sometimes criticized for its lack of originality or inability to keep up with the mainstream, toby is a perfectionist in the best way. He labors over every record, leaving no creative "stone" unturned. And because of that, he has successfully followed up multi-platinum dcTalk sales with two solo efforts that are certified gold. His music has also become a favorite with film and television, landing movie trailers, soundtracks and commercials.
One of my favorite aspects of his career has always been toby's live show. He and his Diverse City Band always put on a show worthy of an arena. Both in message and sound, toby is as relevant today as he was 10 years ago.
His influence in Christian music extends far beyond his own artistry, though. He had a vision to start his own record label (Gotee) giving us artists like Jennifer Knapp, Relient K, Grits and Family Force 5, just to name a few. His publishing company offers young songwriters a place to develop.
And with an artist like me, toby has never been too busy to offer a word of encouragement. He has challenged me to be a leader in an industry that needs more visionaries. And I know this, I am thankful that he has stayed true to his vision. The crazy thing is, tobyMac is just getting started. His vision is far from over, and his diverse legacy is still in the making.
— by Matthew West (singer / songwriter)
TOBYMAC'S ADVICE TO THE NEXT GENERATION: "An artist makes art. That is his primary concern. Focusing on where it is distributed or how it is promoted will begin to erode our artistry. So artists, do your thing. Stay passionate about the art, and watch God open the doors."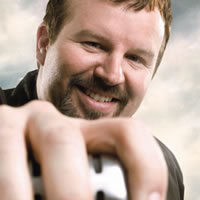 MARK HALL (of Casting Crowns)
I remember the first time I heard a Casting Crowns song—it was "I Am Yours." One of the other worship leaders brought it to our planning meeting and said, "We need to use this song for Lent." That's right—Lent. Can you imagine? A Casting Crowns song being sung at a Catholic church? But it was, and I watched my community ministered to by the Holy Spirit through these powerful words:
"Not because of who I am, but because of what You've done/Not because of what I've done, but because of who You are."
With that song (along with several others) I remember thinking, "How many good songs can one person write?" Apparently, a lot.
About a year-and-a-half later, I went to a concert with Steven Curtis Chapman, Casting Crowns and Chris Tomlin. I walked in to hear Mark talking in between songs and was really struck by his ability to communicate to this large crowd of people, not as a singer, but as one having a pastor's heart—the heart of the Father.
Mark has been given a great task of having God's heart for His people. This is what comes out in his songs. The way Mark puts into words the thoughts, the questions, the hurts and the emptiness that we often feel; God has taken these words and used them to change the hearts and minds of countless people. Songs such as "Praise You In This Storm," "Does Anybody Hear Her?" and "Every Man," have a way of impacting our hearts and minds, because they're saying what we're all thinking and feeling in our daily lives.
Very few artists come along that have that special "thing" about them, but Casting Crowns seems to have lots of special "things" that make them one of the most remarkable and blessed acts to ever converge on the music scene. The way the band ministers to God's people, the way the band shares God's heart through music, the way the band ministers to my heart—they have a special calling on their lives. I'm thankful that they've chosen to genuinely share it with all who will listen. God has blessed Casting Crowns in a mighty way.
I'm grateful to God for the gift of Mark's ministry and craft as a songwriter for the church. I pray God will continue to use his gifts to encourage and build up the body of Christ.
— by Matt Maher (worship artist)
MARK HALL'S ADVICE TO THE NEXT GENERATION: "Sometimes you can look so far ahead into the future… that you might miss what God has for you right now. Be cool with what God has given you right now. If God wants to move you into some new arena of ministry, that is fine, but that is not the next level. You are at the level. You are where God has you right now."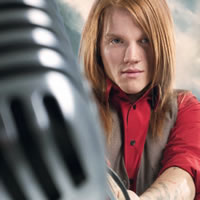 AARON GILLESPIE (of The Almost)
I never knew Johnny Cash, and I haven't met Bono, but I wonder if Aaron Gillespie might be cut from the same mold. Raw and real. Anxious and honest. Enormous talent, inside a life that points to redemption and grace.
My friendship with Aaron can be traced back to a dead video camera battery and an evening in Detroit on last summer's "Warped Tour." I had heard whispers of Aaron's story, and I decided the best way to hear it would be to schedule some time with the man himself.
Aaron and I sat outside his bus in the dark Detroit night. We jumped straight into it—his music and his story, and where it all started. Unfortunately, the battery in my camera lasted about 10 minutes (I'm not so good at journalism). I expected the conversation to end when the red light stopped flashing, but Aaron surprised me. The rest was unofficial. It was something better. Real life. We talked about pain, hope, grace, redemption, healing. We talked about music—where it comes from and why it matters. We talked about love—the kind that looks upon a broken, anxious rock star and finds itself inside a humble husband. The story is one of healing and hope—a once-probable disaster replaced by a diamond ring for a good woman and a house full of dogs and drums in Tampa.
His song "Amazing, Because It Is" got me through last summer. It is a song that shouldn't work on the "Warped Tour." "Amazing" starts slow and borrows its chorus from a 240-yearold hymn. There was no moment on tour that came close to seeing that song come to life every day—grace most at home where you least expect it. And then Aaron's simple words near the close of The Almost set: "I want you to know that you're special, that you're beautiful. I want you to know that Jesus loves you…" Most guys would get booed off the stage, but Aaron's earned the right to be heard. If they trust you—and if the songs are great—you can talk about anything.
Aaron Gillespie makes it easier for me to believe in God. I think it's that he's aware of his own need. It is the place he's always lived, and I suppose it provides some explanation for his songs as well. If any music should ever be called Christlike, it should certainly be honest. I'm thankful for the gifts God has given Aaron and for the way he's using them. Like I said, I'm not much of a journalist, so my favorite part might be that I get to call the guy friend.
— by Jamie Tworkowski (founder of To Write Love on Her Arms — a non-profit movement which aims to present hope and find help for young people strugglingwith issues such as depression, addiction, self-injury and suicide.)
AARON GILLESPIE'S TAKE ON WHERE MUSIC IS GOING IN FIVE YEARS: "We are kind of acting like [music's] dead because of the digital thing and because records don't sell. Until the '80s there was no SoundScan, and we all lived, so music will make it. I see it every day in the hearts of kids and on their faces. People will always need music no matter what way they get it."