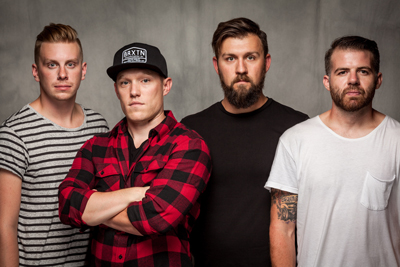 Fourteen years. Nine studio albums. Dozens of singles. Even as Kutless cement their stature in the canon of Christian rock, front man Jon Micah Sumrall is still coming to grips with the band's veteran status.
"I think there's definitely an increasing awareness of not being the rookies anymore," says Sumrall with a laugh. "We have young bands come up to us who say, 'I grew up listening to you guys. You are the ones who inspired me to make music!' Then I think, 'How'd you grow up listening to us? We're not that old!'"
It's then when the memories kick in for Sumrall. "Well, we started with our first tour in 2002, so I guess we have been doing this for a little while."
Kutless have indeed been at this "for a little while." Their career has produced a steady stream of celebrated rock and roll releases peppered by worship offerings in the catalog that shows the ministry-oriented side of the band. With chart-topping singles like "What Faith Can Do," a gold album in Strong Tower, global tour experience and nearly two million albums sold in their career, Kutless has accomplished an incredible amount in that little while.
"We've hopefully matured over the years in our music, our approach and our songwriting," says Sumrall. "We're grateful to still be doing it. There are a lot of bands that have come and gone in the time that we've been making music. At the same time, too, we're in a weird spot because we're not the new band or latest thing, but we still share the stage frequently with guys we listened to for years—artists like TobyMac or Third Day that have been around a lot longer.
"I think there's hope we can keep doing this for a while," he continues. "It's a fantastic platform for sharing our hearts and making a difference in people's lives. I think that's what we've focused on more and more is asking, 'If we do have this platform, what are we going to do with it? How can we make what we do over the next ten years really matter?' We want to be able to look back and know that we used what God gave us for His purpose."
Interestingly enough, the band's latest album, Surrender, is a return to their roots in more ways than one. Sumrall and company wanted to conjure the '90s rock influences of their childhood, and fortune smiled when renowned producer Aaron Sprinkle, who helmed the band's first few albums, was available once again.
"I think they made a record that revisits every era the band has been in but is at the same time very current," says Sprinkle. "They've done such a great job at expressing a wide spectrum of sounds, and I think this record showcases that as well, or better than anything they've released. There was definitely a feeling of rediscovering that love for music that was there in the beginning of their career."
Rediscovering that musical love is only part of the equation for such longevity for Kutless. Sumrall says he's a very different person than he was when he first started—from his perspective as a musician to the commitments he's made in his life.
"We've been asking serious questions within the band, and that comes with different phases in your life. When you're young and your first record is new, you just want to rock. You think, 'This is awesome!' Then you start asking secondary questions like, 'Why are we still here? What's our purpose and are we accomplishing those goals?'
"Those kinds of questions come with maturity and time," he continues. "It's a different place in life. My life's changed a lot. When we were on our first tour, I was newly married. I was 21 years old. Now I have an eleven year-old son and a six year-old daughter. We got a new puppy for Christmas!
"It's funny, I remember one of the tours we did years ago. I had my family with me and we went looking for a park or playground to go hang out. We were doing a show with Disciple, and Kevin [Young] had his kids with him, too. We both bumped into each other at the park. We both laughed and said, 'Man, we're living the rock and roll lifestyle at the playground.'"
With a family at home, Sumrall admits the road feels different than when the band first started. The band continues to play hundreds of dates each year, and each of those performances is another day away from home. While it's easy to romanticize the idea of "the rock and roll lifestyle," there's a cost to the ministry of Kutless. And "ministry" is exactly how Sumrall describes it.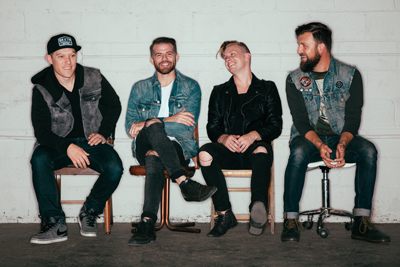 "At some point, when you've done hundreds of shows every single year, stepping on stage is like going to the office," says Sumrall. "It's not that you don't enjoy it, and some shows are still very special and exciting, but there are others where you'd rather be at home, honestly. It becomes very hard, and I've seen a lot of guys burn out. One of the reasons we've had turnover even in our own line-up is that it's a hard life for a family, and some guys just haven't been able to do it.
"There's a lot. It's fast-paced. It's often stressful. The travel is constant with a crazy schedule. At some point, the shiny glitz and glamour of traveling the world and making music wears off. Then you're like, 'Why am I doing still doing this again? I'm super tired and stressed out and I haven't seen my family in weeks.' All of that tends to make you ask, 'What am I doing right now?'"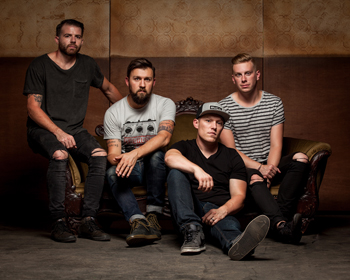 Fortunately, Kutless has been focused on the ministry side of their music since the very beginning. Sumrall believes he is called to what he is doing, which is what allows them to load up for another string of tour dates. You can sense it in their heart for worship, hear it in their gospel proclamations and see it in their fan interactions.
"I think part of longevity in this industry is really being called to it," says Sumrall. "If this was just a pipe dream for me, that I just wanted to be in a rock band when I grew up, if that was as deep as it went, I think we would have hung it up quite a few years ago. For us, it's never been about that. So when you ask those questions, your answer is that it's not something just for fun but it's about doing something meaningful that makes an impact. It's an awesome platform for sharing the gospel and influencing people in a positive way."