In its very first season, The American Bible Challenge brought in the highest viewership of any show on the Game Show Network, which launched the Bible-based competition in 2012. Hosted by Jeff Foxworthy and Kirk Franklin, the show kicks off Season three on May 22. CCM talked to Kirk about the new season, working with Jeff Foxworthy and just exactly what he's bringing to the table this time around.
CCM: Going into Season three, what's the vibe on set?
KIRK: We're very excited to into another season. It's going really well. The show was Emmy-nominated and the number one-rated show on the Game Show Network. I'm very proud to be a part of it.
CCM: You have a history of television hosting. How did this particular opportunity come about?
KIRK: I already host a couple of shows on BET, but when the Bible Challenge folks called me, at first I said no. I didn't think I could add anything to it. But their team was diligent and listened to my ideas and I came to see it as a great opportunity to see if we could do something really special.
CCM: So what are we going to see from you this time around? What does Kirk Franklin add?
KIRK: I think I just try to be me…just trying to bring a little swagger and fun. We want people to continue to be excited about it. The live music and interaction with the audience and choir and Jeff just makes it all so much fun.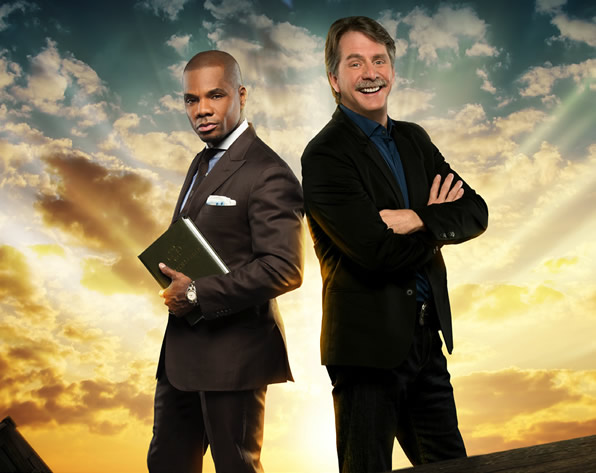 CCM: You and Jeff Foxworthy have great chemistry on the show. What's it like to work with him?
KIRK: He is a really cool dude. He's just up his world and it's been really exciting to be a part of his life. He's very gracious with his space.
CCM: Have you learned any new Bible facts along the way?
KIRK: I learned that I don't know as much as I thought I did! If you think you know the Bible, watch the show. You'd be surprised!
CATCH SEASON THREE OF THE AMERICAN BIBLE CHALLENGE ON GSN. CLICK HERE FOR MORE!