Hymns—Gifts of Grace
CCM: This year, you guys follow up your popular Christmas recording, Joy, with a live take. Christmas music must be meaningful for you and Kristyn to put it on tape twice! Why a second go-round? And what is Christmas music's impact on you personally?
Keith Getty: The reason for our live recording is because of this exciting new partnership with PBS. Last Christmas, we recorded the show, and as we began discussions with PBS, they were excited about making it a Christmas fundraiser for the 2015 year. And so, they wanted to release a new version.
We were particularly excited about this, because as the tour has grown, so each member of the band has added their own sense of life and identity to the show. Our Christmas show this year is new from top to bottom, and the process of putting it together has continue to inspire us to make more recordings and create new shows.
CCM: Christmastime is the one season when hymns are sung throughout popular culture without protest. Rather, they are often promoted. As a hymn writer, does this impact/move you? How so?
KG: Yes, I think it's wonderful because the reason that they are sung is because hymns are such a wonderful art. They are gifts of grace that have been given to the church by some of the finest poets, theologians, and composers in the history of music and, are something we should treasure. As church musicians, we recognize that the challenge for all of us, is to utilize the opportunity to effectively use this gift to reach the broader community; whether it means innovative concerts, opportunities to make music amongst our own communities/neighborhoods in innovative ways, or simply ensuring our churches singing with a greater sense of passion and witness.
The deeper challenge for our communities is that we don't expect outsiders to celebrate our 'good news', but rather, our energy, talent and imaginations, would so inspire the people around us. Christmas, then, naturally becomes the subject of everyone's conversation in the way the great carols of old are able to do.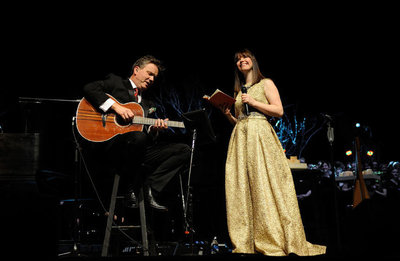 CCM: In this set of features we are talking about "Christmas and Communion." I think the live experience is quite communal. How do you think sharing music together in the live context promotes communion—with each other, and with God?
KG: It promotes communion at different levels: when God's people sing together, the sense of public congregational singing, becomes a holy act, which is a foretaste of heaven. At a broader level, the music, dance and spirit of the Christmas show is meant to bring communities together. Each concert has a inter-generational choir, as well as a lobby jam after the show, encouraging kids and adults to join and dance, which gives a chance to share music with each of these communities, allowing for a fun and joyful Christmas experience.
CCM: What first inspired you to write music—and to pen modern hymns? And how is songwriting, recording, performing and producing music an effort to connect with God, and others?
KG: Primarily, I think as I became more and more convinced about the truth of Christianity, I also became aware of how God's people have learned their faith through what they sing, all throughout history: Old Testament, New Testament and through all the phases of Christian history as well.
As we are the first generation of a new millennium, where there are more Christians in the world than ever before, where global communication is possible for the first time in history, and when most Christians have a very shallow understanding of their faith, the challenge for us is to write a new generation of hymns to help plant the deep truths of Christ, his gospel and words into people's hearts, minds and imaginations.