Getting a record deal used to mean something. It used to indicate the start of a successful career in the music business, or at least a shot at three to five good touring years and a couple of studio projects.
But in today's new-fangled technological age of the music download, most bands are fortunate to have a national album release and a radio single or two.
Thousand Foot Krutch lead singer Trevor McNevan can certainly relate. His band has been plugging away since 1996 — back when he was still a high school student in Ontario — and, four albums later, even he admits there's no such thing as a sure bet.
"The music industry is a very crazy place," McNevan says. "You have people working at labels who don't know if they're going to have a job tomorrow, and a lot of bands feel the same way."
Despite the uncertainty brought on by the industry's changing economy, McNevan says his band has never lived one record at a time. It's always been about the long-term — admittedly, a big-time step of faith for this hard rock band with a penchant for neo-funk and catchy pop melodies.
That's not to say McNevan doesn't appreciate the long and arduous road he and his band have traveled for more than a decade. Recently, on a trip back home, he went through some boxes in his old bedroom and discovered a cache of TFK memorabilia, including a magazine CD sampler with a section labeled "Somebody Sign These Guys." The two featured artists? Thousand Foot Krutch and Superchick.
"It kind of makes me old, but it also makes you really feel thankful," laughs McNevan. "Looking back at that stuff and the bands that we played with — everyone from Bleach to Pax 217 to Hangnail and Beanbag and all these bands — it was an eye opener when you stop to think about that. We were like, 'Man we feel really blessed to still be doing this.'"
Seeing so many great bands die before their time has also caused McNevan to look at his role as one of the industry's veterans through a completely different pair of eyes. But his desire to mentor younger bands actually dates back to TFK's earliest days.
"Being a rock band from Ontario, we played out a lot. And after a couple of years, we were taking some steps forward," McNevan recalls. "More people were coming to shows, and we were one of the figurehead bands in Ontario at the time. A lot of younger bands would email or call or come up to us after shows, and they would have a lot of questions. So I can really relate to being that kid from that small town where there isn't a ton of music and there's nobody in that town you can turn to. It's not like the college and career day where you can go, 'How do I do this?'"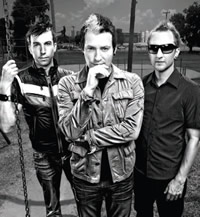 (Pictured here from left to right: Steve Augustine, Trevor McNevan, Joel Bruyere)
One of the biggest things McNevan harps on when sharing advice with up-and-coming artists is practicing gratitude for those who make it possible for them to succeed. "My heart for these younger bands is to try to encourage them to love the people that they work with everyday out there on the road — the sound guy, the guy helping you set up, and all those people," he says. "All the people putting on these shows, their job is just as important. We try to encourage these bands to realize that and love these people and not forget that as they take new steps as a band. It's unfortunate, but a lot of bands do forget. You can really take for granted the doors that God's opened if you don't take time to appreciate them along the way."
Much of the mentoring takes place on the road, but McNevan has also found his voice in the studio, where he has written songs for a number of bands and established himself in the production chair as well. Those opportunities have allowed him to speak into the lives of such artists as Demon Hunter, Decyfer Down, Wavorly and Manafest. He also cowrote the song "Ignition" for tobyMac's latest album, Portable Sounds (ForeFront).
But perhaps McNevan's most noted work to date, however, has been a longstanding relationship with hugely popular touring band Hawk Nelson. McNevan is widely credited for discovering the band that hails from his hometown of Peterborough, Ontario. In fact, it was McNevan's recommendation to Brandon Ebel that eventually landed the young band its deal with Tooth & Nail.
McNevan co-produced Hawk's debut album, Letters to the President, and appeared on both the track and video for "California." He has co-written a combined 28 songs for the band's first two fulllength studio projects and forged a lasting bond in the process.
"I remember in the beginning we kind of made a pact that we would keep God first and just rock this thing," McNevan says. "Their commitment was to play as many shows as they could and work as hard as they could. They've kept their word, and they've really rocked it. Every time I'm at a festival or at a show with Hawk, I get to watch those guys play and watch the crowds grow and watch God move. It's an incredible experience, and it's definitely encouraging. They're very talented, and I love them like brothers."
And for Hawk Nelson, the feeling is nothing but mutual. "I honestly don't believe I can say enough good things about Trev," Hawk bass player Daniel Biro says. "He has been a big brother, a mentor and, most of all, a true friend. By far one of the most meaningful relationships I have ever had. I thank God for sending him my way."
McNevan says the choice to be a full-time musician inherently means choosing to be a role model "whether you like it or not." In doing so, he fully recognizes the responsibility to set the best example possible. That means keeping his own personal life in check and not letting the craziness of the musician's lifestyle change what's most important to him and his family.
"It's a constant juggling act," he says. "It's definitely not an easy thing. The thing I find hardest is keeping my priorities straight, trying to keep God first and then your wife and then your job. When you love what you do, it doesn't feel like work. It's really easy to just be doing it all the time, especially when God's a part of it. You constantly have that justification as well: 'Yeah, but this is for Him.' And you just keep doing it and doing it. It's pretty easy to let priorities get out of whack that way. So yeah, it's a constant refocusing."
TFK's brand new album, The Flame in All of Us (produced by Ken Andrews), seems to center around that very theme. Songs like "Falls Apart" (the first rock single) and "My Favorite Disease" deal with the consequences of unchecked priorities. McNevan says part of the process is the band's effort to stay in tune with God's Word through group Bible studies and the mass consumption of audio sermons
After all, even these rock & roll mentors admit their personal education is far from over. "I feel like we're just getting started, even after all this time," McNevan says. "The more steps you take as a band, the more times God opens the door for us to have a new platform. The problems get a little bit bigger, but it's the same kind of machine. There are a lot of great things about [the music business], and there's always so much to learn."