When his latest collection of rap tracks, 100 (Reach Records), claimed the top position on Billboard's Christian chart and debuted at No. 22 on the Billboard 200 earlier this spring, KB quickly became the next big thing in a long line of success stories in the ever-expanding niche of Christian hip-hop. But his sales spike is merely an indicator of the redemptive power of Christian rap. In an exclusive interview, KB gives CCM readers an intimate glimpse into his poignant story of hope through hip-hop.
CCM: As a teen, you went from the suburbs to the inner city in one day. How did that transition play out in your growing-up experience?
KB: When I was thirteen years old, my parents divorced, and my mother and I moved to Southside St. Petersburg with my grandmother. That was the first time I was confronted with fatherlessness in the inner city, meaning an environment where a boy feels like he must be a man without knowing what it is to be a man. So I turned to rappers, neighborhood drug dealers and derelict fathers as examples. I had this identity crisis that put me in a place of darkness. I tried to medicate with fighting and drugs. I became overwhelmed, feeling unsafe, exposed and fake.
At the same time, I excelled in school and was invited to enter a new program where select high school students could start college early. In the program, I met a guy named Jeremy. He was a year older than me and was into rapping. I asked him if he wanted to battle. He said he did Christian rap. I was struck by how unashamed he was of being a Christian. He had a CD with a guy on the front cover who looked like me. I immediately assumed it wasn't Christian, but Jeremy said it was; and he gave me the CD. I took it home and loved every song. The eighth song had a message about God, sin and His Son's sacrifice. It really impacted me, and I've been walking with the Lord ever since.
CCM: And now you are a trend-setting artist in Christian rap. How does that feel, knowing you were your audience, desperate and in need of help?
KB: It's a great honor! It keeps me tethered to the reality that no matter what happens in my career, I am no different than the people I'm trying to reach. That gives me a special love for my fans. It also reminds me to put accolades in their proper place because, although recognition is awesome, there's no greater trophy than duplicating the experience I had with Christian hip-hop in people around the world. Changed lives is the goal.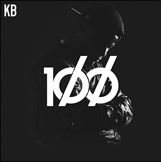 CCM: What is the meaning behind the title 100?
KB: The meaning of 100 is simply to give everything in everything! Because God cares about what we do and how we do it, any job has tremendous value. We can't be underrated or overlooked.
CCM: You have often said you want your rapper platform to be about more than good music. How do you hope your career influences others?
KB: Ten years from now, I hope the way Christian hip-hop changed the way I saw God and the world will be apparent in thousands of people because of my music. When my music is out of style, I hope the heart of my music will be relevant and alive.
FOR MORE INFORMATION, VISIT WHOISKB.COM