From the living room to 'John & June's Room'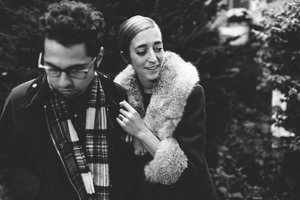 CCM: The songs from It's Almost Christmas were originally born from a Guerra-family Kickstarter of sorts. What is the story behind the origins of these recordings? Have you always loved Christmas music?
Jon & Valerie Guerra: The pre-Kickstarter! The entire project was birthed four years ago when we were poor newlyweds with Christmas quickly approaching, wondering how on earth we could afford Christmas presents. We needed Christmas gift cash and we knew, a) our friends and family would buy a little homemade album (to fund their own gifts), and b) if we played at the custard shop around the corner from our apartment, we could get some free custard and sell a couple more copies of the little album.
We found ourselves stuck inside for a week due to a nasty Chicago cold going around, and we ended up saying to ourselves, "Hey, what if we write one little Christmas song about Chicago that our friends and family would like, and we could make a couple bucks off them to buy gifts for them, for Christmas?"
Lots of our friends had moved out of Chicago, so the whole project was birthed from the song, "It's Almost Christmas," reminiscing about the merriment of Chicago at Christmas. Then, we threw a couple of our favorite Christmas songs on there, and the tradition was born.
The project kind of took on a life of its own when we sold more than we were expecting, then the next year we were asked, "Where's this year's original Christmas song?" We started writing an original song every year, adding some of our favorites and our friends' favorites too (and, of course, still playing for custard!).
Sony Descendant [The Lone Bellow, Colony House] heard the project and approached us about recording it—they asked us to produce it ourselves, which was a huge vote of confidence, as they wanted it to still maintain that homespun feel.
It's Almost Christmas was recorded in the living room of our apartment, with no outside producers or session players (a couple of our friends and family joined in and added some parts). You can hear creaks, pops, and you may hear an occasional neighbor's dog barking—mainly because we didn't know how to mix those out! I taught Valerie how to use ProTools, and we literally engineered the whole thing by ourselves. One day, I came home from a gig, and Valerie played me the entire string track for "Have Yourself A Merry Little Christmas" that she composed, engineered, and produced in a couple hours.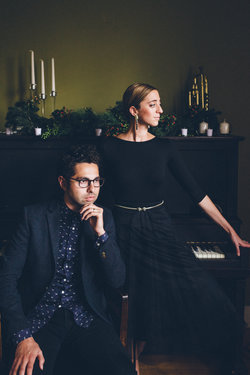 CCM: I like what you said about the music on this EP, "We're not trying to make new Christmas music…we're trying to make something that makes Christmas music feel new." How did this idea of making Christmas music "feel new" play out in the recording process to differentiate this collection of songs from those already out there?
Guerra's: Let's be clear: you can never replace Bing Crosby & Rosemary Clooney, Mariah Carey, Michael Buble, or Amy Grant. We never thought we needed new Christmas music. Like we mentioned earlier, we never set out to try our hand at new Christmas music, it was birthed out of necessity.
In a sense, the "newness" isn't new recording techniques or gear or the latest trends, it's almost the opposite. It was just us, holed up in our tiny one-bedroom Chicago apartment, recording the songs in which we hoped our families and friends would find warmth, cheer, and a sense of "home."
CCM: Speaking of classic Christmas artistry, you are opening Amy Grant's annual Nashville Christmas shows at the Ryman Auditorium this month. How do you feel about this honored spot?
Guerra's: We are still pinching ourselves. When we first walked into the Ryman, we were escorted to our dressing room, the "Johnny and June" room—we just stood there, mouths agape. Not only is the Ryman filled with music history, but Amy Grant is an artist both of us so greatly admire—she's been able to successfully toe the line of Christian and pop music seamlessly, and the fact that she invited us as the first ever opener to share her stage is an unbelievable honor.
CCM: In these holiday conversations we are talking about "Christmas and Communion." How Christmastime encourages connections with each other, with God, anew each time the season rolls around. How is this true for you?
Jon Guerra: In the deepest sense, the manger is the first communion table. In the manger, God communes with us, with humanity, irrevocably and inseparably by actually becoming us. The underlying premise of communion as instituted by Jesus ("Remember my body and blood…") is that He actually was a person, with a body and with blood. When we remember, we first remember the material-ness of God.
Then we remember the suffering of God. This is the piece that has had the most impact on my life personally. God was born into suffering. He was born in a barn with animals. His parents couldn't even get a room at a cheap motel. He grew up in the only part of town his parents could afford, which by the way, was clearly not the most well-to-do part of town (people questioned, "Does anything good come out of Nazareth?"). God had every right to be born at the top of the top. Instead, he was born at the bottom. He died at the bottom, too. This is so moving to me, sometimes I can hardly bear it. The one we hail as King of Kings and Lord of Lords chose to dwell with the lowly.
CCM: Before releasing your singer-songwriter debut, Little Songs, this spring, you were primarily known as a member of the Vertical Church Band at Chicago's Harvest Bible Church. To me, leading worship is facilitating musical communion. How has your role as worship leader—of unifying people spiritually through music—impact your singer-songwriter artistry? Did "worship" impact the recording of this Christmas record? If so, how?
JG: "Musical communion"—I really like that. This is precisely how I see my role as a worship leader. Beauty is indiscriminate in its welcome. It draws and connects people on a visceral, emotional level. I believe that's why we sing. As a worship leader, I don't lead the voices of the people—I lead their affections. If the hearts of people are enraptured with God, everything else follows (singing, attention to the sermon, tithing, charity, etc.). If you lead their hearts, their lives will follow.
With Little Songs, I tried to write from the heart, to the heart. They are songs intended to be digestible. At my concerts, I try to be lighthearted in my storytelling as a way of disarming people. I want our hearts to connect so that when I sing, the affections I feel are also being felt by the people. There is communion in that.
As for the Christmas record, there are a couple moments of direct worship ("Little Drummer Boy," "Lord Remind Me"), but mainly it's a welcome—to any and all. . A welcome to family, friend, and stranger. Christmas is a celebration of God's welcoming us into communion with Himself. We made it in our living room for goodness sake, so it's quite a personal one, at that!