A Relative Newcomer And True Rock N' Roll Worshipper, The Midwestern Artist Prides Himself On Honest Hard Work, His Musical Roots, And Genuine Loyalty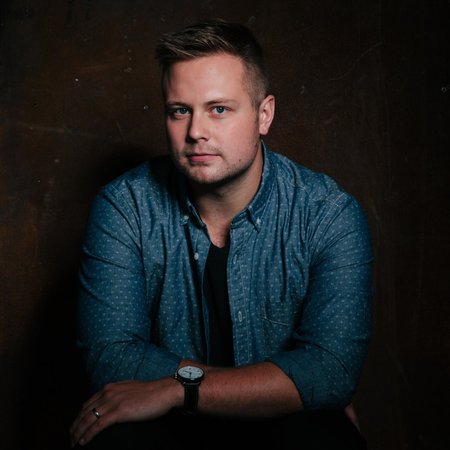 Springsteen. Petty. Mellencamp. This brand of working man's rock and roll is a proven one, saturated in the stories of the average American. It is, however, rare territory for an artist who could also be branded as a worship leader. Meet John Tibbs, an uncommon artist charting his own musical course.

Tibbs is the newest addition on the FairTrade Services label, a young man whose midwestern work ethic and musical approach garnered a tremendous following as an independent artist. His first release, titled Dead Man Walking (the follow up to last year's EP of the same name), delivered by the afore mentioned label, drops February 2016 and a spring tour with Matt Maher will give him a chance to shine after previous tour slots for Audrey Assad and Newsboys. We recently sat down with John to hear more about his roots rock delivery and working with producer Ben Shive for the first time.

CCM Magazine: You've got a roots music delivery and set of influences, but you're also a worship leader. It's an uncommon mix, which makes me curious how you bring it all together in one musical package?
John Tibbs: Man, that is a great question. Worship, to me, is a conversation between myself and God. So when I write lyrics, I write from my experiences and my story. That inherently creates a conversation. I don't necessarily try and write something that's comfortable for a corporate worship setting. Rather, I try and write something that's very real and honest to me and a melody that invokes that emotion. I try to focus on the heart before anything else.

As far as the music goes, I just want to make some thing I'm proud of. I grew up in Western Pennsylvania, and it felt like the classic American rock of John Mellencamp, Tom Petty, and Bruce Springsteen were the soundtrack of my childhood. That certainly had an impact on me. As I've grown up, I've fallen in love with modern sounds from guys like Ryan Adams and Brandon Flowers. All of that has influenced the way I sing and write.

I remember the first time I saw The Lone Bellow live. It was a venue in Bloomington, IN on a Monday night in January. There were probably eighty people there. It was the kind of cold night that you think to yourself, 'These guys probably don't want to be here.' That didn't seem to be the case, though. After one song in particular, Zach Williams stood on the stage right in front of us, in silence, and just cried. That said a lot to me.

I decided right then that I wanted to write songs that no matter how many times I sing them, it will always means something to me. And, you know, I think that's the kind of music that connects to people. If it's real to me, it's most likely real to someone else. I think we are all connected. So, yeah, some of my music can probably fit into the "worship" category and others, not. That's okay. It's all genuine to me and that is what matters. The rest will work itself out.

CCM: You mentioned being struck by music that's genuine. When was the last time you felt that way about a piece of music? Any recent moments?
JT: One of my favorite records this past year was The Firewatcher's Daughter by Brandi Carlisle. She's been slaving away for over a decade, and you can hear her story coming to life in this record. I don't know everything about her, but that's the great thing about music. Although we are disconnected people, we connect through these songs. Her words from her story find me in my story, and somehow, we are connected in that. Man, isn't that something?

I love how the record opens up: "I think it's time we found a way back home / You lose so many things you love as you grow / I missed the days when I was a kid / My fear became my shadow, I swear it did."

CCM: You worked with Ben Shive (Ellie Holcomb, Rend Collective) on the new album. What did he bring to the music that wasn't already there?
JT: It was truly an honor to work with Ben on this record. He is the most genuine, humble, talented, and hard-working producer I've ever met. He showed up every single day ready to do whatever to make this music great. Ben is a wonderful listener and I felt like he was able to see these songs from the outside and bring a fresh perspective. If you listen to his work—Colony House, Ellie Holcomb, Dave Barnes—they are all wildly different, but they're all true and unique to the artist. I really enjoyed working with him, and cannot wait to do it again.

CCM: On the worship side of things, when you're in that setting, what's the best advice you've been given about being a leader in that space?
JT: I think it was when I was encouraged to be myself, rather than focusing on being this amazing leader that was always going before people. The pressure of being 'all things to all people' was suffocating. I found that when I was true to myself, I helped create an environment for people to feel comfortable with who they were in church. That really went a long way. I found that some of the best moments of worship would be after a song I'd say, "Let's pray," and then just step back from the mic, and we'd all tell God what was on our own mind and heart in that moment.

CCM: You're hitting the road with Matt Maher this spring. What are you most looking forward to with the pairing?
JT: There aren't too many people I respect out there as much as Matt Maher. I think he's been one of the most consistent artists in CCM for the last decade. And his latest record Saints & Sinners is a wonderful piece. On top of that, he's a very genuine person. I'm honored to support him this spring. Personally, I'm really excited because on this tour I'll have the opportunity to have his band back me on a few songs. That's a first for me; I'm used to opening up solo. That is going to be a lot of fun!

CCM: Beyond what we've discussed, what's one thing you want readers to know about you and your music?
JT: I think I'd love for people to know that they can always reach me. One of my favorite parts of what I do is meeting so many people. I guess I'd say that I will always reply—whether it be an email or a Facebook message. I'm blessed to be able to make music for a living, and I couldn't do it without the support such kind people I've met along the way. I don't consider myself to have any fans, rather many friends.