With thirty albums to her credit, an autobiography, a documentary, endless Grand Ole Opry experience and co-founding Nashville Cowboy Church in 1990 (where she continues singing to this day), Joanne Cash is one of the most prolific and respected artists to ever blur the lines between gospel and country music.
Her latest project is a duets disc split between sacred and secular covers, and considering she's a member of that famous Cash family, perhaps it's no surprise Breaking Down The Barriers (Proverbial Excellence) is stocked with so many familiar family members and friends. Besides collaborations with Rosanne Cash, Tommy Cash and a previously unreleased tune written by 'The Man In Black' himself, the collection includes Larry Gatlin, George Hamilton IV, Kevin Max, Jars of Clay's Dan Haseltine, Petra's John Schlitt, amongst many others.
CCM: After releasing so many albums over the years, how are you able to keep your selection of material so fresh?
JOANNE CASH: After recording thirty albums, it sometimes is a challenge to find just the right songs. However, [I feel] music and songs are about life, love, heaven, and our journey to get there through trials and the testing of our faith—so there is always another song to sing. I have so enjoyed this album. It has been a fun adventure and a dream that has come to pass. My producer, Chad Randall Crow, has worked with my husband [Dr.] Harry [Yates] and I for quite some time. We've done some traveling to Memphis, and to our recently restored Cash family home in Dyess, Arkansas to record the different songs that we selected.
CCM: What are your goals musically and spiritually with Breaking Down The Barriers?
CASH: Musically, the goal was to sing some songs with friends that would touch people's lives. As we recorded more songs, it became obvious we were singing with people who represented a lot of different genres of music—from country to contemporary Christian to rock. It was fun watching the musical barriers break down. And spiritually, Breaking Down The Barriers is what we as Christians are doing. [We're] breaking down the walls of competition and anything that would hinder the work of the ministry through song and music.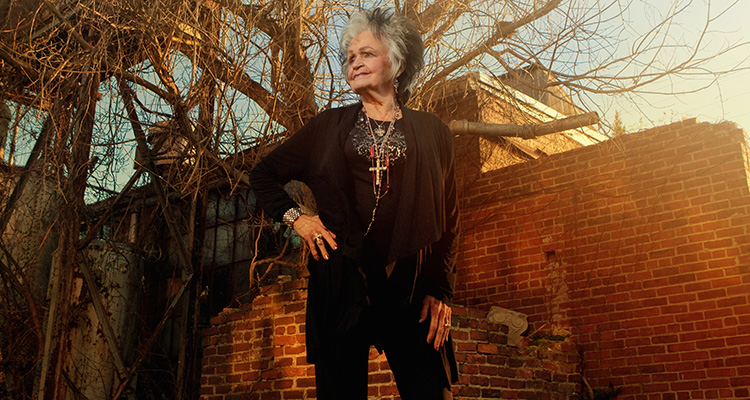 CCM: How would you describe the process of tracking down the guest stars? Are they all family/friends/mutual admirers, or just folks you had on your wish list?
CASH: Most of the artists on this project are family and friends. My brother Tommy Cash was happy to sing with me, as I am with him. My niece Rosanne Cash recorded "Anchored In Love," an A.P. Carter song, with me. Larry Gatlin, a close friend, sang a song he wrote years ago, "The Good Earth." T. Graham Brown is a special friend of ours. I love the way he sang "God's Gonna Cut You Down." The Fox Brothers are friends of ours who sang "My Ship Will Sail." I love that song! Every song and every artist were prayerfully chosen.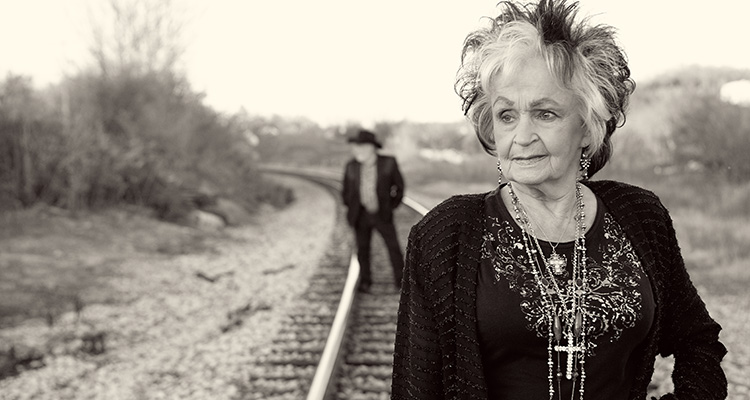 Chad has worked in the music industry for years and knows some of the contemporary artists who are on the album, like Dan Haseltine ["All My Tears"], John Schlitt ["Dust In The Wind"], and [Whiteheart's] Rick Florian ["Time Of Your Life"]. Ranger Doug sings a song with me that sounds like we are sitting around the campfire, "The Touch Of God's Hand," and he has become a good friend. Kevin Max has been a friend for years and I have worked with him [many times]. "Love Rescue Me" is a great song and he had to be the one to sing that one with me! "Fair Weather Friends" with Razzy Baily is a great song from an even greater friend, and I love the way he did it. Everyone did a great job!
CCM: Did you have any indications this would be George Hamilton IV's final recording and what were your impressions of him?
CASH: George accompanied my husband and I on a trip to Ireland a few years back and we both became close friends with him. He has always been a special person in our lives, and that is why we asked him to be a part of this album ["On The Rock Where Moses Stood"]. Little did we realize that it would be his last recording. We gave his family a copy of the CD.
CCM: How did you go about discovering the lyrics Johnny left behind to "My Lord Has Gone?"
CASH: Johnny brought the lyrics to one of his final recording sessions. As he was leaving, his engineer asked if he would like to record the song but Johnny didn't have a melody for it yet. He left the lyrics there with the engineer. So we asked a special friend to put music to it and I recorded it with Tommy. It was Johnny's way of saying we all need to be ready when Jesus comes.
CCM: Speaking of Johnny, what did it look like on a day-to-day when you worked at his House of Cash studio?
CASH: The House of Cash was an office and museum that had a studio in the back. I worked in the office as a secretary, and read and answered the mail. It was a big job because he got a lot of mail. Later he had his own studio on his property, which is still operating, called the "Cash Cabin." It was there where he wrote, meditated, and recorded many songs. When I record there, I feel very peaceful as if he is watching over me.
CCM: The whole world knows Johnny as a superstar, but what was he like as a brother?
CASH: Johnny was the middle child of seven brothers and sisters. He was a wonderful brother to me as well as the others. He even called me "Baby" because I am the youngest girl.
CCM: What did you take away from your years of singing at the Grand Ole Opry?
CASH: As I sang on the stage of the Grand Ole Opry at Grand Ole Gospel Time every Friday night, I thanked God for the opportunity to reach the world from one of the most important stages in the world. That experience helped me to learn about handling myself in front of audiences of all kinds.