Unstoppable: Impossible to stop or prevent
Jesus replied, "What is impossible with man is possible with God." Luke 18:27
On June 3, Miranda Lambert, 50 Cent, Coldplay, Lucy Hale and Birdy released new projects. Miranda took the No. 1 spot on iTunes overall albums. The rest fell in line as one might expect…but for one caveat. The No. 2 spot went to Jesus Culture's Unstoppable Love.
A worship band besting 50 Cent, you say? Impossible.
Fortunately, as Jesus tells us in Luke 18:27, impossible is God's specialty.
And Jesus Culture has been riding high the wave of God's unstoppable love and power since its inception in 1999. Charged with a vision and mission to not only make music and lead people in worship but to truly change culture from the inside out, each of Jesus Culture's twenty-one albums has been an offering of excellence, an act of faith and a tangible example of surrender.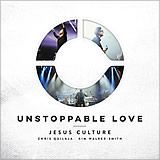 The latest offering, Unstoppable Love, is comprised primarily of primarily original worship songs delivered by Jesus Culture's second-to-none band — Chris Quilala (lead vocals and rhythm guitar), Kim Walker- Smith (lead and background vocals), Brandon Aaronson (bass), Josh Fisher (drums), Jeffrey Kunde (lead guitar), Ian McIntosh (keyboards and programming) and Skyler Smith (acoustic guitar and percussion).
The album comes full circle with a stirring message from Jesus Culture Director Banning Liebscher, called "Answering the Call to Prayer."
"Our prayer for this album is that you would encounter the unstoppable, over-the-top, zealous, extravagant love that God has for you," says Liebscher.
That prayer has resonated through Jesus Culture's entire ministry — from 1999 to 2014. The annual Encounter Conferences, at which this record was recorded, were created to give a young generation an opportunity for an authentic encounter with God. This year marked 14 years of conferences, as well as the addition of a second location in Jesus Culture's new home of Sacramento. With events also happening in Minneapolis, Los Angeles and Atlanta, it's fair to say that Jesus Culture is stronger than ever and poised to be stronger still year by year.
Bold, unfettered by convention and unashamed of the One they elevate in each song, at each conference and in each act of ministry, Jesus Culture continues to fully immerse themselves in the business of changing culture. They challenge the status quo and dare to be misunderstood. Most of all, they dare to dream the impossible — to awaken a culture that has been asleep in the dark for far too long. Their success isn't contingent on rankings or charts. Their success is measured by Kingdom standards. And given their track record, it's safe to say that Jesus Culture's mission and passion will continue to reflect their unstoppable God.
FOR MORE INFORMATION VISIT JESUSCULTURE.COM