Every disciple has a backstory. Every believer, a spiritual landmark — a time, a place, an event where God inspires and tests, directs and refines, each followers' faith. And it is the details of these benchmarks that spark the supernatural in a Christian's heart, personally impacting their own life and the lives of an entire sphere of influence.
For Jeremy Camp, that circle of impact is far reaching. Having created a gold-selling discography highlighted by number-one radio hits, Jeremy's straight-ahead evangelical pop/ rock has earned him a consistent listening ear from millions of fans across the world for the better part of twelve years.
But in 2013, after a watershed spiritual experience, Jeremy Camp — an industry mainstay at the top of his game — considered calling it quits.
A PHONE CALL, A PETITION
It was a couple of years ago when Jeremy, out of a record deal and running low on creative stamina, received a phone call from a missionary friend inviting he and his band to perform a concert in Kyrgyzstan. "KEER-GASTAN" is a predominantly Muslim nation in Central Asia known for volatile civil strife and strict religious censorship. Speaking Louder Ministries, Jeremy's non-profit organization providing crusade-style events, is designed to "declare the hope of Jesus throughout the world with music, testimony and service."
As a gospel-centric artist known for penning faith-empowering songs like "Walk by Faith" and "Reckless," and considering Speaking Louder's mission, Jeremy began making efforts to pull off the endeavor. "My friend in Kyrgyzstan expressed that people were fearful," Jeremy remembers, citing the intensity of his friend's request. "Churches were going underground. People were being persecuted and killed for their faith. Tension was building and he said they needed something desperately."
"So here I am proclaiming this song 'Reckless' [the title track from his 2012 record], and now a friend is suggesting I be part of something potentially 'dangerous,'" Jeremy explains the responsibility he felt to translate his written words into action.
As Kyrgyzstan's Ministry of Religion and the KGB scoured Jeremy's online platforms for possible offenses to hosting a local concert — the highly applauded artist's list of accolades coupled with his "cool, American vibe" ultimately sold them on hosting the show. Of course, it would only be allowable under the strict guidelines that Jeremy would simply play music and not share his beliefs.
But as plans progressed and warnings increased, the husband and father of three (Jeremy is married to Adrienne, former front-woman for Christian rock band The Benjamin Gate) began assessing the realities of sharing the gospel in a country intolerant of — and even violent towards — the Christian message. And Camp, the family man, pushed pause.
"There were too many red flags. It had to be the Lord calling me to do this. I'm not going to flippantly go somewhere that could wind up being crazy," he says, feeling the cost of this decision to his family with something that could possibly go awry. "We ended up telling them we didn't think it was going to be the right timing."
Upon hearing the news, his friend abroad replied with one last appeal. "He said, 'This is probably going to be the last year you would be able to come to Kyrgyzstan. It's getting more and more unsafe. The persecutions are starting to rise. The people are fearful. We need help.'"
Rather than a manipulative guilt trip, Jeremy admits his friend's persistence was an honest plea for spiritual aid. A petition Jeremy and his cohorts were willing to reconsider. So they prayed hard.
"The next Sunday, we were praying at church and God gave us verses and songs that simply said, 'Go.' We fell on our faces, crying out to God to prepare the land and the venue in Kyrgyzstan, praying, 'God I know you are preparing the way. We just want to be a part of it.'"
In the face of the nation's tense reality, Jeremy and his musical entourage packed their instruments and carried the gospel to Kyrgyzstan.
ONE NIGHT IN KYRGYZSTAN
Once on foreign soil, Camp hit the ground running and fulfilled a full day of press requests and media interviews. But as a mostly Muslim nation with profound religious restrictions, Jeremy was forewarned to choose his words wisely in order to ensure the concert's confirmation as well as their safety while inside the country. "I would share the details of my testimony in generalities, but then say things like, 'God brings hope— and I want to share that hope with this generation.' But I had to be careful when talking about Jesus," he explains.
As he continued to carefully share his heart's hope, the spiritually sensitive musician began feeling a heaviness, "an unexplainable tension," as he describes, in the room. "People began asking, 'What is the real reason you are here?' All of the sudden, I'm feeling oppression and fear, a warfare, like I've never felt before in my life."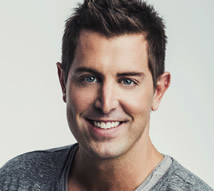 "I remember the night before the main event very well. As we were preparing to go on stage for a youth event I overheard our host, in a worry-some tone, say to the local pastor 'We'll have to deal with that when we get to it'"—not something that Camp or his team wanted to hear in those moments!
"When I asked what was going on, he said 'Because of the interviews, the government has realized that this event may be more in-your-face than they were expecting. In turn, the media is expressing to the people of Kyrgyzstan that tomorrow's concert is provocative in nature, and that it's going to agitate our people. They're telling everyone not to come.'"
The weight of the situation was coming into focus. With Jeremy's likeness appearing on every billboard and open space across the nation's largest city centers, any even unintentional overcommunication could bear consequences. "If I said the wrong thing from the stage, they would send the local church's pastor to prison for a year," Jeremy soberly relates. "Reality was hitting us."
"After the youth event concluded I asked 'Should I be watching my back?' He said, 'Yes.' So at that point my bodyguard began to follow me everywhere. I then eventually fell on my knees and cried out, 'God, I can't do this. It's too much pressure!' It was in that moment God responded, 'Perfect. Now you can do it. You are letting go of what you can accomplish, because you can't accomplish anything without me.' That blew my mind."
Amid the bomb threats and warnings of sniper attacks, the main event remained on-schedule. Due to the negative press and local grumblings, Camp's ministry team began preparing themselves for a meager attendance. However, by the time Jeremy took the stage that night over 8,000 people flooded the stadium. "At the time I finally walked onto the stage, the peace of God began to guard my heart. I had no fear. I shared about Jesus. Altar calls are against the law in Kyrgyzstan, but I took full advantage of the liberty to talk about my faith — people all around the stadium came forward for prayer."
As a result of Jeremy's surrender, his crew, and the team's concerted exercise of faith in the face of fear, thousands were able to hear about Jesus — some even for the very first time.
Jeremy recalls one tangible sign of God's protection from that evening that was literally marked across the sky. "As we were praying before the concert, clouds were darkening all around the city. Above the stadium, however, the sky was completely clear and blue and there was — no joke — one particular cloud in the shape of a dove! I honestly tried to not over-spiritualize it, but in that moment and after all that happened leading up to it, you just have to let go and say, 'Alright, Holy Spirit. You do your work!'"
Not long after Jeremy and his Speaking Louder team left Kyrgyzstan for home, his missionary friends were kicked out of the country as a direct result of the concert's impact. Thankfully, they were also able to report that the Kyrgyzstan Christian Church has been emboldened like never before.
Simply stated, Jeremy says, "This experience has changed my everything."
STILL THE GOSPEL, AND MUSIC
After more than a decade of recording, touring, and going the distance on industry expectations — one night in Kyrgyzstan provided the much needed jolt of energy and refreshment in Jeremy's calling. This has become the new standard by which his musical paths will forever be shaped.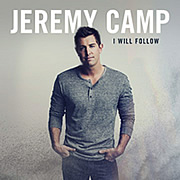 As a result, I Will Follow, Jeremy's eighth studio recording was born.
"After Kyrgyzstan I reassessed everything," Jeremy explains, recalling the natural questioning a life-changing experience will spawn. "I was debating on going 'independent' or 'under the radar' because I didn't want things to be about 'Jeremy Camp,' or the building of my kingdom. Branding and business — it was all becoming a deafening ring to my ears. But God reminded me, as long as my heart was truly seeking Him alone, that He will worry about those things and use them to bring people into His presence and to build His kingdom. I was encouraged to 'go for it' again."
Having obtained an associate of theology degree in the late '90's from Calvary Chapel Bible College in Murrieta, California, Jeremy reminisces, "When I first went to college, the Lord laid on my heart that I was going to be a minister — whatever that ended up looking like. So when God opened doors for music, my first thought was, 'I'm going to minister through music.'"
"In the beginning of my studies, it seemed I was thrust into that ideology. After a few years, God reminded me that I am a minister of the gospel who just happens to accomplish that task through music. If I wasn't performing or writing music, I would still share Christ. If I were a missionary overseas or at a workplace in Middle America, I would still share Christ. I decided that I would be a minister of the gospel — period. For me, that's how I started in all of this."
And for the marketing and selling of I Will Follow, he's taking a lead from the album's title. "I have no agenda," he says. "And I guarantee what happens could be amazing."