JASON CRABB DEFIES A GENRE AND GAINS A NEW FOLLOWING
Were an individual who hails from Beaver Dam, Kentucky to take off in the world of Southern Gospel music, it wouldn't be much of a surprise or stretch.
Beaver Dam, Kentucky has always been quintessential small-town America. For years, Main Street was dotted with a local meat n' three, the local bank and a quirky little used shoe store the locals liked to call Beatty's. Got the picture?
Now, imagine a Beaver Dam native scaling the charts, the ranks and walking away with one of the most prestigious awards in Contemporary Christian music.
A little more surprising?
More likely than not, that was the reaction of several CCM fans when Jason Crabb walked with not only Male Vocalist of the Year, but Artist of the Year at the 2012 GMA Dove Awards. But, the moment he opens his mouth to unleash his powerful pipes, all doubts dissipate.
Among critics and fans alike, Jason's voice is one of the singularly most powerful, distinct and versatile voices in this generation…and of many others. Of course, for those unfamiliar and slightly surprised, rest assured that no one was more surprised at the honors bestowed upon him than Jason himself. Backstage at the Doves, he kept saying, "I just can't believe it."
Well, Jason…believe it.
And everyone else…meet one of the most talented artists this industry we call CCM has ever seen.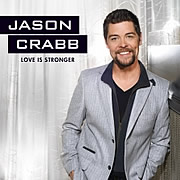 Of course, it must be said that Jason, while only recently emerging on the CCM side of things, has been at this a long time. His family, more commonly known as The Crabb Family, has been Southern Gospel royalty for years. But, after numerous Dove and GRAMMY nods, Jason decided to forge his own path. And on his forthcoming album, Love is Stronger, his first since the Dove win, he decidedly takes a new direction, leaning heavily on industry heavyweights and even more so on the God he just can't stop singing about.
"I'm very excited for people to hear this record," says Jason. "We're gonna go familiar places, but also to some places I haven't been in sonically.
"I've always wanted to make a record like this," Jason continues. "And I was a lot more hands-off on the production. I listened to the producers and am so excited about what came out."
And with good reason…Helmed by a veritable who's who of stellar producers, Jay DeMarcus (Rascal Flatts), Ed Cash (Chris Tomlin, tobyMac) and Wayne Haun (Celine Dion, Jessica Simpson), the album not only contains lots of styles…it contains lots of styles done really well.
Really, really well!
And while he's not looking to abandon his loyal fan base, he's more than ready to expand his audience.
"I never try to be offensive," says Jason. "I wouldn't want to push anyone away or discard people. That's not me. But I also love their grandchildren and their kids. I want them to hear the same message, but maybe just in a different package."
Done.
Love is Stronger has some country, some pop, some CCM, some southern gospel and a whole lot of soul from beginning to end. It's proof positive that Jason really can sing anything (maybe even the phone book!) and blow you away. But it's not so much the song style or production that bring the whole record to life. It's life that brings it to life… Jason's life, the lives of his family, the lives of those he's admired over the years. Each song has a story that's gripping and special, which takes each one to a whole other level… beginning with the title track, "Love is Stronger."
"The first time I heard 'Love is Stronger' I was so excited," shares Jason. "Jay calls it a gem. I knew it was a very special song for me and my family. My wife was diagnosed with rheumatoid arthritis. She couldn't get out of bed. I watched her sit and cry. It was a chore just to get across the room. She couldn't even brush the girls' hair. The lyrics in the song say, You went down one of those roads nobody should have to go/life is tough but love is stronger."
After visiting several specialists and naturalists, she is now on the back side of things and doing everything that she loves, including hitting the gym with Jason (who has recently dropped a few pounds himself).
"She didn't give up," says Jason. "I see her smiling and laughing again."
Which is what Jason does as he shares more stories behind the songs on the record. From "Give," which "offers a sound spin on things," shares Jason. "If you want love… forgiveness… give it," to "That's What the Blood is For," that reminds us that, "we can't be victims of our past; we let the blood cover our past and enjoy this gift of life," it'd obvious—these songs were all labors of love.
The guest artists who appear on the record — Kari Jobe, Michael English and Joyce Martin — not only add incredible texture and depth to the songs; they reveal just how Jason is revered within the industry — the kind of guy everyone wants to work with. He's also the kind of guy who doesn't spend time talking about himself… instead of focusing on his own talent and ability, he shifts the spotlight onto others.
"I remember the first time I heard Kari Jobe. I was absolutely blown away," says Jason. "It's the touch of God on her voice and the anointing on her life. I am so honored that she sang with me on this record. Every time I hear it, I'm like, 'Really? I can't believe this really happened!'"
"Michael English has one of the greatest voices I've ever heard," Jason says. "And Joyce… some people pass over words when they sing. She doesn't even pass over the letters. Every word counts. Every note counts."
The same can be said for Jason. Each moment of the new album is emotive and beyond the confines of any one genre. More than the music, however, Jason is truly a man in pursuit of God's best — committed to doing all it takes to make the most of the gifts he's been given. And be it a little pop, a little southern or a little country, the truth of God's love resonates most strongly of all to an audience who won't soon forget the voice and the heart of Jason Crabb.