Gardnerville, Nevada isn't exactly a worship music hotbed. Neither are Indian Hills or even the much larger Carson City for that matter. Nevada, as a whole, continually ranks among the most unchurched states in the nation.
The lack of larger churches in the Lake Tahoe region in Western Nevada is an important point to the story of I Am They. After all, if it wasn't for the lack of substantive and engaging worship gatherings in the area, the new six-piece collective might have never formed. Born out of a need for a community-wide worship gathering, eventually named Solomon's Porch, I Am They are now bringing their inventive folk-pop sound to thousands each night. But their beginning came from the most unlikely place.
"The entire area that we've come from has been so excited that there's something coming out of it," says vocalist Stephanie Kulla. "There's such a small church culture in that area, so people are just really excited. They really believe in our ministry and bringing people together. We want people to feel just as much a part of our band as we are—as I Am They."
If you're new to the music of I Am They, just give it time. Currently they're opening proceedings on the popular Rock and Worship Roadshow Tour, which features heavyweights like MercyMe, Crowder, Jamie Grace, Matt Maher, Tedashii, Group 1 Crew and more. For a brand new band making their debut, it's an ideal outlet to quickly develop a following.
"The artist line-up on this tour is phenomenal, and they're all big heroes of ours," says Kulla. "I mean David Crowder, Matt Maher, MercyMe and the others are all just amazing. It's just such an honor to share the same stage as them. Then the platform to be able to lead so many people into worship and for people to hear our songs nationally as opposed to just the West Coast, which is where we're from, has been really surreal for us."
The heartbeat of I Am They fits perfectly within the tour's mission as they open the night with a worshipful set. While their new self-titled album isn't necessarily a congregational worship album a la Hillsong or even Leeland, each of the six band members—Adam Palmer (vocals, guitar), Matthew Hein (vocals, guitar), Kulla, Justin Shinn (keys), Bobby Stiehler (bass) and Sara Palmer (drums)—are rooted in worship music in both passion and experience. It's that deep commitment to minister through music that brought them together in the first place.
"Worship has always been and will always be our heartbeat," says Kulla. "We'll always be worship leaders. When we're home, we're all worship leaders at our home churches, but our music isn't necessarily 'worship music.' It's something that has influenced us. In the Christian music industry, it's like you're either going to be a worship artist or CCM artist, but while we walk down the CCM road, we can have worship songs on our album."
The transition from worship leaders to performing artists came quickly for I Am They, and the band earned spots opening for Chris August, Bebo Norman, Matthew West, Big Daddy Weave and several others.  Then came Spirit West Coast music festival, where the sextet entered a battle of the bands competition and won over 72 others. The prize was $500 to go to Nashville, a recording session with Whiteheart's Billy Smiley and an appearance on the main stage at next year's festival.
Once they made their way to Smiley (after a fundraising concert to acquire the additional money needed to get to Middle Tennessee), it wasn't long until the producer started spreading the word about I Am They. Several labels were interested, but Provident Music Group won out in the end. Months later, producers Jason Ingram and Jonathan Smith helped wrap a bow around a self-titled production that blends the band's four-onthe-floor leanings with pop radio appeal.
"It's interesting for us in that we all write for the band, so we all have different musical influences," says Kulla. "I think it contributes to the way that we sound. We're all very different. For me, I grew up listening to a lot of Ray Charles and Aretha Franklin. Adam and Matt used to be an acoustic duo, so they love Punch Brothers and a lot of the acoustic, intricate kind of stuff.
"I like to compare it to how the Bible speaks of three strands bound together that are unbreakable. It's that idea that all of our different influences brought together create our sound. And as a worship band, we were doing a lot of Leeland and Hillsong songs when we started, so those influences are there as well."
Even as the band begins to grow their fan base with the Rock and Worship Roadshow Tour, they're already taking notes from available touring vets about how to handle road life and learning important lessons from living in the spotlight.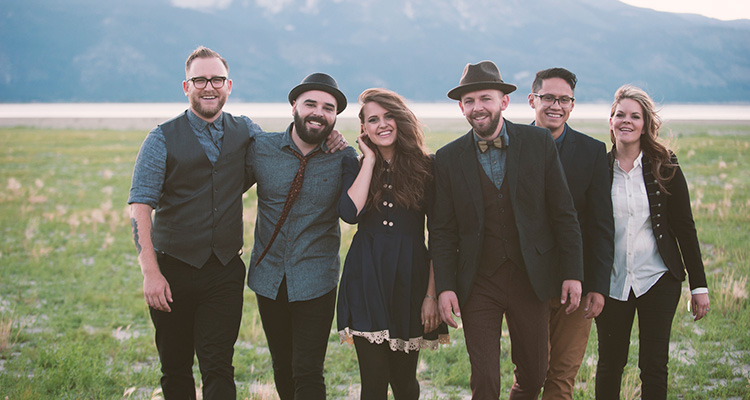 "Getting the time to talk with these artists and share war stories and perspective on things has been huge for us," says Kulla. "It's great to get knowledge from these guys on music, ministry and family. It's hard. It's an intricate lifestyle with a hard balance, so it's been great to glean that wisdom while hanging out and spending time with them.
"For the family thing, it's about balancing that with ministry," she continues. "We've had people tell us how important it is to just be home when you're at home. Don't work on band stuff when you're there, but rather focus your attention and time on family, because that time is sacred and precious and it's few and far between when you're touring regularly."
I Am They are also getting some encouragement as the rookies on tour. While others are able to sleep from city to city in comfy tour buses, I Am They are earning their legs on the road in a van behind everyone else.
"Since we're a new band and doing the van thing, you could say that we're roughing it as opposed to sleeping on a tour bus or something, but everyone has been so encouraging in reminding us that it will get better," says Kulla with a laugh. "Everyone is encouraging us and said they've been through the same thing for ten years or whatever. It's just about putting in the time and they encourage us to stick with it and not give up.
"Even still it's been awesome," she continues. "It's a whirlwind, you know, because we're following a bus tour, so the scheduling is a little crazy because we are in the van. We're driving when everyone else is sleeping, but the whole tour has been so much fun. We're having a blast."
If there's anything the band wants fans to know about them, it's all found in their name. Kulla laughs when describing the name, since most people do a second take upon hearing it—she says it's not only Biblical but core to understanding their message and mission as a team.
"It's not grammatically incorrect," she laughs. "We may be from Nevada, but we know what we're doing. We use our name to explain it. I Am They gives us a chance to explain our platform and explain our hearts and our ministry—a unique way to connect with people. The name comes out of John 17:16 specifically where Jesus is praying for his followers and referring to them as 'they,' saying that 'they would be not of the world just as I am not of the world.'
"We want to identify as disciples of Christ. I want to be that and live that life. We want to encourage people to be included—to personify it, take it further and take people into our ministry with us. That's the thing that we're able to talk about."
Even as their fame spreads and the platforms get even bigger, Kulla says that the band's goal will remain exactly the same night after night—to share the gospel from the stage and then remain as long as necessary off the stage where she says real ministry happens.
"Our goal is to be genuine and humble," says Kulla. "It would be easy to get into that rock star mentality and just come in, play our set and then leave but our mentality is that we want to connect with everyone. We treat every venue like it's a church and we want to go meet the pastor and develop relationships with those people.
That's how ministry really begins to happen. We might get to say something from the stage, but real ministry happens off the stage. We want to sit down after the show and talk to people, just being present and sharing God's love with them. You can say whatever you want behind a microphone, but for us it's really about integrity."