Though Hollyn is a new face in the CCM world, she's already developed an impressive range of musical experience. A quick resume: singing in church from childhood, winning her first music competition at nine years old, and almost making the American Idol cut at 15. And her story is just getting started…
We had a chance to chat with Hollyn about her start in music, her experiences working with TobyMac, and life as "just a normal nineteen year-old" on the road.
CCM Magazine: So first thing's first… what's one random thing you'd like everyone to know about you?
Hollyn: I love to do music, and I feel like the Lord has given me an opportunity that He could've given anyone. I feel really humbled to do this and be in front of this calling that is bigger than my life. But the thing I want people to know about me is I'm probably as normal as it gets!
CCM: When did you start getting interested in music?
Hollyn: From the time I was a kid, one or two years old—I couldn't even talk and I was trying to sing. I grew up singing in church. My dad was a pastor for a long time, and my brother and I started a youth group band. I led worship for a while. I was in a lot of plays and musicals and things like that. If it had to do with singing, I was doing it!
When I was nine years old I won a singing competition at my local fair, and that's when I was like, "Oh… maybe I'm not bad at this!" (Because when you're at church, no one is going to tell you if you're terrible!) After that I made a little mix tape of gospel songs, and that was where it started for me.
CCM: Would you say your family is very musical?
Hollyn: Well, my dad plays guitar and loves music in general. My mom played piano, and I grew up watching her play in church. My brother is so talented. He plays drums, guitar… he can sing and everything. But he's like a star athlete, so that's what he's focused on right now.
So my family is musical, but, it's not everyone's "main thing." But they always encouraged me to keep pursuing my dreams and being myself. They've always been my greatest supporters, and I'm so thankful for them.
CCM: So you auditioned for American Idol? What was that like?
Hollyn: It was so crazy! It was good, but it was just very exhausting because I was up for over two days straight, almost fifty hours! I knew going in that they want a specific cast for the TV show, but I made it all the way to "Hollywood Week" and got cut right before the live rounds. And I was like, "Man, just what am I getting called to do?"
So, this bodyguard right outside the arena where we were filming came up to me and my family and said, "Hey, I just want to let you guys know I've been watching the way you live your lives and listening to your daughter sing. There's something bigger than this show coming. When it happens, don't be afraid to walk through that door."
After that I was making YouTube cover videos, and generally staying under the radar. The Idol season had aired and the hype was down. I then went to Winter Jam, and TobyMac was headlining, and I felt again like the Lord was calling me to Christian music.
Two weeks later Toby [McKeehan] called my dad. It was insane.
CCM: What happened after that?
Hollyn: He got my number from a drummer who used to play for him who lives right near us in Ohio. He'd found my stuff on YouTube and everything, so he called my dad and said, "Hey, I want to meet you guys at this Winter Jam show in Cincinnati."
So, I met Toby two weeks after seeing Winter Jam in Columbus. We were all talking backstage, and he told my parents he was interested in working with me. Later he drove to my house in Ohio, like six and a half hours, just to spend time with my family. He brought Joey [Elwood] and Brad [Moist], two guys that work at Gotee Records, and they hung out with us for the night. We got pizza and played basketball, it was so fun! They're just the best people.
CCM: Who are some of your favorite musical influences?
Hollyn: Oh man, there's so many. I really love artists like Justin Timberlake. This new band, The 1975. I listen to them and think, "I want to write songs like this!" Ariana Grande, I love that old-school, classic vibe she has. Ed Sheeran and his acoustic ability and how he kind-of sing-raps his songs.
And I draw from Toby and the way he writes lyrics. I want to be able to write lyrics that can appeal to everyone, songs that people can relate to. It doesn't necessarily have to be like, "Hey, here I am and here is my message." It can be more like "Hey, here's my story, and here's what I'm going through, and maybe you're going through the same thing." That's what I want to get across in my songs…to be real and honest and make music that inspires me. And hopefully if it inspires me, it will inspire other people too.
On my EP I was trying to figure out who I was, but my new record we're writing right now is more definitely more representative of who I am. When you hear this record you'll be like, "Okay, that's her sound." I'm really excited for it.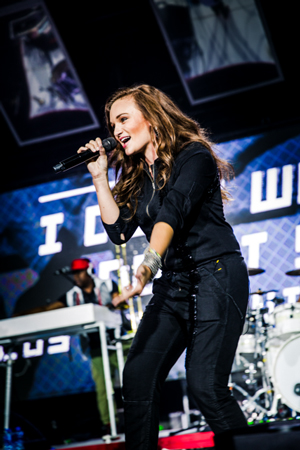 CCM: What else are you into right now?
Hollyn: On tour, you've got to find things to do. I love walking around, shopping, and hanging out with my friends. But shopping can get dangerous for me, so I have to be careful. I love movies! I'd rather stay in and watch eight movies a night than go out on the town. I'm just a normal nineteen year-old chick that's trying to have fun in life!
CCM: What has God been teaching you through this adventure?
Hollyn: I've learned that when you get super caught up in what you're doing, and you just keep waiting for the next thing to happen—like okay, the EP is coming out, now what? I've got to go on tour, now what? Then, it's "this," and it's got to be great! Slow down and enjoy what you're doing right now—in ten years, you're going to look back and think, "Really?" I don't know where I'm going to be in a year…two years. I want to live my life the way the Lord wants me to right now.
CCM: One more question. It's really important. If you could have any superpower, what would it be?
Hollyn: I really would like to fly, but I'd also like to not have the fear of heights. I'd be like, "Okay, I'm going to fly to the top of the Eiffel Tower, because I can," but when I get up there, am I going to be afraid? I don't want to be scared if I have the superpower of flying!
CCM: It would save time and travel and airplane rides!
Hollyn: Yeah! Either that or transporting myself…like instead of lugging my bags to the venue, I'd just snap my fingers and be there with everything already. That would be a great thing.