Blessed are the poor in spirit, for theirs is the kingdom of heaven (Matthew 5:3)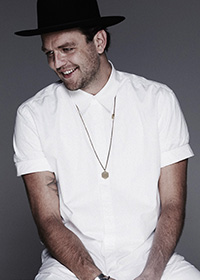 With a list of accomplishments that include a concert in New York City's Central Park with 10,000-plus in attendance, a Top 5 Billboard 200 album debut, major network television performances and a trophy for Top Christian Artist at the 2015 Billboard Music Awards, Hillsong United's recent resume sounds more like a boilerplate for the latest American pop music sensation than a worship band bio.
But while it may seem complex to decipher the exact purpose of a band promoting personal worship while receiving massive mainstream recognition, United—a successful spinoff from Hillsong Church's mega-popular music roster in Australia—says the worship band's aim is actually quite simple: serve God, serve others.
In this CCM Magazine exclusive, longtime bandleader Joel Houston and members JD Douglass and Taya Smith explain the sincere heartbeat behind the trending heat wave that is Hillsong United.
CCM: After so much success with the release of Zion, how did you guys begin the creative process for this follow up?
Joel Houston: I feel like we have been the underdog, a little worship band from Australia, even though we have had success in different ways over the years. Zion really blew us away. The whole experience took us by surprise. To come off the back of that with a new project is not something you can formulate in one creative meeting. You have to sit on it and wait to hear from God.
CLICK "2" TO ADVANCE