Fishlake National Park in Utah is home to the largest tree root system in the world. Estimated to be over 80,000 years old, the roots extend over 106 acres, supporting one of the largest Aspen tree groves in the world. Essentially, these roots have kept a living organism alive for all of human history.
Roots sustain, nurture and support.
Deep roots can change the course of one's life forever.
Steven Curtis Chapman has deep roots. While it seems a bit pedantic to state that he's an industry icon, you can't really get around it. With over 25 years of making music and ministering all over the world, Steven has proven not only that he has the musical prowess and chops to create significant, life-changing songs; he has also proven over and over through his actions, his words, his life, that he is deeply rooted in the omniscient, omnipresent God…the alpha and omega…beginning and the end.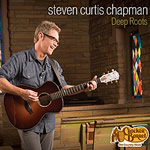 It's only fitting, then that his latest full-length project, Deep Roots, not only reflects and celebrates the roots of his faith and his walk; it also includes those who have held his hand and joined him on the journey…namely his father, brother, son and daughter-in-law.
"It's sort of a family album," Steven says. "And that's not necessarily cool or appropriate or relevant…but it was a gift to make it. I got to do some things I wouldn't normally do."
Those 'things' beyond the norm namely have to do with style. Kentucky born and bred, Steven grew up around bluegrass, country and good ol' fashioned hymns, "My dad was a musician and guitar teacher. He played bluegrass music, folk music," Steven shares. "My dad and brother were and are two of my greatest musical influences."
In fact, Steven's first job in music came about when he accompanied his brother at an audition at Opryland USA, an amusement park in Nashville, Tenn., known for its shows, rides and fun.
"I auditioned as an instrumentalist," Steven recalls with a laugh. "I accompanied him and they asked if I sang. I told them I sang a little, but I wasn't prepared for it. They liked the brother thing and gave us both jobs."
And the rest, as they say (pardon this incredibly over-used pun) is history. From Opryland, Steven continued to progress as a player, songwriter and artist. As his solo career took flight, the bluegrass and folk got pushed aside for a season and Steven's signature pop sound emerged and the banjo took a backseat.
Fast forward to present day and a conversation with the keepers of America's favorite front porch, Cracker Barrel, and at long last, the banjo made its way back into the studio and, in a sense, Steven came back home.
"It was so nice to work with Cracker Barrel," Steven says. "I put banjo on everything!"
And from classics like "He Touched Me" and "What a Friend We Have in Jesus" to more obscure hymns like "Life's Railway to Heaven," which Steven describes as, "one of those hoedowns," the record is basically a one-way ticket back to a simpler time and the innocence of childhood revisited — a journey not taken lightly.
This year will mark five years since Steven and Mary Beth's daughter, Maria, went to heaven. Since that tragic day, the entire Chapman family embarked on a journey they never wanted…and no parent should have…to take.
And that is where Steven's roots truly begin to show. When the unthinkable swept his world into a whirlwind, he and his family prayerfully, painfully, but diligently kept going back to the one thing they knew would survive any maelstrom of grief in this world — their rock; their roots; their foundation.
"If I could only sing one song for the rest of my life, it would be 'My Redeemer is Faithful and True,'" he shares. "This is the one thing I know to be true. God has been faithful, God has been true."
Perhaps this is most poignantly conveyed on the final song on the record — an acoustic version of "Cinderella."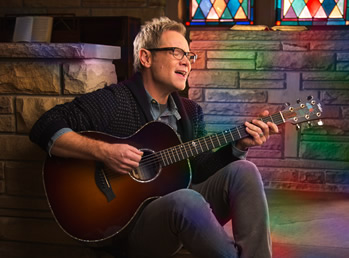 "'Cinderella' was a personal request from Cracker Barrel," he shares. "I didn't know if it fit, but I had always wanted to do an acoustic version. I haven't recorded it since Maria went to heaven, but I sing the last line differently now. I knew if there were ever an appropriate time to record it this way, this would be the time to do it."
Five years since the accident; ten years since the founding of ShowHope; 26 years of ministry…no doubt, Steven and his family have arrived at a precipice. As God continues to ground them all in the richness of His sustenance, it's more clear than ever that when it comes to 'deep roots,' his music is but a small piece.
"This year is a time to go deeper," he affirms. "This feels like a new season."
With the newness shining down, the peace flowing like a backwoods creek and God's faithfulness the air he breathes day in and day out, Steven steps back and despite all the trials and heartache, he lifts his voice to the one who gives life.
"What a cool thing, the gift of music," he adds. "It doesn't ever get old. I think that's part of who He is. We get to be part of it. We get to be part of a new creation."
And just as roots anchor the trees above us, on his knees, Steven has planted and is sustained each day by the only set of roots that will ever matter — those that grow through faith, perseverance and unconditional surrender to the only firm foundation.