In a world full of anger and darkness, God has created a beacon of light called, 3R1ROCKS! With a positive message of hope and love, this high energy group is changing hearts and lives thru their anointed music. In 2008, a group of worship leaders joined together to show the world they can have a personal, one-on-one relationship with Christ, and 3R1ROCKS was born! 3R1ROCKS with the help and guidance of iSound Music label's producer, James Jackson, have captured God's heart in their music and lyrics. With 2 hit singles getting International attention from their 2017 EP album, the group is now completing their highly anticipated full album to be released in February of 2020. The new album, "Walking In Power", is a true representation of how the band feels. They want people to know the Power, God has given each of us.
---
How Long Has The Band Been Around:
Since 2008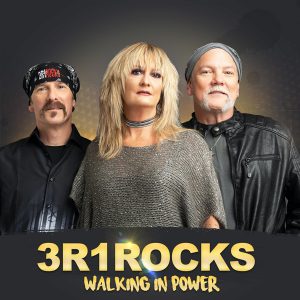 Genre:
Contemporary Christian, Gospel, Christian Rock
Hometown:
Hiawassee, GA
Label:
Indie – currently working with iSound Music Label
Hobbies apart from music:
Beekeeper, Rescue Pet work, camping
Last Netflix binge:
Criminal Minds, Stranger Things
Musical Influences:
Casting Crowns, Third Day, Skillet, Peter Frampton, Rolling Stones
Very First Musical Purchase:
electric stage piano
CCM: If you had only five words to describe your new album, it would be…?
3R1ROCKS: Healing, Uplifting, Passion, Energy, Powerful
CCM: Do you have a favorite song from the new album? Why?
3R1ROCKS:
Sorry, too hard to choose, all good in different ways to reach many people in their own needs!
CCM: What led you to pursue a career or ministry in music?
3R1ROCKS: DEVINE DIRECTION!  We believe Music Ministry is powerful… we are not perfect, but to reach others is AMAZING!
CCM: What are your hopes for the new project?
3R1ROCKS: We want our music to reach the world.. awards and chart placement is just a milestone marker on our journey towards that goal!
CCM: If you could potentially tour with any other artist or band (that you haven't already), who would you choose and why?
3R1ROCKS: There are a LOT of great artists/bands out there today… can't pick just one, we would want to tour with people who LOVE GOD FIRST, are NOT religious and unapproachable in their views, and have a PASSION to touch others thru their anointed talents!
CCM: Name a song that you wish you'd written (and why).
3R1ROCKS: An older song by the Gaithers – "He Touched Me" – we put our version on our album.. the message is that Jesus can touch you where you live, no matter what you have done or how bad you feel, when Jesus TOUCHES YOU – you are HEALED from the inside out!  simple truth, simple song, powerful message!
CCM: How did you arrive at the name of your new album?
3R1ROCKS: People need to understand that WE have been given ALL POWER (2 Timothy 1:7 – For God hath not given us the spirit of fear; BUT OF POWER, and of love, and of a sound mind.)
CCM: What can listeners expect in terms of the sound, style and lyrics?
3R1ROCKS: ENERGY – even worship songs can have energy.. the songs are not all Rockin', but our style and lyrics are UPLIFTING to the soul, no matter the tempo!  Our lyrics talk about having that ONE-ON-ONE relationship with Christ in our everyday walk!
CCM: What was the songwriting process like on this record?
3R1ROCKS: We ALWAYS seek perfection in our performance and recording… our music producer, James Jackson, is AMAZING at capturing the anointing and our best in the studio!  It's always work, but we always leave a session PUMPED!
CCM: Are there any underlying themes or threads that tie this project together?
3R1ROCKS: Walking and talking with JESUS EVERYDAY! Not as a High and Mighty God (which HE is) but as our BEST FRIEND who always has our best interest at heart even when we can't see thru the fog!  Each song has the message of Love, Grace and Mercy…
CCM: How important is your faith or spirituality within your music?
3R1ROCKS: This is the Foundation that we build on… we can't give away what we do not own!!  The world thinks Christian music has to be "Religious".. there are a LOT of worldly songs that have a Positive "Christian type" theme that can touch people in a way the Traditional Christian music can't reach!
CCM: What message do you hope listeners will take away from your music, regardless of what they believe?
3R1ROCKS: First and Foremost, that GOD LOVES THEM JUST AS THEY ARE!  They are NEVER alone and their BEST FRIEND is just a whisper away…. our music crosses ALL denominations because we concentrate on God's love, hope, and forgiveness… not man's religious viewpoints.
Visit 3R1ROCKS.com, and their Facebook/3R1ROCKS page for more information. Their music is available for streaming and downloads on all media outlets.