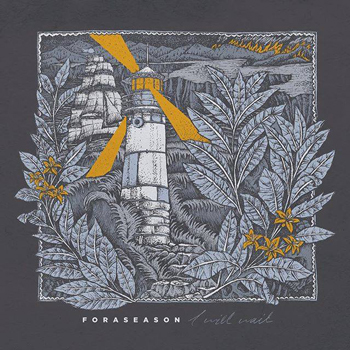 Sometimes we're excited to tell you about a new artist with a new single you need to hear. Other times, we're keen to mention a band currently writing new material who you should look out for in the near future. For A Season is one such band, a band whose emotionally charged pop/rock seems destined for large stages and high-profile tours.
Check out videos of a couple of singles below and read on about an impressive newer band that recently had the chance to play with for King & Country.
CCM Magazine: You guys just recently played with for King & Country. How did that go?
For A Season: We did! We had the incredible experience of not only playing with for King & Country, but were able to do so in our own hometown! It was a blast. It was truly an honor to share the stage with such stand out guys as Joel, Luke [Smallbone] and the rest of the crew. You won't find a more humble and hospitable group than these guys. They are the real deal!
CCM: When it comes to opportunities you've had to play, is there one live highlight, or event that stands out?
FAS: That's a hard one to pinpoint. We have been so blessed over the years to do some pretty incredible things. We'll be honest though, playing with for King & Country in our own city was certainly something special. We get to play all over the country, and it's great, but there was something truly memorable about knowing that an entire venue is filled with family, friends, and the people who have watched you grow from the very beginning. Another one at the top of the list is when we opened for Colton Dixon at his homecoming show after he left American Idol.
CCM: Your debut album came out last summer. When you reflect back on the near year that's followed since, have you been surprised by the journey?
FAS: We have been surprised to say the least. We took a big step when deciding to do a full-length album in a style that we were fairly new to at the time. We knew that with our approach would come a lot of growth, stretching, and learning, but the result has been extremely rewarding. We found that with the new music came new fans, new opportunities, and new ways to minister to people we may never have had the chance to if we hadn't stepped out in that direction. We are excited to see what the next step brings!
CCM: For readers who are new to your music, can you tell us some of your musical influences and favorites?
FAS: We have to have some of the most diverse and spread out musical backgrounds and preferences of any band out there! Our lead singer Brian is a gospel/soul guy through and through. We have classic rock fans, folk, jazz, and Americana. Derrick loves his dubstep… just kidding. We all like so many different artists and styles, but I honestly think that has been a great tool for us. Having such different backgrounds really brings an eclectic and interesting element to the recipe that is our music. If we had to point to a few current artist that we all collectively get inspiration from, it'd probably be Switchfoot, Johnnyswim, and NEEDTOBREATHE to name a few. With that being said, it was really exciting to get to record our debut album, I Will Wait, with the producer, Rick Beato, that did three NEEDTOBREATHE records!
CCM: What are you currently up to at this point?
FAS: We are currently working on some new material and are having a blast with it! It's probably the most fun we've had creating in a long time. We can't wait for you guys to hear some of it! This has been a really fun chapter in For A Season as we are really pouring our experiences into these songs. As a result, we are feeling a really intimate connection to them, and think they will really resound with people when they hear them. As far as touring goes, we are lining up some things for the summer and fall, but are really focused on new songs and projects.