For worship leader, singer-songwriter and producer Craig Ross, the songs on albums like For Your Name's Sake (buy) or, most recently, If These Walls Could Speak (buy) weren't made with any intention in mind. Just like the psalms, the worshipful tunes are simply honest expressions birthed out of Ross's own heart and experience. Fortunately, their honest, heartfelt approach resonates strongly with the listener, both in a personal and corporate setting.
If you're looking for a new voice in worship music, we think Ross makes a nice addition to your catalog. We recently asked the Australian artist to tell us more about his creative process and how the church influences his songs in an attempt to get to know the man and his music.
You wrote that your last album, For Your Name's Sake, was born out of the journey of your faith community. Is that true of this new batch of songs?
Very much so, although I think If These Walls is a little more personal. The songs of For Your Name's Sake came throughout a year that we read the Chronological Bible as a community. It was incredible for us all to be reading the same portions of scripture throughout the week and come together of a Sunday and break it down. My wife, Jodie, and I chose to read it out loud. To see and hear the story of our faith being played out chronologically rocked me. It was an easy soundtrack to write.
If These Walls was a little different. Last year we decided we'd do memory verses based on monthly themes. So we memorized a scripture per week based within a monthly theme. I struggled absorbing scriptures based on things like trust, hope, love, forgiveness, etc. It opened up areas in my own life that I found I still question and struggle with. So these songs are a little closer to home and honest.
How have you found scripture memorization affecting your life beyond writing songs?
It's in the every day. When you're quoting from a book you believe to be the word of God and true in its entirety, but you don't see it in the way you live out your life, it brings you to a choice of either be transformed by it or disregard it. I'm finding that each day for me is about surrender and trust.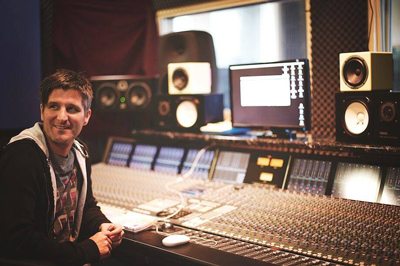 Are these new songs intended to be sung within a church community? Or are they more personal songs for more personal use?
I hope that all worship is written from a personal desire to worship God for who He is, regardless of whether we lead others or not. The truest worship for me is declaring God in all circumstances. We spend so much time asking God to get us out of situations He wants us to declare Him in.
I find that many of the songs I write do translate into the community because we are all a part of what God is doing here, and I'm privileged to walk that out with others in this community. These songs become the soundtrack for seasons that we've navigated together. David didn't write the Psalms with an audience in mind. He wrote them from his personal journey. They're just so honest and real that we all identify with them.
I hope that is the case with my songs. I record them to give God glory for what He has done, to remind me in future of what He has done, and for others to maybe draw from them because they may identify with them.
How did you get started as a worship leader?
A good friend asked if I'd like to be involved in helping start a night service with him at Goodlife. The idea was for a small gathering, simple acoustic music, and take as long as we needed to read through a chapter of the Bible that was open for discussion. There were nights we wouldn't get through one verse. It could take us three months to get through a book. We found it was the young adult age that were hungry to get real and talk about their faith and discover what God was about. The night service has become our biggest service. About a year after we started the night service, I was asked if I'd like to work part time for the church overseeing the creative stuff.
What else is next for you in 2016?
I'm pretty booked in the studio producing and mixing other artists, which I love. But also on the back of releasing If These Walls Could Speak, we've been working on a series of eight short documentary videos called My Story His Glory. They are being released through the Australian Christian Channel and we will begin to roll them out into online and social media forums in July.
My hope is that the creative awakening I've experienced through worship to explore and capture what God is uniquely doing here will encourage others to write and document what God is doing in their midst. I'm certain that it is only when we all give an account of what God is doing locally, that we will begin to see what God is doing globally.