Friends since their cheerio-eating days in the church nursery, Jon White and Cole Walowac, are the two halves of the pop-electronic-dance duo, Capital Kings. Playing on their church worship team in middle school was where they "learned a lot about the basics of being part of a band and realized it was definitely a calling," John recalls. By their 11th grade year, they had begun to teach themselves the ins and outs of mastering the electronic music format and started making beats and writing songs, some of which appear on their self-titled debut, Capital Kings, released this past January.
With influences ranging from classical and Frank Sinatra to Lecrae, Justin Timberlake and Family Force 5, this duo is making a big splash in the Christian music scene. According to Cole, "We started building the brand out of our hometown, Washington D.C., by doing remixes of various songs on YouTube and posting them on soundcloud." It wasn't long before other artists started requesting their remixes and perennial CCM mix master, TobyMac caught wind of what the CK guys were up to. Not surprisingly, given his penchant for nurturing new talent, Toby reached out.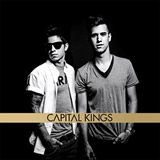 In short order, soon after their initial introduction and conversations with Toby, the guys decided to move to Nashville to pursue the making of their record and a deal with Gotee (Toby's label). The record includes appearances by Britt Nicole, Royal Tailor, Soul Glow Activatur of Family Force 5 and Toby Mac. For John and Cole, it's all been a dream come true and, as they say, "very humbling." Considering they nabbed a coveted spot on the Winter Jam tour 2013, suffice it to say they're living up to the hype and then some.
Currently, they are gearing up for a summer tour across the Southern and Eastern parts of the US.
To catch them live, listen to the music , or to learn more, check them out at capitalkingsmusic.com