Gateway Worship, the worship experience of the 24,000 member Gateway Church in Southlake, Texas, is set to release their new live worship album Forever Yours through in:ciite media and EMI Distribution on October 9, 2012. Forever Yours is an array of worship-expression with praise, adoration, confession, and redemption heard throughout, with the signature sound and powerful lyrics that identify Gateway Worship.
"When we first began talking about recording Forever Yours, we knew that it was going to be more than just a CD release; we were committed to the message of redemption and the truth that as Believers in Christ, we belong to Him and are forever His," said Thomas Miller, worship pastor for Gateway. "This album is an experience that takes you into the truth of redemption and leads you to catch a glimpse of the power of restoration woven throughout the album with the gift of worship."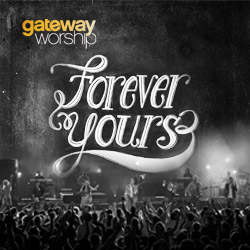 Forever Yours is Gateway Worship's fourth live album, alongside five other studio albums, the first having been produced in 2003. Known for the significant impact they have made in modern worship, Gateway Worship's latest project encourages hope and confirms the power of corporate worship and unity through lyrics and music that declare the Glory of the Lord through all of the earth. Produced by Walker Beach, Forever Yours is a rich tapestry of experience, talent and perspective. Team members include Thomas Miller, Walker Beach, Sion Alford, Zach Neese, David Moore, Rebecca Pfortmiller and Dove Award-Winning artist Kari Jobe.
Over the past 10 years, Gateway Worship has evolved in their powerful expression of worship, as they passionately pursue a journey of discovery and understanding of the power of a unified response to God's presence and love for His people. As a worship ministry that began leading 200 people, Gateway Worship, located in Southlake Texas, now ministers to over 20,000 people each week through vibrant worship ministry, capturing the sound and songs of the local church Body. Their gift of worship to God resounds with the heart-cry of one of today's fastest growing congregations, and is being echoed in churches across the world.
Understanding that worship music is an integral part of today's church, Gateway Worship takes that understanding to move beyond simply hearing the truth, to expressing that truth back to our Creator. Gateway Worship uses worship as a catalyst for change that helps to transform our temporary view of who we are and how we see God, to an intimate exchange between every believer and the Creator of Heaven and earth. The mission, that is more important than the music itself, has become an essential part of Gateway's culture and remains constant both in the studio and before any gathered body of believers; it is a commitment to leading the Body into a place of intimate worship and an understanding of the power of worship.
The message heard clearly in this latest album is simply this: From the moment we are born eternity is born in our hearts. Every person born-again is on a path to understand that Eternal life is lived here and now-and FOREVER STARTS NOW.
Click here to pre-order on iTunes / Visit GatewayWorship.com for more info