Sometimes it's easy to forget that the artists we appreciate here at CCM Magazine are also fans as well. It made us curious about the tastes and habits of various artists, so we decided to launch a series, "The Last Time," to find out some answers.
We're pleased to feature Eric Peters in our latest segment. The independent singer-songwriter has been an under-the-radar favorite for years, but his latest album should garner more attention than ever. Far Side Of The Sea (buy) trades his traditional acoustic guitar for a laptop approach with producer Gabe Scott (Andrew Peterson) at the helm. We asked Eric to tell us about his listening habits, even as we ask you to add Eric to your own playlist.
The last album you purchased?
Probably Lord Huron's Strange Trails (buy). Oddly enough, I don't listen to much music in my day-to-day. My palette is admittedly pretty small; I have just a few artists/bands whose music I will purchase no questions asked. I listen to those artists while I paint, sometimes in the car driving. Otherwise, I listen to NPR quite a bit. And, above all, I value quiet.
The last concert you paid to attend?
Maybe a Patty Griffin show at The Ryman? That was pre-children, so anything after 2006 (the year our first child was born) gets awful hazy to me. I always enjoy myself when I do, but I rarely go see live music. Goodness, I feel like a fraud for even admitting this.
The last TV show you binged watched?
None. I deeply enjoy The Simpsons, but I've never really binge-watched anything. I'm not much a TV guy, but I have sat and watched multiple episodes of Parks And Recreation with my bride, who loves that show.
The last book you finished?
The Sparrow by Maria Doria Russell (buy). Fascinating, disturbing, and extremely difficult subject matter to read. Sci-fi with theological implications. NOT for everyone.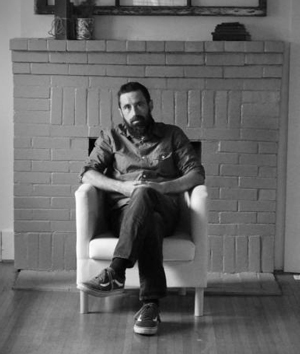 The last time you were surprisingly moved by a piece of music?
I keep trying to come up with a less narcissistic answer, but the truth is that one of my own songs on my new album did that to me. All credit is due to my producer, Gabe Scott, who gave the end of the song a twist that brought celebration and joy to an otherwise sad scene. It really is a magical moment.
I wrote most of "Beautiful One (Nowhere)" the day I learned my aunt died in a freak car accident. I could not imagine the hollow sense of loss my uncle must have been feeling. I finished the song, written as first-person narrative, a few months later after hearing the story of a man whose teenage son died in his arms of a prescription drug overdose.
As a parent myself, it was emotional to imagine his, and my uncle's, grief. The song begins as an Ecclesiastes piece—sad, questioning the point of life, the hurt and pain people experience on earth—but the outro of the song became a reply to that very sadness. Musically, the song has moved me and wife to tears on several occasions. I wish my answer weren't so self-centered, but there it is.
The last great movie you watched?
Probably The Lego Movie (buy). And Star Wars 7. In the best of ways, that movie made me feel like a kid again. So good!
The last time you laughed uncontrollably?
My bride and I have been belly-laughing a lot together these past few months. It has been a very difficult few months for us. Laughter – joy — truly is good and healthy.
The last memorable exchange with a fan of your music?
Probably hearing from a woman who connected with the song I mentioned above, "Beautiful One (Nowhere)." Her young adult son died a couple of years ago, and she was grateful for the song, for the opportunity to find joy in the midst of deep grieving. I'm really grateful when folks share stories like that of connection and hearing that they are not alone. That is why I write the way I do.